Restaurateur and Citizen Advocate vie for Mayor job
Vivian McKenzie, Peekskill Democratic City Committee candidate & Conor Greene, Progress4Peekskill candidate
Our Door-to-Door series begins this week where we'll feature a personality profile on each of the eight candidates running in the June 22 Democratic primary. Since Door-to-Door campaigning is limited as we come out of a pandemic, these profiles will help voters get to know the people behind the names.  
By Regina Clarkin 
When Conor Greene graduated from college in 2004 his first job was for the Democratic National Committee, knocking on doors of people in the central NJ area where he grew up. He was soliciting funds and talking to voters about what they expected from elected officials. That experience prepared him for what he's pursuing today. He is talking with Peekskill Democratic voters in his campaign to win the June 22 primary for Peekskill's mayoral seat. He is challenging Vivian McKenzie who has the nomination for the position from the Peekskill Democrtatic City Committee. 
 Greene, who turns 40 this August, moved to Peekskill with his wife Liz in August of 2018 after living in Brooklyn where he knew they could never afford to own their home. "We have a generation of people who can't afford to buy their homes," he said. His internet research led the couple to Peekskill because of its downtown, proximity to parks and the train. "It's historic but not fancy or polished" – which was an attraction for them.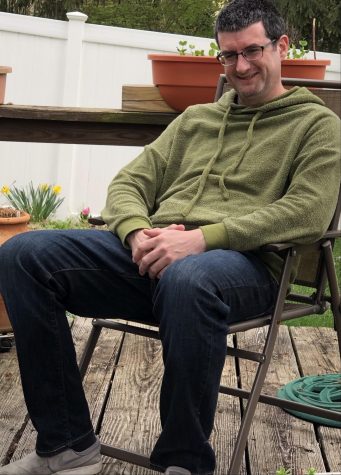 "My whole career has been at the intersection of community work in government and nonprofits." He began reporting for a community newspaper in New Jersey, where he met Liz, and learned how municipalities work. "I had to cover town council meetings and learn about zoning ordinances and quality of life issues." In the three years he was there he got an understanding of how local government can address issues in resident's lives. From there, he worked for a New York City councilman doing constituent services, communicating with residents in a specific neighborhood. "It was there that I got to know how elected officials can serve and work for the people they represent."
 Before the pandemic he worked for the Doe Fund in New York which created the Ready, Willing and Able program helping homeless people get training to hold jobs. "It was eye opening and beneficial experience," said Greene. His proudest accomplishment in that position was the creation of the first city-wide charitable bail fund, The Liberty Fund, a non-profit which provides money to people who cannot afford bail set at $2,000 or less.  He was involved in the-behind-the-scenes work of hiring an executive director for the Liberty Fund along with negotiating contracts with the Mayor's office and others.
 He's now enrolled at Hunter College getting a master's degree in urban planning and says his classmates must be pretty tired of hearing him talk about Peekskill. "All the issues I'm learning about are relevant to Peekskill. I'm doing this degree and seeing things through the lens of Peekskill."
 Greene, who played hockey during high school and college, first became involved in civic affairs here by suggesting to the Peekskill Community Congress in January 2019 the idea of creating an ice hockey rink. When he went to the Congress meetings and heard Margaret Steele and Greg Gutkes talking about Peekskill being a walkable town by default but that it wasn't pedestrian friendly, the idea resonated with him and he voted for it. He volunteered to work with them on creating a group to address that issue. They began meeting once a week at  the Peekskill Coffee House and in the beginning it was a group of three to six people. Two years later, Peekskill Walks is a 501c-3 non-profit with an executive committee and hundreds of people engaged. The group's most notable accomplishment is the creation of Esther Place downtown. The space used to be a short street that was cut through for cars. Today it's a public space that brings life to the downtown, said Greene. It's a place for people to sit outside.  "It was a ground-up process that came from residents. Community groups to business owners to city officials all made it happen," said Greene.
 "As Peekskill grows, I have a stake in it as a homeowner," says Greene, who is the only one of his parent's three children who was born in their native county of Ireland. "I have memories of going to government offices in Newark when I was about 6 years old to become a US citizen." 
 "What really matters to me is that Peekskill grows in a healthy, well thought out way. We're at a critical moment; the development is here. Peekskill is on the map. We don't have a big picture, a long-term vision – and we need a mayor and council who are putting those things front and center," said Greene.
Vivian McKenzie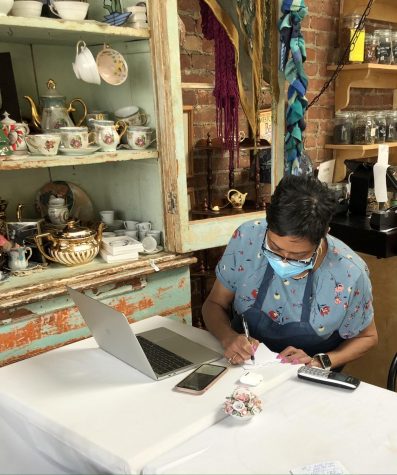 At 9:30 on a Tuesday morning in April, Deputy Mayor Vivian McKenzie could be found outside grilling chicken in anticipation of the lunch guests coming to her business, Kathleen's Tea Room on Main Street. The 59-year-old took over as proprietor of the business ten years ago, never expecting the trajectory of her career would include restaurant owner in her hometown. McKenzie, who has a business degree and was working in the insurance industry, found herself entertaining the idea of owning a restaurant when Kathleen Chilcott, the founder of Kathleen's, approached her.  
 McKenzie's parents had died 13 days apart from each other in December of 2009 and that type of life event gave McKenzie pause. She also was observing how the insurance business was changing and realized she no longer wanted to put her energy into the newly emerging model of corporate insurance where brokers were being edged out. Six months later she quit her insurance job and took a step out in faith. "It's been the best thing I've done," she said.
Cooking food and entertaining was something McKenzie was familiar with. The ninth of ten children of Walter and Lulu Mae Bridgewater, she and her sisters Debra Tompkins and Lila Bynum ran a soul food restaurant 20 years ago at the shopping center on Main Street where Beverage World is currently located. They ran that business for about two and a half years. When their mother got ill, they closed up to help care for her.
"Meals at our house on a Sunday were like dinner for 30 at a restaurant," said McKenzie. We didn't go out to eat at all as a family, but we were encouraged to bring friends home to dinner. She knew when she took over the Tea Room that she had to keep certain things the same, especially the menu, but there were other areas that needed addressing. "The Tea Room was a hobby for Kathleen Chilcott, but for me it was a livelihood," she said. So she moved some of the larger pieces of furniture out to add a few more tables to the space with the original tin ceiling that once housed the Hollywood Florist.  She also added hours, staying open on Mondays and till 5 pm on weekends.  
She started networking with pharmaceutical representatives and hospitals and doctor's offices to deliver food for lunches. About a year into owning the business, she began changing the recipes. In her second year of owning the business, she started having someone do social media, and that increased her volume.  A few items on the menu she kept, such as the chicken salad and the scones. And she does all the baking.
McKenzie is able to blend her responsibilities as an elected official  from the Tea Room during the day, thanks to her five employees. The day I interviewed her, she was asked by the City Manager Andy Stewart to host the weekly Zoom call on behalf of Mayor Andre Rainey. She was briefed by Stewart on what they would cover; the presentation to the Common Council from the evening before by Railroad Avenue developer Martin Ginsburg, the hiring of a local communications firm to publicize city events, return of Peekskill summer day camp and opening of the Veteran's Memorial Pool.
Just as she was approached by Kathleen Chilcott to consider buying the restaurant, she was approached by former mayor Mary Foster and former councilpersons Drew Claxton and MaryBeth McGowan one Friday evening in August of 2013 to consider public office. She recounts how she was returning home from a trip to BJ's when her daughter called to say there were three women at her house looking to speak with her. When she asked who they were and learned it was Mary Foster the mayor, she was stunned.  They asked her to fill the seat of Don Bennett who had stepped aside for medical reasons. That November there would be a special election. "I knew nothing about politics," she said but she got a quick lesson in how the city ran and that began her political career.
When asked what advice she has for residents who wish they were more involved, the Deputy Mayor suggests people consider joining a council or a board. In the past year there have been a number of vacancies on citizen-led city panels including the Conservation Advisory Council, Zoning Board of Appeals, and the Planning Commission. "The best way to contribute to your community is to volunteer," added McKenzie.