Lincoln Depot Museum opens this weekend with visit from Ulysses Grant
General Ulysses S. Grant will be the weekend guest of the Lincoln Depot Museum on Saturday and Sunday, May 1 and 2. The Civil War general is portrayed by Ken Serfass, a professional living historian of Gettysburg, PA.  He'll be joined by members of the 5th NY Regiment Duryee's Zouaves living history organization. The weekend will feature military reenactors of various local civil war units. General Grant will be available to answer questions from the public and will close each day with a formal review of the troops. All living history activity will be held outdoors on the museum grounds.
A new exhibit entitled "Women and Children of the Civil War, from Patriotism to Combat" will be unveiled. The exhibit includes  numerous artifacts showing the life and influence of women and children during the American Civil War era. Artifacts will include vintage photos and games of the period.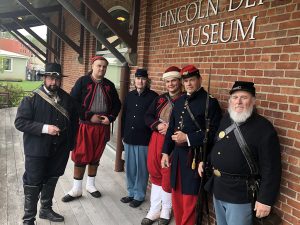 The Lincoln Depot Museum is also looking forward to launching its new Children's Interactive Zone ("the Zone").  This was made possible by a donation from The Rotary Club of Peekskill. The Zone will be a place to engage and entertain our child guests.  In the Zone, children will be able to play Civil War era games like dominos, try on period costumes such as a Union Officer's uniform, and read books about President Lincoln, the Civil War and trains. Children will also be able to entertain themselves by playing with our beautiful train table and toy trains, all while staying in the waiting room of a historic train depot!  The Lincoln Depot Museum is looking forward to making the Zone available to children as soon as pandemic conditions allow.
After not being open to the public in 2020 due to the global pandemic, the board of directors look forward to welcoming members of the public to the award-winning museum and Visitor's Center. All COVID-19 protocols will be followed, including requiring masks and social distancing.
The doors of the museum and visitor's center will open at 1 PM each day. Admission will be $10.00 per person with children 12 and under and museum members free.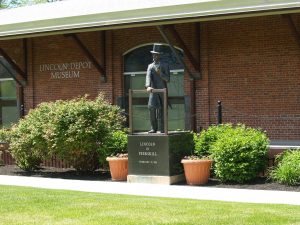 The Lincoln Depot Museum is planning an annual official Juneteenth flag raising ceremony on June 19th. The 2021 season for the Lincoln Depot Museum will run from Saturday, May 1st to Sunday, November 7. The museum will be open every Saturday and Sunday, excluding holidays, from 1-4 PM. For further information, visit the museum website at lincolndepotmuseum.org or call at 914-402-4318. The Lincoln Depot Museum is located at 10 S. Water Street in Peekskill, NY.