Love Letter to a Laubin Oboe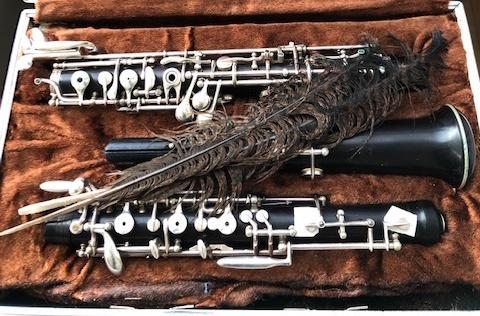 I heard of Paul Laubin's passing the other night, on Facebook. An oboist group shared the Peekskill Herald obituary: "Paul Laubin passed away in his studio….[N]o apparent foul play suspected."
This morning I woke up from a dream, lips pursed, still in the midst of trying out oboe reeds of different colors, as they call the sounds reeds of different strengths will lend to an oboe's sound. The dream oboe teacher offered me different reeds to try, seeing how I had trouble playing the one I had.
I haven't played in years, but I still have my Laubin oboe. I've protected it from the cold and heat, warmed it up slowly and carefully when I could. Most things in life I'm careless with: I don't care to fold clothes, so they are either barely rolled up or hung inside-out, half dangling off a hanger. I run into corners and drop glasses, shattering them, because I am trying to move something along the counter, without thinking my physical actions through. My oboe is an exception: it's one of the few objects in my life I've really taken care of and with.
I first heard the sound of an oboe from a recording of Peter and the Wolf in my elementary school classroom. It is a classic introduction to the sound of an oboe, but I told people that I chose this instrument instead because I heard the sound of the words, "so-lo o-boe" reverberating through my head. I've always been more of a word person than a music person, but it turned out to be the right choice.
Back then I wasn't careful with my plastic rental oboe–I didn't own a stand, and between playing, would try to stand it on the carpet, just for a second. That always resulted in it toppling to the floor, with my ten dollar reed split all the way to the tip. I went through many reeds like that at first.
But somehow, I persevered past the ugly duckling stage (a beginning oboist's sound best can be compared to a duck landing on the surface of a pond) and suddenly it was 7th grade and I had a teacher who insisted on my becoming a serious student. And not long after that, when I began preparing for county competitions, my parents told me I would soon be the proud owner of a Laubin.
My oboe teacher was eccentric: she lived in a carriage house behind another proper house, her second floor full of guides on reading tarot. But the oboe was her profession, and she insisted that her students take it seriously as well. I have her to thank, for I don't know if anyone else would have pushed my parents at that time in our lives, when we didn't have that much money (my father's business was still just picking up) to go purchase such an expensive instrument.
I knew all of that—and then, the history of my particular oboe made it even more dear. The Laubins had purchased a rosewood oboe from someone in Italy who found it in their basement, or came across it as part of an estate sale, and then completely retooled it. So already a beautiful oboe, it became a true Laubin. To me, other students with Lorees or even original Laubins had nothing on my own.
Over the years, once in a while, I'd go with my mother to have my oboe repaired, hanging back while she spoke to them. She knew them best: she and my father had put me on the waiting list, and then agreed to the instrument; brought it to them every so often when it needed repair.
The Laubins' studio was, as befit an artisan's studio, housed in a second-floor walk-up of a small former mill near the Hudson River, set on a quiet sloping street in Peekskill. A few other businesses dotted the road near it, but no other businesses stood beside or above it. I'm sure it was the perfect place to be for an oboe repair studio — no neighbors to bother.
To get in, you would ring a bell to walk up a set of narrow, blond wooden stairs to the second floor. Even before you opened the door, you could hear the music. Alex and Paul always had classical music playing in their studio, probably partly to mask any street noise, such as there was. But mostly it seemed to complete their studio.
Alex always had one table set up with the oboe he was currently working on, as did Paul. Perhaps more than one oboe would be set up on each of their tables, but the task light only illuminated one open case at a time, as far as I can remember. Many windows illuminated the room with natural light. And shelving beside the door held other tools, or oboes waiting for repair – I can't remember now.
When I began going myself, years later, post-college, post-law school, they were quick visits–it was usually Alex who would talk to me. He'd hand me my oboe, fresh from its annual inspection and repair, and give me my lecture – it was time to start playing more frequently again. I had stopped taking lessons years earlier, and by then was playing only once a week during community orchestra practice. And then, later on, I got even too busy for that.
But each time, I'd bask in the atmosphere of their studio for a moment—so like all of the iterations of my own mother's art studio, and yet so different. I can't tell you what they shared, exactly, except perhaps that creative spirit, diligent in the everyday work of bringing a project to fruition. Of working with your hands, and delighting in all the tools that such projects require. Of the music that accompanies such work – I have found that in every kind of studio I've visited over the years.
I can't call this essay a love letter to the Laubins, since I really didn't know them very well. But I still have my oboe, locked in a chest to protect it even from the vagaries of heat and cold in my apartment. One day I will give it to my children, if I have any, or I'll sell it to a real oboist–or to someone's parents who hopes their child will become a serious oboist.
I'm lucky I grew up in Ossining, so close to their studio. On hearing of Paul's passing, I shared the news with my mother. "It was a very special place," she said, "for you and for me." And I agreed.

Elizabeth Lash is a lawyer based in Hoboken, New Jersey. She runs the podcast, "Entering the Bar, with Liz Lash," and her writing has been published in The 5-2: Crime Poetry Weekly, Data Guidance, the Center for Art Law, the Holy Cross Journal of Law and Public Policy, Transparency International, the Engineering News-Record, and GetCrafty.com, among others.