Making the case for fancypants apparel 
Local man gets front row seat for trial over stripes
I was an integral part of an eight-person team that saved Thom Browne's burgeoning global fashion empire over $8 million in just eight days. This should probably go on my updated CV as a testament to my business acumen and fiscal responsibility because it sounds pretty good on paper.
What was the compensation for such a huge financial win for the TriBeCa-based retailer, you ask? Well, I don't want to brag but we were paid a whopping $50 per day AND reimbursed for all travel, tolls, and parking costs for the entire project! What type of undertaking empowers so few to make such impactful decisions on policy, process, and the legality of creative branding and garment sales, you ask? I was a part of the illustrious jury that decided the adidas vs. Thom Browne trademark infringement and dilution case in the Southern District's Federal Courthouse at 500 Pearl Street in Manhattan from January 3rd to the 12th.
I got an official summons from the court calling me into jury duty on January 3rd. I was sure it was some kind of error or oversight seeing as the location was near City Hall in downtown Manhattan (a distant 48.2 miles from my home in Cortlandt Manor). Surely, they meant for me to go to Peekskill or White Plains but not the bustling faraway island I haven't lived in since 2007.
Confused and feeling a bit put-out (but understanding that the Southern District is made up of New York, Bronx, Westchester, Rockland, Putnam, Orange, Dutchess, and Sullivan counties), I figured it would be a simple matter of showing up for a day or two, so I might as well get it over with.
Last time I was summoned for jury duty, eight years ago, I was there for four hours and didn't get selected.
But this time was different. I was part of the first new potential juror pool of 2023. We heard the welcome spiel, handed in our papers, and sat in the waiting room with no phones or other electronics. In a stroke of amazing luck, I was in the first group of 30 selected to enter a courtroom. In another stroke of lottery-winning level good fortune, I was picked as part of the first nine to sit in the jury box.
 We were interviewed with basic questions like, "What's your name?" "What do you do?" "What does your partner do?" and "If you have kids and/or pets – what's their deal?" I figured these would be the starters and the big time lawyers would get more detailed in another round. They eliminated two from the first group, then interviewed another two new prospective jurors (and let one of them go), then found the replacement they wanted. Those of the group that weren't selected were told to go back to the waiting room and it was announced that we'd be the jurors for this case. After a short break in the jury room and some instruction from the judge's wonderful right hand, Linda, we jumped right in. What a way to start the year!
We learned the case involved the footwear and sports apparel giant, adidas suing the luxury fashion brand, Thom Browne over use of a 4-stripe decorative garment design and a multicolor "grosgrain" stripe that they felt infringed on their iconic 3-stripe branding. If you google "adidas and Thom Browne", you'll find multiple news items on the case itself. I just want to whine about commuting two hours each way to my grossly underpaid service job and marvel a bit at our justice system that proved to be interesting, but left a slightly bitter taste in my mouth.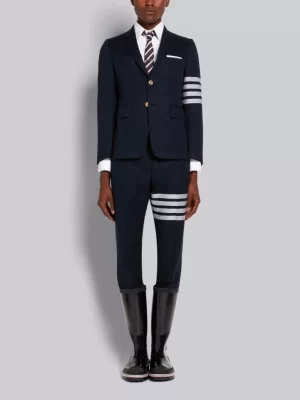 I knew who adidas was (as I'm sure you do too) but everything that would come out about Thom Browne over the course of the eight- day proceedings was news to me. Now that the case is over and done with, I want nothing to do with adidas. No loss for them, I am cursed with bunions and wide feet and have to wear New Balance from here on out.  I am happy for Thom Browne, but won't be able to afford or pull off the look any time soon. We sat through hours of explanation on adidas's storied legacy of sports and achievement. We looked at product images, brand guidelines, and ad campaigns from the past seven decades. We heard from executives from different departments and expert witnesses who testified to the importance of adidas as true originals in field who felt sad and slighted that a luxury designer like Thom Browne didn't seem to respect their identity as an authentic, inclusive brand that is synonymous with sport.
Thom Browne's camp countered with their side of the story. His original designs were meant to celebrate varsity sportswear and create unique garments of unparalleled quality. They have never been interested in confusing or poaching adidas's customers because they have their own identity that was born of their founder's love of sports and celebration of individualism. They already covered this terrain in 2007 when Thom Browne stopped using three stripes and moved to four just as adidas had requested back when they first became aware of their designs.
 If this all sounds like a lot in two paragraphs, imagine sitting for nearly six full court days (9:30 – 4:30 with two, 15-minute breaks and an hour lunch break) of back and forth over stripes and who owns them (or doesn't).
The fun part of being on a jury is when you actually follow the rules set forth by the judge, you can really create an air of mystery. As instructed, I told no one about the case I was on but hinted that it would be kind of fun to talk about once it was over. I knew my wife would be especially interested as she is extremely knowledgeable about footwear and athletic brands.  My friend Jon, who I had a hunch about, might be familiar with Thom Browne since he works in fashion.  I was amazed when he sent me a photo of the three Thom Browne shirts he owns when I told him I was on the jury for the high-profile case. In the jury room, we didn't really discuss the case until deliberations began, but we could tell we were all getting tired of day after day of seemingly endless discourse on "stripes."
Eventually, I got used to my new job, my new office and my new commute. I rushed through the line flashing my VIP juror badge to security and joked every time I handed in my chip to the electronics desk bragging that in courtroom 14B, the kindly judge lets us have our phones.
It was an experience that I'm glad I had. I feel I can cite it as a good reason to skip future juries since it was, in my opinion, a colossal waste of time and money. I'm disappointed in a system that brings a case like this to court, but I can appreciate the efficiency and organization of the lawyers on both sides and the judge who made sure the proceedings moved forward with purpose. As a producer, it reminded me of a well-oiled TV program or live event: everything was part of an organized agenda and all parties had a strong sense of how long each element would take to get us through to the final act.
In the end, deliberations were pretty quick and painless. We were all essentially on the same page in acknowledging that the adidas three stripe mark is famous.  Thom Browne is not confusing folks with their use of four bars or the multicolor grosgrain ribbon that adorns most of their garments because Thom Brown is a unique, luxury brand with its own identity and iconography.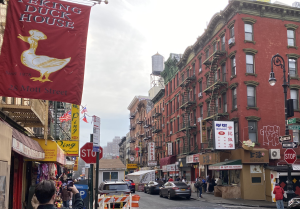 We did not award adidas any of the monies they were requesting for licensing and profit losses in their suit. It was far less dramatic than A Few Good Men but having the Thom Browne team thank us on our way out felt like we did something that contributed to a small group of people feeling a sense of relief and victory.
If you ever get called to the Southern District, give it a chance. You'll probably get lucky and be dismissed after a week of catching up on your reading in a big quiet room with no electronics. If not, maybe you'll be selected for a fancypants case that looks good on a resume, gives you some real insight into the judicial system, and a glorious, personal thank you letter from the judge telling you that you're okay in his book.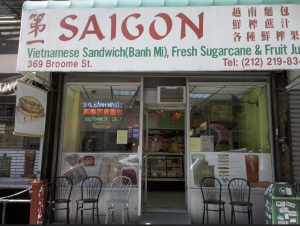 Oh, and "working" so close to Chinatown for two weeks gives you some of the best food options in the city.