A desire to bag the corporate world and start their own venture led Vincent Cox and Bettina Warshaw to their business at the corner of Elm and Wells streets across from Peekskill High School. At Benny's Brown Bag, the name is a combination of Vinny (Vincent) and Betty (Bettina), customers receive their gourmet sandwiches in a brown bag with the signature logo.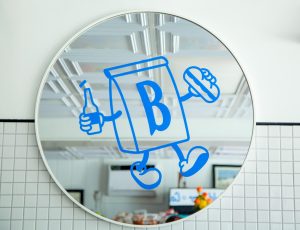 "I think we're both creative people and never really had the chance to break out within a corporate setting. We're able to create whatever we want here and carve our own path." said Cox when interviewed by the Herald this week during their 'soft' opening.
The location at 1100 Elm Street is the former home of D&M Deli where high school students and neighbors were served for 38 years by Andrea and Liz Vivenzio.  They sold the business in March 2022 to two Peekskill High School alumni who ran it for three months. Cox and Warshaw purchased the business in late May 2022. 
Cox and Warshaw are relatively new to the community, with Cox moving to Peekskill in 2017 and Warshaw in 2020. Cox had a career in the business marketing industry for years with companies such as Facebook, Genius, Soundcloud and Myspace. Warshaw worked in podcasting for five years, most recently being employed by Spotify. From 2016-2018, Warshaw worked on a podcasted titled "Swole Sisters" with Kerri Donnelly, where the duo exercised and spoke on a variety of topics. 
After moving to Peekskill seven years ago, Cox commuted to the city five times a week for his marketing job but knew he wanted to branch out. In November of 2019, Warshaw decided she wanted to leave the city and pursue a career in the hospitality industry. Growing up in Mount Kisco, Warshaw was familiar with Peekskill and along with her husband, Seth Applebaum, moved here during the pandemic. 
It was a cookout at the home of a neighbor where the two met. They bonded over their taste in music and their shared desire to leave the city and create a business in Peekskill. Initial conversations centered around owning a bar but after the space at D&M Deli became available in May 2022, Warshaw and Cox jumped on the opportunity.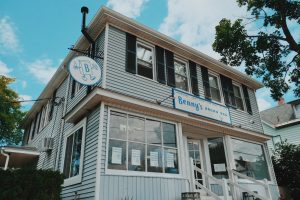 Since Cox and Warshaw are first time business owners, over the past year the pair consulted with many proprietors and chefs in Peekskill to gather advice and figure out what are the best ingredients to work with.  "My thinking was if we want to do it, we have to do it right," said Cox. 
Benny's Brown Bag will be providing deli meats exclusively from Thumann's Inc, a New Jersey family owned and operated company – not Boar's Head which is commonly found in most deli's. In addition, Benny's Brown Bag will be working with multiple distributors for their bread deliveries such as Rockland Bakery and Ossining Bakery in order to provide ciabatta bread, challah bread, different sliced breads, wedges, and classic kaiser rolls.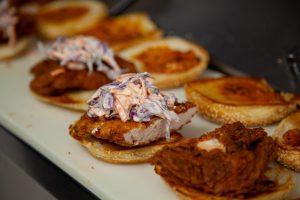 Originally, Cox and Warshaw planned for a spring opening but admitted underestimating how much goes into running a business. The duo had to acquire a liquor license to be able to sell craft beer at the store in addition to working with the city to make sure all codes were being followed. The pair also spent a great deal of time renovating the space which they felt was needed after being in operation continuously for almost 40 years. 
New outlets and electrical power were added, as well as a new counter and improvements to the plumbing and ceiling. The pizza oven was also removed to add more kitchen space. As they prepared to open, Cox and Warshaw met with Dr. Jenna Ferris, principal of Peekskill High School, in order to discuss ways they could help keep students safe. Various strategies were discussed to keep the store running smoothly and Ferris provided the owners with many ideas about what foods appeal to a younger audience.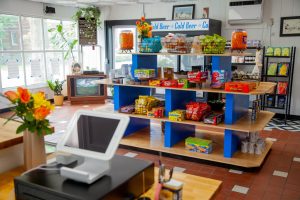 Managing the kitchen is Phillip Dixon, a chef with 10 years experience in the food industry, working for restaurants such as Gleason's and Birdsall House. Dixon is a 2012 Peekskill High School alumni and a former loyal patron of D&M Deli. Dixon was a part of a group of seniors who would go back and forth from D&M Deli to the high school to buy lunch for younger students when the high school stopped allowing underclassmen to leave campus for lunch in 2011.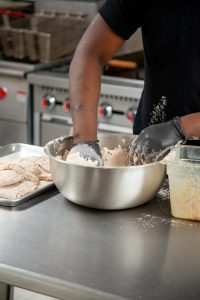 When Dixon was approached to join the team at Benny's, he thought he was being pranked. He accepted the offer and immediately started setting a higher standard for the team and refused to work unless he was allowed to make almost everything from scratch using fresh herbs, homemade sauces, aioli and pesto, fresh chicken cutlet battered and fried to order, and much more. 
Dixon expressed his excitement to get the ball rolling with Benny's Brown Bag and hear feedback. "I want people to complain about parking," said Dixon jokingly. A goal Dixon has set for the future is to provide deli meats made in house.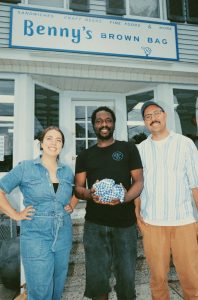 During the last few months former owner Andrea (Dre) Vivenzio helped Cox and Warshaw with different aspects of the business in order to get their store up and running. Vivenzio and his family continue to own the property that houses Benny's Brown Bag. 
"I hope that we can make them proud," said Cox. Warshaw and Cox revealed they are considering adding chocolate chip cookies to the dessert menu – a community favorite made popular by Vivenzio and his wife. For now, the dessert menu consists of Aunt Banana Pudding and Brown Butter Rice Krispie Treats.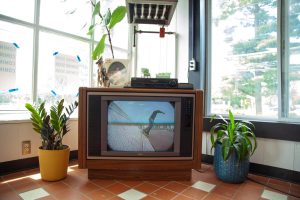 For the summer, Benny's Brown Bag will be open Monday through Saturday from 11 am to 4 pm. Hours and days are subject to change. Customers can expect to see Dixon, Cox, and Warshaw there everyday. The store will be selling exclusively lunch sandwiches as they continue to gather feedback and will expand their menu as the school year approaches. 
They anticipate a menu refresh for the fall season, introducing two new sandwich specials every week or every other week depending on how things go. Customers are encouraged to follow Benny's Brown Bag on Instagram for updates on specials, hours, and new menu items. Phone is (914) 600-8848.