Placing flags in remembrance at cemeteries
Some 3,500 veterans from the Revolutionary War to current times are buried at the four cemeteries in Cortlandt; Assumption, Hillside, Van Cortlandtville and First Hebrew. Each of the graves marking a veteran received an American flag on Saturday from members of the Peekskill Rotary Club, the American Legion Post 274, and some 25 members of East and West Lakeland Girl Scout troops and a Somers Girl Scout troop, in anticipation of Memorial Day which was created as Decoration Day, a day of remembrance for those who have died in service to the United States. Memorial Day is celebrated on Monday, May 29 this year. 
"A nation reveals itself not only by the men it produces but also by the men it honors, the men it remembers," said President John F. Kennedy. "Of course today we equally honor service men and women, but the sentiment of Memorial Day remains crystal clear. A key component of our nation's greatness lies in our ability to honor, appreciate, and cherish, through our actions and our memories, all those who died to ensure our freedom. Memorial Day is a special holiday, a single day during which we honor the spirit of all those who died in service to our nation but whom we continue to remember and honor in our hearts," said John Donohue of American Legion Post 274.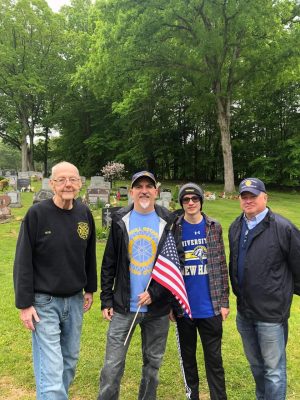 Services honoring those who died for their country will be conducted at Monument Park, at the intersection of N. Division Street and Highland Avenue at 10 a.m. on Monday.