School trustees confronted with stories of bullying
Angry and concerned residents, students and parents attended the first Board of Education meeting following the tragic May 25th death of 10-year-old Hillcrest Elementary School student Gianlukas Illescas. They were at the June 6th meeting  to protest and bring awareness to bullying in Peekskill schools. 
On May 26th, Dr. David Mauricio, Superintendent of Schools, addressed the death of Gianlukas in a letter to Peekskill families. "It is with a heavy heart that I write to inform you of the unexpected passing of a Grade 5 Hillcrest student on Thursday, May 25. Our hearts are with the family and friends of this student during this difficult time, and we send our condolences to those grieving this loss," said Mauricio. A vigil was held June 1 and 2 at Ortiz Funeral Home in Port Chester. 
A GoFundMe was started within a few days after the death of Gianlukas by his father, Christian Illescas, to assist with funeral costs, the family's relocation, and overall help for the family to get back on their feet. As of Wednesday, June 14, the GoFundMe had received $19,115 from 256 donations, exceeding the original $10,000 goal. 
At the board meeting, groups of people gathered outside the Administration building around 6:30 pm to protest and walk into the school board meeting together. Chants of "No more bullying" and "Queremos justicia" ("We want justice") were shouted along with posters being held, some reading "He matters! Hold the administration accountable!" and "Justice for Lukas". As the start of the meeting approached, people began to pack the auditorium eagerly waiting to voice their emotions. News 12, Univision, and Channel 7 were all on the scene.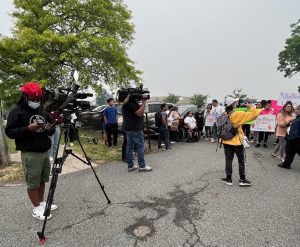 After the pledge of allegiance, a loud chant of "Justice" was shouted to board members. Dr.  Mauricio acknowledged the death of Gianlukas and held a moment of silence. Before the hearing of the citizens, the conditions of conduct for the meeting were read to the audience in English and Spanish."We know that there is emotion and things that want to be shared and I want you to know that we're here to listen tonight," said Mauricio. Soon after, Mauricio began to give his SuperIntendent's Report, which happens at every Board of Education meeting, but was met with loud chants and reactions from the audience; one member stood up and questioned why Mauricio spoke on other matters – instead of the death of a young scholar.
People gave emotional speeches in both English and Spanish. One of the first people to speak during the citizens hearing was Gianlukas' father, Christian, who has publicly declared the death of his son a suicide from the bullying he received at Hillcrest. As of this writing, Peekskill police have not issued a report about the death, saying the investigation continues. The Westchester County Medical Examiner last week ruled the death an accidental asphyxiation from hanging.  
"An innocent life is lost that I cannot recover. He was the love of my life, my grandson. Let justice be done for my grandson please," pled Gianlukas' grandmother. "It's in every grade level of this school we're talking about even kindergarten, it's going to everybody. Lukas went to Hillcrest but it's happening in the high school, in the middle school, in Woodside, in Uriah Hill. This is not an isolated incident," said resident Elena Walker. 
Gianlukas' uncle spoke, insisting audience members come to all board meetings to ignite change, rather than having this be a one-off. "I hope my child gave a life for the rest of the children," said Gianlukas' grandmother.
Many parents, young children, and current students spoke about their experiences of bullying in Peekskill schools.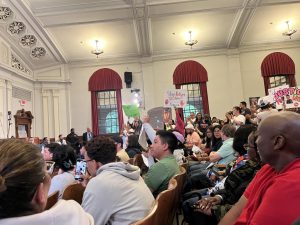 Parent Kirsten Berger detailed the ways her three children have been bullied for some time. "While teachers and administrators over the years have addressed some of the bullying, it's been inconsistent due to the high rate of school and district administration change over. There's been no consistent age-appropriate character education programs in the district. This is necessary in order to create a school culture that isn't conformist and aggressive, one that is accepting and kind. They need to focus on teaching acceptance of differences, empathy, courtesy, respect and kindness." 
She continued, "These concepts taught should be reinforced by everyone working at the schools. Incidents, no matter how small, should be dealt with right away.  This can be done with a quick conversation with all the kids involved in the incidents. Kids should feel like they can report an incident without being told to stop tattling or be dismissed. Faculty and staff should look out for negative interactions, since lunch and recess are one of the times when most bullying takes place. Lunch monitors need to be trained on how to recognize all kinds of bullying and how to deal with it and not be allowed to stand together in one clump, chatting as if it's their own recess time and not paying attention to the children. I know doing all these things is a lot of work, but it can make a difference. It won't eradicate bullying entirely, but it can reduce how often it happens. For the sake of all kids, and especially, in honor of Lukas, let's see some change. Our children deserve to feel safe at school," said Berger. Her impassioned statement was interrupted at times by applause from meeting attendees.    
President of the Peekskill Faculty Association, Tim Murphy, along with Peekskill Middle School counselor Jose Fernandez shared their condolences and offered support for students and staff during their grieving process. 
"They (children) need a good influence in their lives. Watch what you say around your children. They are sponges. What they see at home is what they're going to continue to do in school," advised parent Jennifer Gordineer.
Many native Spanish speakers expressed feeling ignored or overlooked by school officials due to the language barrier. Some parents suggested the school board teach parents what DASA is and how to file a form because they feel many are unaware. New York State's Dignity for all Students Act, (DASA) is legislation that seeks to provide students with a safe and supportive environment free from discrimination, intimidation, taunting, harassment, and bullying on school property, a school bus and/or at a school function. (Here is the link for the Peekskill's School District page on DASA.)
After two hours, as the school board meeting came to end, chants for the resignation of Dr. Mauricio were shouted. Mauricio and board members were escorted out by school district security as audience members became more hostile. Mauricio joined the Peekskill City School District as Superintendent of Schools in 2018, taking over from interim superintendent Dr. Mary Foster. In 2020, Mauricio was named a 2020 Superintendent to Watch by the National School Public Relations Association, an award given to 25 district leaders from across the country.
In a letter to Peekskill families on Saturday, June 10th, School Board President Branwen MacDonald and Dr. Mauricio acknowledged the medical examiner report and addressed allegations made at Tuesday's board meeting. "There is extensive evidence of individual contact/outreach by district staff to the family. Any suggestion that the district 'did not have the time' for this student is simply inaccurate. We wish we could publicly share the exact steps that were taken to support this child and family, but we legally cannot disclose specific information about students," read the letter.