New trustee is a PHS alumna; incumbent returns for third term
About a hundred less Peekskill residents went to the polls this year to vote for a school budget and trustee seats in Tuesday's election. Last year some 533 people voted. This year saw 434 cast their vote for the two candidates running for two seats and a $115 million dollar proposed budget that is a 9.7 percent increase over last year. 
Incumbent Branwen MacDonald, who is the current president of the board, received 349 votes and Amy Vele, a 2013 PHS graduate, received 333 votes. Proposition Number One saw 321 yes votes and 113 votes opposing the spending plan. There were 38 write-in candidates.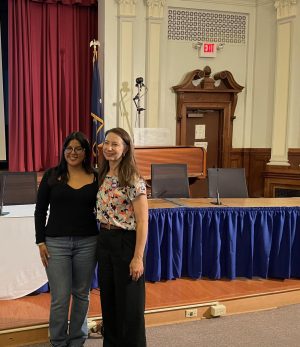 The budget proposed the following: literacy, special education and math coaches have been added to the elementary team to support higher level vocabulary, language acquisition, problem solving, project based learning and differentiated learning opportunities for all students. The dual language program is offered from pre-kindergarten to grade 5, an increase in the amount of English as a New Language staff in elementary schools. In addition an elementary strings program introduces violins, bass, and cellos, beginning in grade 3. In the upcoming year the string program will extend to grade 11. All elementary buildings have a clinical team dedicated to social emotional learning. The district will continue to expand its commitment to the community school model, partnering with outside agencies to provide enrichment opportunities for children.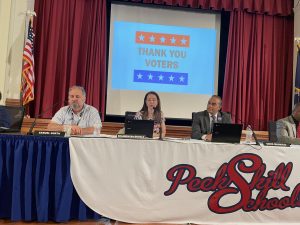 In the Middle School, new teachers will be added to support the transition to a nine period day which lowers class size. At Peekskill High School, there will be increased engineering offerings. There will be an expansion of academic offerings in digital arts, advanced pre-calculus, college Computer Information Systems, College Statistics, AP Biology and College Drawing. In addition, there will be increased college course offerings, with focus on college and career readiness and partnership with Putnam Northern Westchester BOCES for culinary arts and robotics programs.