Peekskill's Sol Miranda on Finding Her Way in Theater, Television, and Film
Her Film Opens Peekskill Festival Friday Night
Sol Miranda has several things in common with the character she portrays in Come Find Me, the film that will open this year's Peekskill Film Festival. Among the most compelling is that she and her character Gloria are pioneers. They are both Latinx and have had to fight to live and work and grow in this country.
Miranda was born and raised in Puerto Rico, where she began captivating audiences—in this case, her classmates—when she was in third grade.
"During religion class, I began to do these little performances where I would start speaking in tongues and end the whole thing by fainting," Miranda says. Her classmates would gather around to wake her up; one of them even brought a bottle of perfume to put under her nose. Miranda says this exercise in improv and drama was more about getting attention than being a performer. She did, however, realize her calling the following year when she saw her sister Ileana perform in a talent show. "She was so good and had such stage presence," Miranda says "The exhilaration I felt became like an AHA moment. I knew then I wanted to be on stage, be an actor."
Some parents might discourage their children from pursuing a career in the arts, but that was not the case with Miranda. In fact, it was quite the opposite. Miranda says her father was her greatest coach and mentor. He had grown up in poverty and ignored his parents' wishes that he take the safe route and become a schoolteacher; instead, he chose to pursue his dream of becoming an electrical engineer. Miranda says he achieved his dream with "incredible grit and tenacity, audacity even." Miranda says he recognized himself in her and encouraged her to pursue her dreams. "Now is when you need to take risks," he told her. "You gotta do your thing now."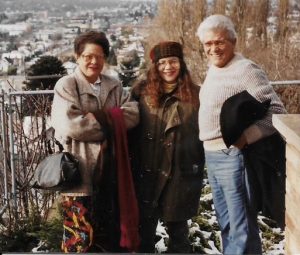 Miranda went on to study drama at the University of Puerto Rico. There she was exposed to Latin American and Puerto Rican playwrights along with the likes of Euripides, Shakespeare, Chekhov, and Williams. She performed in productions by all of them.
That changed when Miranda attended the University of California, San Diego, where she went to get her MFA and pursue her training as an actor. "In grad school, they were telling me to focus on Latinx theater only," Miranda says. The actor struggled to adjust to more than the limited roles she was expected to be able to perform. "While I was learning from my teachers and enjoying all this new training, I was also trying to understand most of my peers, theater artists of color born and raised in this country who grew up to believe, at a molecular level, that they were second class citizens. The idea that one's talent and hard work will guarantee success was completely shattered."
Real Women Have Curves was Miranda's first professional play on the U.S. mainland. She performed it at the Seattle Group Theater. Miranda remembers Seattle as a "wonderful theater town," but one lacking in diversity. "When I was there, I was the only Puerto Rican actress," she says. "I worked in small union theaters, but never the big ones. I was too foreign for them. I remember a director/actress, now a friend and colleague, told me, 'You blew our minds at the audition, but we just didn't know how to use you.'" Miranda has noted that there are more Latinx artists in American theater now, but "in television and film, we are still way underrepresented. And if you have an accent, prepare to struggle in this business."
When she didn't have theater work, Miranda cleaned houses with a group of college students and moms looking to make extra money. That's another thing she has in common with her character Gloria; they both cleaned houses on the way to reaching their dreams, on their way to being seen.
The actor has a fond memory from that time of being seen for who she was and what she could do. "This amazing director, Robin Smith, cast me in her experimental rendition of The Seagull, where I played Masha. I was the only Latina in the cast. She saw me."
Tired of being in a city that was "too white, too segregated, even in the arts," Miranda moved from Seattle to Brooklyn in 1995. "I needed to be with my tribe," she says, "the Latinx tribe."
Miranda quickly immersed herself into New York City life and theater. She worked with INTAR, one of the oldest Hispanic theater companies in the U.S., and Puerto Rican Traveling Theater. She also began teaching at Hostos Community College in the Bronx, where she was an adjunct professor. Life was very busy.
When Miranda become pregnant with her daughter, she and her now ex-husband decided to move to Peekskill. Miranda says they wanted to give their future child "something closer to our childhood and still be close to New York City." Miranda recalls her first visits to our city on the Hudson. "The first time I saw my house, I knew it was meant to be my home," she says. As for Peekskill, Miranda says, "I fell in love with its diversity, its emerging artistic vibe, and the walkability of our downtown."
With a new baby on the way and a mortgage to pay, Miranda took a hiatus from acting in 2001 to pursue a tenure track position at Hostos. She received tenure in 2006, the year after her son was born. She resigned the following year. "I burned out," she says. "I felt I could no longer keep doing the full-time teaching and all the responsibilities it entailed, plus take care of two babies. I took a leap of faith."
She was done with teaching full-time—though she remained an adjunct. What she wasn't done with was her dream of being on the stage. She signed up for an acting bootcamp and met a "wonderful agent" at an audition showcase.
The work came slow and steady after that. "There aren't many auditions or roles for my type," Miranda says. Then came the audition for a life-changing role, that of Dona Maria in the sitcom "Unbreakable Kimmy Schmidt." Miranda had only one line to show she was right for the part. She knew she had to give them something more. "Her gesture came to me, and I went for it," Miranda says. "I bit my nails and spit them as I spoke her one line." As Miranda says, "The rest is history."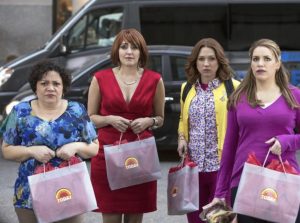 Miranda says her life changed greatly after she got the part of Dona Maria. She got to bring so much of herself—and her family—to the role. "My mom and tías loved to laugh and were down to earth, no nonsense. I wanted to give that to Dona Maria, and the writers went for it."
When the show wrapped after four seasons in July 2019, Miranda was filled with mixed emotions. "I was sad and grateful," she says, "and two years into a divorce process. That show helped me… it was a wonderful steppingstone in my acting career, and it gave me the ability to provide as a single mom."
Miranda may not have known it, but the seeds to her next breakout role had already been planted. She had played a supporting role in Daniel Poliner's 2013 first feature film, Jack, Jules, Esther, and Me. The writer and director had been taken by Miranda. "I was blown away the first moment I met her," he has said. "I just knew if she were given a lead role, she would be incredible."
Poliner wrote another film, Come Find Me, and cast Miranda in a lead role. She also became one of the film's producers. The film, which was written and filmed over four years, was a labor of love. It is about a mother and daughter facing major life changes. Miranda describes the movie as "a universal story tailored to two very accomplished Latina women."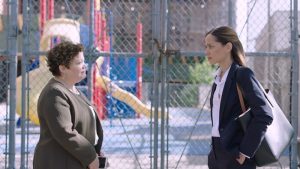 The actress says that the story is universal in that audiences will be able to identify with a mother-daughter story, "their love for each other, having each other's back… how they push each other to be their best," but sometimes "this pushing can bring great conflict and pain." Miranda says it becomes a Latinx story because it is a story of the "outsider" or "otherness." She adds, "Their struggle to achieve self-fulfillment is marred with another set of obstacles that the privileged section of the population doesn't even have to think about before going to bed."
Miranda has been involved in several of the film's screenings across the country, and it has been a moving experience. She was brought to tears during a screening at the Xicanindie Film Festival, a Chicano film festival, in Denver which, she said, felt like being with her Chicano peers back in San Diego. She added, "I may never again have a leading role in a feature, and that's fine. Dan has gifted me with an opportunity in a film that not even anyone from my own tribe has given me. The more I watch, the more it moves me. I totally identify with both characters. I am a mother and a daughter…."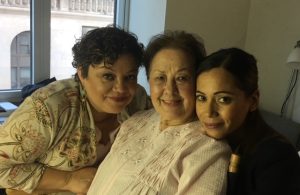 The actress is excited about having this film shown in her adopted hometown. "Obviously, it will feel much more personal screening it here. Peekskill is my home. To share it with so many dear friends and supporters of the film will be overwhelming in many good ways."
And Miranda may once again become choked up during the Q and A after the screening. As she said after another screening, "I have to keep fighting for me, and now for this awesome film that deserves a fair chance." Like the character she plays in Come Find Me, Miranda is fighting both for herself and for something besides herself. Given her strength as a person and an actor, Sol Miranda is worth betting on.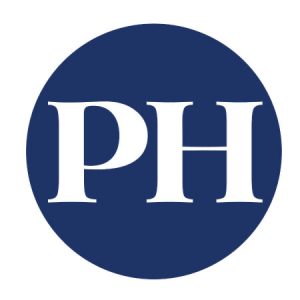 The Peekskill Herald is a nonprofit community newspaper, supported by members. To become a member, click here. Sol Miranda is a member of the Herald's Board of Directors.