Looking Back 30 Years Ago
Welcome to 2022.  I hope that for all of us, the New Year is full of love, glad tidings, mirth, family fun and good health. I'm sure that many of you got special and interesting gifts during the holiday season.  I got a very large, extremely heavy loan of a gift.  It's a bound volume of the 1992 issues of the Peekskill Herald.  It's about the size of a coffee table and weighs more than a large turkey.  I think that my wrists are getting a workout, as I try to lift it.  But for the next 12 months, I'm going to poke around in the pages and see what churns up to remind us of Peekskill's past and to embrace us in Peekskill's future.
1992 may well have been 30 years ago, but some stories take that long to begin and end.  Take the Gateway Townhomes on Main Street.  A big headline in the January 2, 1992 issue was  "Townhouse Project Near Bohlmann Gets $$." The article went on to say that the City had received $135,000 in grants from Westchester County, which would help the City acquire "two vacant, dilapidated commercial buildings on Main Street near Spring Street and demolish them."  The funds covered the purchase of  710 Main Street and other condemned property at 714-716 Main Street. Often times building projects move slower than sand in an hourglass and the Gateway Townhomes are a good example. Lots of us are old enough to remember the neighborhood composed of these old buildings and the empty, lifeless block that lay ignored, once the buildings were demolished.  But happier memories come along, when we think of the Community Garden which grew up in that empty space and provided vegetables, along with tranquility and community connection for several years.  And let's not forget artist Carla Rae Johnson's bucolic, life-sized spotted cow grazing peacefully in the middle of all the gardens.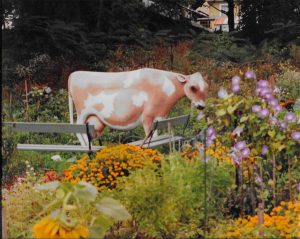 It wasn't until 2017 that the ceremonial shovels were used by the reigning politicos to get the building ball rolling.  Finally finished in 2019, the 16 units are now owner-occupied condominiums.  
If only the Gateway units were finished in 1992, they may have attracted newlyweds Joan and John F. Koval.  Their wedding announcement stated that the Garrison couple, who were then and are now both on the staff of New York Presbyterian Hudson Valley Hospital, did move to Peekskill.  Chances are they did some shopping at Nardone Brothers Furniture Store.  Back in 1992, Nardone's was located at 807 Washington Street, just as it is today, three generations later.  Nardone's must have really welcomed the Peekskill Herald as a source for publicity, because they splurged on a half  page ad, which featured – yes featured! – an elephant.  The elephant looked pretty pleased with his lot in life, as he was hosed down by a couple of circus roustabouts.  The oversized text broadcasts their huge four day sale, which featured a warehouse full of items "going for PEANUTS."
But back to our newlyweds.  Joan is the daughter of Mr. and Mrs. Frank Colasurdo, at that time owners of Peekskill Beer and Soda on Highland Avenue.  Today the busy beverage store is still in the family and run by Frank's son, John. Our Peekskill Herald continuum is strengthened, when I read that one of the bridesmaids was Joan's sister, Jean Spooner and one of the flower girls was her niece, Tracy Spooner.  Sister Jean moved on from wedding festivities to a full-time teaching position at Peekskill High School, from which she only recently retired.  And her daughter, Tracy is now Mrs. Budney, a 17-year-member of the Oakside Elementary faculty.  I worked professionally with both these women, when I was Head of Children's Services at the Field Library.  Jean Spooner served on many grant committees with me and helped bring thousands of dollars and other resources into the school district and Tracy Budney would help promote the love of reading in her young charges, by marching them over to the library for special field trips and by inviting myself and other librarians into her classroom.  Ah, once upon a time!  I miss those days!
According to an ad for Hermesch Realty, $142,500. could put you in a three bedroom colonial with a new furnace and roof and a one car garage.  The ad emphasized District 3 schools and low taxes.  Today you would need more than $500,000. to purchase a similar home in the same school district.
And speaking of taxes and school districts, the January 2, 92 edition of the Peekskill Herald covered the New York Power Authority "Wows 'Em With Energy" when they had the statewide annual production record for nuclear plants.  Indian Point 3 won the record by producing 6,752,884,00 kwh in one week, which was enough electricity to light all of New York City's street lights for 16 years.  And that all added to the tax revenues for area municipalities and school districts.  With the permanent shutdown of New York's Indian Point nuclear power plant on April 30, 2021, the Big Apple will have to look elsewhere for energy and many area school districts have to puzzle out how to maintain their high standards, without raising taxes.  
The Paramount Center for the Arts was kicking off a new season of classic films, under the creative direction of Robert Frischmuth.  The year opened with the Looney Tunes Hall of Fame, featuring such timeless favorites as Porky Pig, Bugs Bunny and (my personal favorite) Tweety Bird.  Fans with $4 could choose from a 2 or 8 p.m. show on Saturday or enjoy a real bargain on Sundays, when sandwiches from Hugo's were free to the early birds.  I still remember being transfixed, as the beautiful blue Pacific ocean filled the enormous screen and the opening credits rolled for South Pacific.  I have high hopes that the Paramount will once again honor its movie theater roots and begin to offer regular film nights.  I won't even grumble if they up the ante to Five Bucks!  As the film ends, assuming that this is the year that restaurateur Arne Paglia finally re-opens Hugo's Restaurant, I'll be making a beeline across the street for a cozy table and savoring the memories, just as much as the cuisine.  You might say, Back In The Day flows right up to now.  
Peekskill native Sally Bentley retired in 2019 after 35 years on the staff of The Field Library.  Lead photo from Westchester County Historical Society, Elmsford, NY