Lou Pataki Dies in Connecticut
Older brother of former governor was 80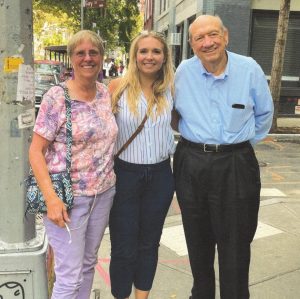 Louis Peter Pataki, Jr. died on November 29, nearly 4 weeks after his 80th birthday on November 2. The older brother of former governor George Pataki, Louis was an astronomy professor at New York University for the past 21 years. He received his undergraduate and PHD from Yale University and a law degree from Indiana University. At Indiana University he taught astronomy.  He practiced law in New York.
He was born to Louis Peter and Margaret (Lagana) Pataki in Peekskill in 1941. As a teenager, he received the rank of Eagle Scout and went on to be a Scoutmaster for Troop 2 in Rowayton, CT where he and his wife of 55 years (Jane Smith) raised their two children, Jonathan and Daisy. A volunteer with the Rowayton Fire Department, he included stamp collecting and orienteering among his hobbies along with an avid interest in his Hungarian,Italian and Irish heritage.
In addition to his brother George and sister-in-law Libby, he is survived by his grandchildren: Kaitlyn, Maggie, Milo and Juliana, and seven nieces and nephews and many grand-nieces and grand-nephews.
A funeral service will be held at 11 am Monday, December 6, at the United Church of Rowayton with burial to follow at Rowayton Union Cemetery. In lieu of flowers a donation can be made in his name to the Rowayton Fire Department (https://rowaytonfire.com/donate.php). For directions or to leave an online condolence, please go to www.magnerfuneralhome.com