Residents Rally at Senator Schumer's office
They want Senate Majority Leader to get 'For The People Act' passed
Editor's Note: The following press release was submitted by Peekskill Progressives 
Over a dozen people from Westchester, Rockland, and Putnam Counties gathered outside Senator Chuck Schumer's Peekskill office early Monday morning  to back the passage of SR1, the For The People Act.
The Peekskill rally at Schumer's Hudson Valley regional office was the first of numerous events happening at every one of the Senator's regional offices to show there is strong support of the bill and to call upon Senate Majority Leader Schumer to use every tool at his disposal to pass democracy reform.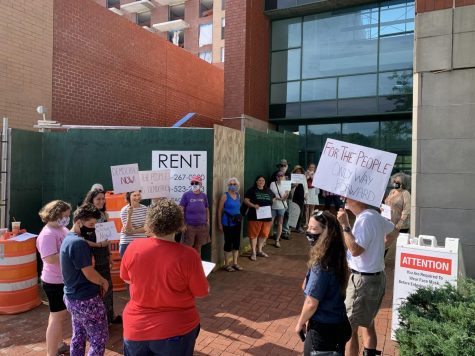 With 50 Democrats voting in support of moving the For The People Act forward, attention is focused on whether Senate Majority Leader Schumer can get this vital legislation passed. The For the People Act, passed intact, would substantially strengthen our democracy by protecting the freedom to vote, particularly for Black and brown people who are, and always have been, the primary targets of deliberate barriers to vote. The legislation would also limit the influence of corporations and wealthy donors in electoral politics and amplify the voices of everyday people through a public financing system and an independent, bi-partisan redistricting process.
This event is part of a national campaign called Deadline for Democracy by the Indivisible Project and 70 coalition partners. Indivisible and Fair Elections have teamed up to hold similar rallies at Sen. Schumer's 8 regional offices across the state.
Courtney Williams, Peekskill Progressives– "A lot is at stake if SR1 isn't passed. We can't act on climate, get healthcare for everyone, fund education, reform the courts- we can't do any of that if we don't ensure voting rights and the integrity of the electoral process."
Irene Lindberg, Westchester County Junior Youth Council– "I am 11 years old. In seven years I can vote. In seven years I will be able to decide what happens in my country. If Trump has done this much damage using the tactics that would be prevented by the For The People Act in four years, imagine what could be done by others in seven! Will I have to travel to vote? Will I be able to vote at all?"
Jan Melilio, Peekskill Progressives– "We're moving in the right direction in New York but in many places in the country we are moving in the wrong direction. We need the Federal government to protect those people and us!"
Vanessa Agudelo, Peekskill City Councilperson– "We need to push to get this done. Especially before the midterms. That is the only way that Biden's really going to be able to deliver on many of the promises he made on the campaign trail. We need to start the process to end the filibuster."