By Conor Greene
A driver crashed and flipped his car onto its side while speeding down Orchard Street earlier this month, with the dramatic aftermath documented by a neighbor. Afterward, social media was abuzz with residents' stories of reckless driving in their own neighborhoods.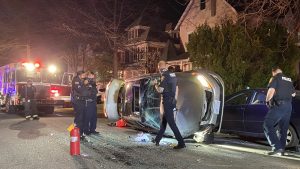 Speeding and reckless driving on residential streets and main roads alike has become too common and accepted in Peekskill. Reducing speeding is literally a matter      of life and death. A person is nearly twice as likely to die if struck at 30 miles per hour compared to 20 miles per hour. The city has not done enough to address this threat to our safety and quality of life.
Our goal should be zero deaths or serious injuries on our roads. We can't rely on increased police enforcement, which isn't practical or the right solution. So that leaves solutions including design, infrastructure and making this issue and goal a priority across all city departments and agencies.
I've worked hard to make our streets safer and more accessible as co-founder of Peekskill Walks. Now I'm running for mayor as part of the Progress 4 Peekskill slate of Democrats. If elected, making our neighborhood streets safer will continue to be a top priority, in addition to expanding mobility options like bikes and ebikes. It starts with things like high-visibility crosswalks, curb-extensions to reduce crossing distances, street trees, which help slow down drivers, more streetlights, which are proven to reduce crashes, and fundamental things like pedestrian signals, better signage, and crossings that are free of trip hazards. I'll focus on all that in City Hall.
I would start by focusing on intersections and stretches of road we know are dangerous. There were two fatal incidents on Washington and Hudson over the last few years, and no changes were made. Any time a person is struck by a car we should have a review process involving the planning and public works departments, police and the city manager to determine if any steps can be taken to improve safety. We will often find that minor changes could make a difference.
I would also focus on safe routes to our schools, parks, train station, library and other key destinations to encourage more people to travel by foot or bike. I'd institute a residential slow zone program in response to concerns from residents featuring strategies like narrowed entrances, painted intersections, signage and other simple design measures that can reduce speeding and increase the safety and quality of life on a block. I would also work with the state to improve safety at key intersections along Main Street, including at Nelson, where a child was hit and injured; at Division, which is terrible for pedestrians; and Bank and Broad, where pedestrians were also hit last year.
One of the best things about Peekskill is our beautiful, quiet and generally safe residential blocks. There are so many benefits to making our streets safer and making our city more walkable and bikeable in general. Promoting a safe pedestrian environment is good for our environment, our collective health, and the local economy.
As our city continues to develop, it will be more important than ever to ensure we have safe streets and prioritize getting around on foot and by bike, especially if we want to grow in a healthy and sustainable way. We should not accept drivers putting our families at risk just so they can save a few seconds while speeding through our neighborhoods. Unfortunately, too many neighbors are being injured on our streets, or feel afraid due to dangerous drivers and bad design. Everyone deserves safe streets, and, if elected, I will work hard to make that happen.


Conor Greene is running for mayor on the Progress 4 Peekskill slate of Democrats. He is currently pursuing a master's degree in Urban Planning at Hunter College and is a co-founder of pedestrian advocacy group Peekskill Walks.