Local musicians Kristina Koller and Alex Smith created a bit of buzz last month when their mysterious new Instagram account @feelgoodmusicpeekskill suddenly appeared on March 15th. Its first post was a stunning sunset over Charles Point park, along with the caption
I don't know about you, but I feel like this is definitely the perfect spot to watch live music during the summer. Who is ready for some feel good music in Peekskill?! Raise your hand ! ✋🏻✋🏼✋🏽✋🏾✋🏿
After a year of pandemic quarantining, scaled-back and canceled events, and a long, hard winter – the answer seemingly was "EVERYONE!" The following day, a beaming Koller explained to a few dozen new followers that her brainchild, the Feel Good Music Series, is a brand-new outdoor music series coming to the Peekskill waterfront this summer.
In the three weeks since that first post, series co-producer Alex Smith introduced himself; the six Saturday show dates were revealed; and the pair unveiled a sweet logo that can't help but make you happy.
The Herald sat down with the musical duo recently to find out more about this exciting new Peekskill event.
PH: Lots of Peekskill residents have seen you both perform, but for those who aren't familiar – what's your background and how did you come to live in Peekskill? How did you meet?
Alex: Mostly I'm known for my work as a keyboardist and arranger for Lady Gaga and Tony Bennett from various projects such as their "Cheek to Cheek" album to accompanying Lady Gaga for the national anthem at Super Bowl 50 and working most recently as a featured performer for her Jazz and Piano residency in Las Vegas. For the twenty years I've lived in the New York area, I've had the opportunity to share the stage with musicians like Terence Blanchard, Stevie Wonder, Brian Newman, Emily King and Molly Ringwald. My wife, daughter and I moved to Peekskill in 2013 after finding our Astoria apartment too cramped for our growing family. We immediately fell in love with the downtown shops and restaurants and the wonderfully kind and creative people here. Kristina and I met during this pandemic year. She got in touch with me when she moved up here from the city and was kind enough to ask me to play some outdoor gigs with her last summer.
Kristina:  I'm originally from Yorktown Heights and Peekskill was always a second home to me. I moved to Peekskill in December after living as a touring vocalist/arranger/composer/educator in NYC for 6 years. Currently have two albums released on all streaming platforms, Perception (critically acclaimed jazz debut) and Stronger. Once the pandemic hit, I  wanted to find out who else lived in the area, and came across Alex! We played a few gigs together over the summer including Peter Pratt's Inn and the Downtown Summer Series in Peekskill. It seems as though we were both meant to meet to create a music series for Peekskill!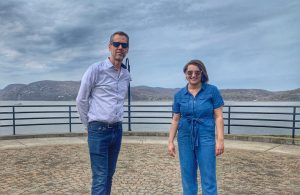 PH: What was the inspiration for the Feel Good Music Series? Who's idea was it and where did it come from?
Kristina: I've always seen the potential in Peekskill and told myself that "if I move to Peekskill I'm going to make an impact on the live music scene there."  This is how the Feel Good Music Series was created. The title came about because we wanted to make it something positive since we have all been cooped up for the past year with no live music!! If it weren't for the pandemic we definitely wouldn't have had the time to plan a music series. The pandemic in a way gave us the space to create something that'll be long lasting for years to come.
Alex: When Kristina reached out to me with her idea to bring an outdoor music series to Peekskill, I knew right away that it was just what we needed here. We have wonderful musicians, residents who come out to support live music and some gorgeous shared spaces in this community. We then approached Wilfredo Morel who runs the arts education non-profit, Arts 10566, who eagerly joined as a partner and has been instrumental in bringing this vision into life. 
PH: What do you hope to accomplish with the Series?
Alex: At this time, when so many indoor music venues are closed, the Feel Good Music Series fulfils a great need for cultural programming and gives our residents the opportunity to gather with social distancing at the lovely Charles Point Park. All of our concerts will also be paired with educational programming that will provide greater enrichment and outreach to the wider community. 
PH: Can you reveal any of the performers, or at least the musical genres? 
Kristina: Right now we cannot reveal the performers until the funding is solidified. But the genres this year consist of jazz, fusion, funk, alt pop and rock. 
PH: The location for the shows is pretty iconic, and yet none of us can remember having seen a live performance there. What inspired you to locate the shows at Charles Point Park?
Alex: Charles Point Park was actually suggested to us by Cathy Montaldo, the head of Parks and Recreation here in Peekskill. When we took a look at the spot we knew it would be perfect! 
Kristina: Charles Point is a beautiful landscape and not only is it scenic but it's the perfect location for those who are local to Peekskill but also for those coming from out of town whether it be on the Metro north or from surrounding areas. To be able to walk a trail to music so easily definitely makes the location unique. 
PH: The logo artwork is awesome. Who's the designer?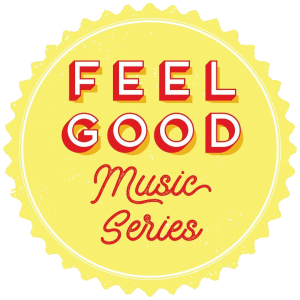 Alex: We were lucky enough to get Merideth Harte to design our logo. She's a long-time Peekskill resident, the Executive Art Director for Callisto Media and has her own design company that she shares with her sisters, Jenniffer and Amy called 3&Co. They've done some wonderful design work for Universal Records, Simon & Schuster and the Peekskill Brewery (plus more around town). You can find some examples of her work on her website, https://www.threeandco.com . 
PH: How can folks get involved or help with making the series happen?
We have wonderfully talented musicians and some great educational outreach planned this summer at Charles Point Park. But we can't do it without community support.  We are currently collecting donations via Givebutter and have until April 15th to raise the necessary funding. Also, we have a corporate sponsorship program for any local business that would like to support this series. We think it's a wonderful opportunity for our local companies to make an impact in our town and let others know about the work that they do here. Businesses interested in signing up can do so here.  For people who can't afford to donate, we are also looking for volunteers. Volunteers can email us at [email protected] 
PH: Are you already dreaming of a bigger / better Feel Good 2.0 in 2022? When you close your eyes, does that look like?
Kristina: We would love for this series to become a regular yearly event, expanding in terms of genres of music and more performances. Our vision for the series to always have half local artists, half NYC based and to keep it as diverse as possible. 
Feature photo courtesy of Peekskill Exurbanist, exurbanist.com