Peekskill Waterfront Proposal Draws Questions of Affordability and Scale
Unveiling a massive development proposal for Peekskill's Railroad Avenue at Monday evening's Committee of the Whole meeting, developer Martin Ginsburg was unequivocal: "It does make a statement, this building. You could make this so that nobody even knows that anything's going on here. I think that would be a big mistake. This is your railroad. This is supposed to have density…it should make a statement. If you want a non-statement, you've got the wrong guy."
Ginsburg, representing Ginsburg Development Companies (GDC), which has previously built several Peekskill residential projects including Fort Hill Apartments, the Abbey Inn, Riverbend, and Chapel Hill, started his presentation reminding the Common Council about the success of those projects. 
The new development as currently proposed would place a nine-story mixed-use building at the corner of Railroad Avenue and Requa Street, directly opposite the city's Metro North Station. It would feature 165 rental apartments, many with sweeping views of the Hudson River, atop a forty room hotel and 5,000 square feet of street level retail space. The project would replace the existing commuter lot at 305 Railroad Avenue with four levels of parking integrated within the structure, hidden in the building's base behind the retail and hotel levels.
The building as currently conceived would require three actions by the Common Council: sale of the city-owned commuter parking lot at 305 Railroad Avenue; as well as two zoning text amendments: one to allow new buildings in WF-2 zones to stand an additional two stories than the maximum five floors currently allowed; and a second that would allow hotels as an acceptable use in those districts.
Citing Peekskill's relatively unique "potential to have a deep water port", Ginsburg explained the proposal's significance: "Combine the railroad station and a deep water port, and a great waterfront park, and then Railroad Avenue and Hudson Avenue become extremely important as a gateway to Peekskill".
GDC's Chief Architect Leoncio Torres provided an overview of the proposed development, which would include an overhaul of Railroad Avenue itself, including new sidewalks; driving lanes constructed of pavers rather than asphalt; a decorative archway over the street, matching the look of the train station; and replacing the current parallel on-street parking with diagonal spaces to increase capacity. According to Torres, the overall number of parking spaces in the one block strip would increase from the current 191, to 252 with the proposed changes.
Torres presented two versions of the proposal, including one with two ten-story towers, but the developer seems to favor the slightly shorter, three-tower version shown above.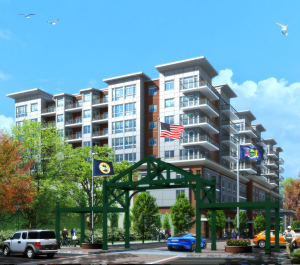 After Torres finished describing the proposed development, Ginsburg turned the conversation to affordability, asking the Council if they intended to develop affordable housing to benefit the people of Peekskill, or if it was intended for others from outside Peekskill. He later noted that in the company's Gateway Townhomes project on Main Street, the two units that were designated affordable garnered no applications (of 38 received) from current Peekskill residents, and ultimately both units were sold to buyers from outside the city. 
"The idea is to make sure that the residents are fully cared for, and able to take advantage of what the city has to offer as it grows," responded Mayor André Rainey. "If there's a unique way to bring people in without pushing our people out, I think that's the best answer that you'll probably get from many of the people in Peekskill."
Ginsburg went on to describe programs sponsored by GDC in Haverstraw, and on Spring and John Streets in Peekskill (the approach roads to their Fort Hill Apartments / Abbey Inn complex), where the company subsidized exterior improvements to derelict properties adjacent to their developments. "If you can combine that with a program that also funds interior developments…and keep it affordable…it then avoids what very often happens when neighborhoods improve: gentrification; the people can no longer afford to live in the neighborhood because everything becomes too expensive."
Deputy Mayor Vivian McKenzie interrupted, sounding skeptical, "Are you just saying that versus putting an affordable component in the projects, to keep people in place where they are, and fix up parking lots and beautify the area on the outside? That's how you would [provide] affordable housing? I just want to be clear."
Council Member Vanessa Agudelo expressed interest in hearing Ginsburg out, citing what she described as an ongoing housing crisis in the community.
He suggested that communities prefer requiring an affordable component within new market rate apartment buildings "because it's the easier thing to do" – versus managing a program to repair and maintain existing housing stock as affordable – but made it clear he thinks the latter is preferable, because it allows people to stay in place in their existing homes. "Affordable housing does not have a great history. A lot of them turn very bad. So, when you have neighborhoods that can be retained as neighborhoods with people in them, it's obviously the better way to go."
"There are a lot of projects that start out as market rate, and they become affordable housing when they can't get financing – or after they get into trouble." At one point he stated flatly, "I have done affordable housing, and I'm very familiar with the results – and the process and everything else that goes with it, and it's not something that I'm a great admirer of the results that I'm familiar with."
He went on to suggest that inclusion of 10% affordable housing (as has been proposed in legislation the city is developing) could cause a development like Railroad Avenue to become impossible to finance. "Peekskill hasn't established its market rate (housing market). You don't have that much interest from the major people that are building apartments in the more established communities. I'm a pioneer. I go where nobody else goes."
Councilperson Agudelo expressed interest in hearing more about the neighborhood affordability program Ginsburg referenced, but said she believes that regardless of alternatives, the proposed Railroad Avenue project should include a component affordable to existing Peekskill residents as well. She cited statistics showing over a third of Peekskill renters are spending more than fifty percent of their monthly income on rent. 
"I haven't heard you speak of any detrimental effects of including affordable housing…besides you stating that it has a really bad rep," said Agudelo. "I think it has a really bad rep because there hasn't been enough investment in these types of projects."
Turning the conversation to parking, Agudelo asked if decreasing the number of proposed spaces in the development could increase the number of units and help allow them to be more affordable. She also expressed concern about the increased traffic the project would likely spawn, stating that pedestrians already feel threatened by cars speeding through the area.
GDC's Torres responded that the proposed ratio of 1.3 parking spaces per residential unit is the minimum ratio that has been successful throughout all of the company's previous projects. He concluded, "I think we're right on target for parking."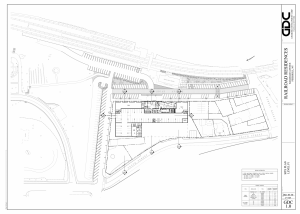 Councilperson Kathie Talbot asked about the proposed building height as it relates to the existing zoning. City Planner Jean Friedman explained that the existing code allows the developer to average the height above grade between the South Street and Railroad Avenue frontages, allowing the building to be considered seven floors (despite the nine story elevation on Railroad Avenue). GDC still needs a two floor variance to achieve the proposed height.
Councilperson Dwight Douglas sounded more positive about the project. "Your proposal's interesting. It's a market-rate proposal, you're talking about doing affordable housing – not in the building but through various programs – that's worth looking into. I think adding the hotel in the zoning is good. It may be a little bit tall, and I'd like to hear what the Planning Commission has to say about that. I think maybe three stories on South Street instead of four stories…would be a better scale. And maybe we don't want all that angled parking…maybe we want wide sidewalks where tables and chairs can be put out on it."
Douglas continued, "It would clean up one of the ugliest sights. When you get off the train…and you look across at this lot, I think it would be wonderful to get this into a state where you could start to build something that would look very attractive…I think this is worth us considering, and I think it's worth considering doing the affordable housing offsite – provided the benefit is larger than it would be if the 10% is applied here, and provided that it really did help strengthen the neighborhood. That's just my opinion."
Peekskill resident and waterfront business owner Steven Zwick, owner of Dylan's Wine Cellar – a half-block from the proposed development has concerns about the proposal. "Although I support the continued efforts to develop our waterfront, I strongly oppose a project of this size at the proposed location. As one of the few retailers along the waterfront, from a business standpoint, I should be in favor of more foot traffic to my store, however, I am more passionate and concerned about our area/city as a whole.  The possible addition of this amount of people to our small area, which is already experiencing traffic and safety issues, will overwhelm and have a negative effect on the very area we all locals love and enjoy.  I fear the completion of a project of this size will forever change the landscape of our waterfront negatively, in addition to Peekskill losing its small town feel along our waterfront."