Editor's Note: To celebrate Hispanic Heritage Month, the Herald is featuring Young Latin Voices, profiles of a few of Peekskill's Latin business owners.
As a teenager, Roy Escobar liked a good party. But for a Latino kid in Peekskill in the 1990s, "There weren't that many Spanish parties. One day, I went to a party with my family. My friend Salvador Rivera was the DJ and he had an MC that had an amazing voice. "I was like, 'I want to do that!'" At the time, Escobar already had a lifelong love for music, being the "DJ of the house" and playing tunes at family events. Escobar chose a career as a disc jockey and hasn't looked back since. 
Peekskill residents may be familiar with "DJ Esco", who has played tunes for various events such as Cinco de Mayo, Hispanic Heritage Festival, National Night Out, and high school varsity games. But, a majority may be unaware of who Roy Escobar, the man behind the turntables, really is. Escobar has worked with and supported the youth of Peekskill, in addition to being a family man, soccer coach, and of course, a disc jockey. 
In fact, Escobar was recognized for his contributions to Peekskill by the city's Common Council, at its September 25th meeting, for Hispanic Heritage Month. He received a certificate from Mayor Vivian McKenzie and a standing ovation from council members and friends and family in attendance.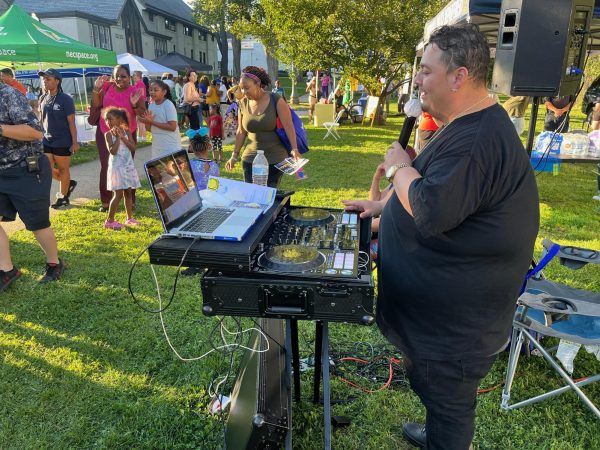 Childhood in Peekskill
Escobar, 41, was born in White Plains, but grew up in Peekskill.  His parents immigrated to the United States from Guatemala in the late 1970s.  The family relocated to Peekskill in 1984, when Escobar was two years old. Escobar graduated from Peekskill High School in 2000 and married Thania Santos, in April of 2007. The couple have three children: Liony Polonia Santos, Roy Escobar, Jr. ("Chichi"), and Isaias Escobar. Roy is a junior at Peekskill High School and is a star for the Boys' Varsity Soccer Team. Isaias is currently a seventh grader at Peekskill Middle School. 
Escobar recalled the challenges his family faced in Peekskill in the 1980s. "The Hispanic community in Peekskill back then – you can count on two hands. That's how many Hispanics were in this city back then," said Escobar. The whole family struggled to adapt to a new lifestyle and to learn English. Escobar found it especially difficult to balance two languages –  English at school and Spanish at home – but he was able to grasp it as he got older. 
Escobar credits his father for instilling an intense work ethic in him. At age 9, Escobar's father showed him how to work hard and hustle. During summer vacations, Escobar would help his father with his landscaping business, getting paid to do very small tasks. On weekends, Escobar and his father would deliver newspapers to houses in Peekskill for extra money. Escobar's father died in 2013. 
That work ethic paid off. After high school, Escobar enrolled full-time at the College of Westchester, majoring in business marketing. A semester before Escobar was due to graduate, he received news that would change his life forever: his girlfriend, now wife, Thania was pregnant. To support his new family, Escobar began working long hours. At first he tried to balance family, work, and school, taking afternoon and night classes. But the demands of fatherhood and work overtook other pursuits, and Escobar had to drop out of school. Escobar, 21 at the time, and Thania welcomed their first son, Liony Polonia Santos, on January 26, 2004. 
Breaking into the music business 
Escobar fondly remembers his "first gig" in 2001; he was 19. He was at a bar and asked the DJ if he could step in for a little while. The DJ agreed and that night Escobar was able to get a taste of what his future as a DJ could look like. Escobar was so eager to "be in the business" he took any job even tangentially related to DJing. He started off as a helper for experienced DJs, carrying equipment and setting up the booths. In doing so, Escobar was able to meet many and learn from local DJs, and work on his craft. 
In the late 2000s, there was a clear "mecca" for all  aspiring local DJs: Prophecy Ultralounge (now called Coliseum White Plains). "If you played at Prophecy, you were considered that guy," said Escobar. In September 2009, hoping to break into the business, Escobar would go to Prophecy and hand out his demos to club promoters. "One day I got that one special call from the manager of the club. He said, 'I like your mix. I would like to set you up on a date.'"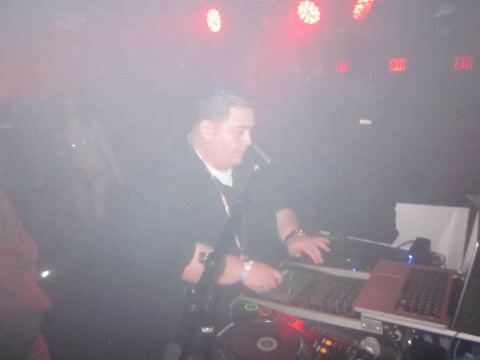 Escobar was offered a prime night at Prophecy: the Friday of Halloween weekend.  But there was one condition – he had to promote the event and pack the venue. "[The manager] put my face on a flier and gave me 5,000 flyers." Determined to get his opportunity, Escobar hustled: "I posted flyers in bodegas, barbershops, bars, everywhere. Sleepy Hollow, Ossining, Peekskill, White Plains." He continued  this pilgrimage every day for the three weeks leading up to the event. According to Escobar, Prophecy would be lucky to get 300 people on Fridays. When Escobar promoted the club, more than 700 people showed up for his event. Escobar felt relief when he saw the turnout: "I had a line around the corner." 
After Esobar's Halloween success, his DJ career took off slowly, but steadily: he  began to DJ at bigger clubs, and even was featured on local radio [stations]. In 2010, his good friend and mentor, DJ Bacan, regularly invited Escobar on  his show. Escobar recalled one day when Bacan asked for help on how he should read his scripts and, unbeknownst to Escobar, Bacan went live. The audience listening at home heard Escobar's careful advice.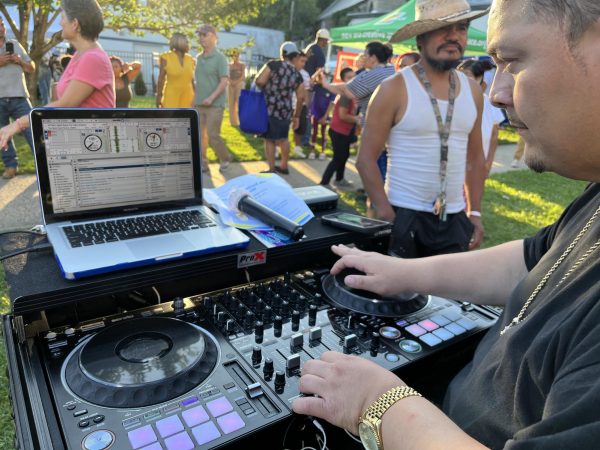 Escobar received many calls from friends and family congratulating him for making it on the radio. Escobar credits Bacan for a lot of his early success and showing him how to become an emcee: how to pace an event, to communicate and connect with the audience, all with his signature style. 
Now, Escobar is the "go-to" DJ in Peekskill. People can find him at different city and school events: most recently, National Night Out and the Juneteenth celebration this past summer, and at Peekskill High School varsity games. 
Inspiring the Youth
Escobar is known throughout the area for being an inspiring soccer coach. Yet the first time Escobar had any real exposure to soccer was at a baseball practice. His son Liony's middle school Little League team was practicing at Hillcrest Elementary School. Liony kept missing balls that were hit to the outfield because he was so interested in watching a soccer practice being played nearby. At the end of the practice, Liony told Escobar he wanted to try out for the soccer team. Escobar remembers telling Liony, "You play baseball. You're going to be [in the] MLB (Major League Baseball) – what are you talking about?" But his son was persistent. Liony told his father he had played with his cousins and good friend Joaquin Salazar, who was also a Peekskilll soccer star Escobar hesitantly allowed his son to try out for the Peekskill Santos 2004 travel team. Divisions are divided in year of birth. 
None of the coaches could believe the raw talent Liony showed. Liony made the Santos team, and Escobar traded his baseball for a soccer ball. The passion Liony showed for soccer pushed Escobar to learn the sport and support him in a bigger capacity. "I got my coaching licenses. I did everything Coach Ramon (Councilman Ramon Fernandez) told me to do. Because I wanted to be a part of it with him," said Escobar. Escobar would go on to climb through the ranks at Peekskill Santos, going from assistant coach to head coach within two years.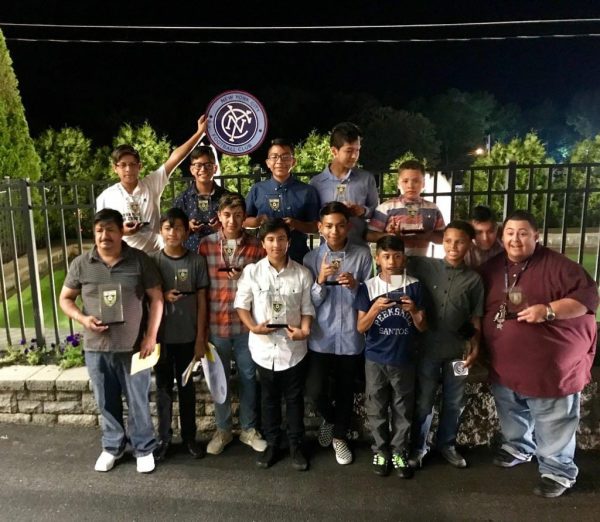 When Escobar took over the Peekskill Santos, it was in the league's lowest ranked division, Division 3. But Escobar had been working with the boys for more than two years; he knew they were capable of holding their own in a more competitive division. Despite pushback from the team's board, which was concerned about the team's ability, Escobar persevered: not only did the Santos team get into Division 2, after just two years, they won the league title.  
Escobar continued to lead the team to more competitive divisions, winning a second league title in the process. His proudest accomplishment as a coach was seeing his boys be recognized for their hard work at an award ceremony at Anthony's Pier 9 in New Windsor. "Winning that second division [title] and having all my kids at an award dinner made me so proud. Seeing all the teams there and we were all a group of Hispanic kids. That made me so happy," said Escobar. Although Escobar no longer coaches for Peekskill Santos, he continues to coach and be a part of his son Roy's Quickstrike FC 2006/07 soccer team, which recently traveled to Florida to compete in a national tournament at ESPN Wide World of Sports Complex. The team made it to  the semi-finals. 
Esobar's work with the youth continued beyond  the soccer field. In 2014, he became a bus monitor, helping Peekskill children to schools, such as Cedar Knolls Academy, Rye Lake, and Pine's Bridge, which are many miles outside of the city. Escobar is a source of comfort on these long bus rides: he cracks jokes, offers treats, and the children respond; they confide in him about their struggles at school and at home.
Escobar's inherent compassion for and genuine interest in children has a lasting impact. Former players or students often come up to him at events. "I have known some of these kids since they were 12. Now they're 19, grown adults and they still come up to me, give me a hug, and say what's up," related Escobar. 
Moving forward, one day at a time
On July 4, 2021, Escobar tragically lost his eldest son Liony in a drowning accident on the Delaware River near Barryville, NY. The Peekskill community took quick action to surround the Escobar family when they learned of the 17-year-old's death. "All the kids I've been there for, they all came out for me. They showed so much love. That love was unconditional." Escobar was stunned by the turnout at the candlelight vigil held at Ruben's Mexican cafe, and the support from the Middle School, which opened its doors to allow students and parents to speak with counselors. "I never thought the city would come out for me the way that they did. There's no words to explain how my family and I felt," said Escobar.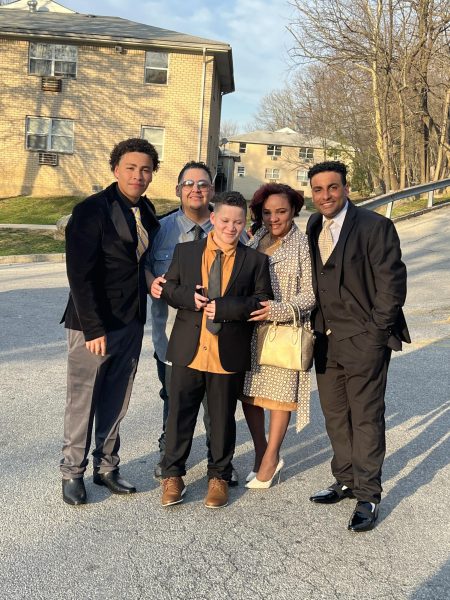 With time and the support of his other children, Escobar has managed to keep moving forward. "What kept me strong was my two boys, Isaias and Chichi (Roy). Isaias was nine years old at the time, he was turning 10 before that happened. He would come up to me and my wife and see us absolutely destroyed but he would say, 'Daddy don't worry. Just have faith. You're going to see him again.' My kids keep me strong," said Escobar. 
What's Next?
Escobar is not slowing down anytime soon. He would like to be a part of the Peekskill City School District in the future. He envisions  starting a "Big-Brother" program that would allow former graduates and well-known people in the city to become mentors and help kids in all grades in Peekskill. He cited the extensive amount of bullying going on in New York schools as a reason for this future endeavor. 
As for the DJ side of Escobar's life, he has no plans of stopping his nearly 23-year long career. "DJing is like my adrenaline rush. I enjoy controlling the crowd. Anyone can be a DJ but a good DJ has to know how to read the crowd." Escobar plays music at many public events but people can also book him for private events such as quincerañas (sweet 15s), sweet 16s, weddings, baby showers, and much more. 
People interested in attending an event where DJ Esco will be mixing up tunes can follow his social media where he posts upcoming gigs.