It's going to be a barking good time from 11-3pm at the 1st Annual Barktoberfest held at the upper parking lot of Tompkins Park. This event hosted by the Friends of the Peekskill Dog Park will feature live music & entertainment, food trucks, a Doggie Halloween Parade and doggie Costume Contest.
All four legged participants are guaranteed Puppuccinos. Singing live and in person will be Kristina Koller. Koller, a Peekskill resident, is a nationally known progressive jazz-centric artist. She is also the founder of High Top Productions and South Street Jazz where she brings jazz musicians into Downtown Peekskill in an intimate setting reminiscent of NYC Jazz Clubs.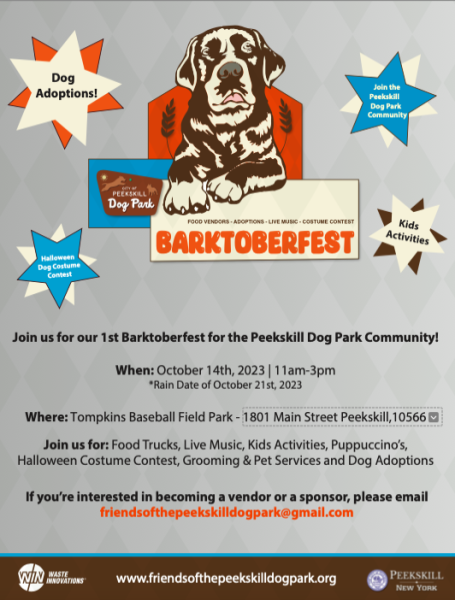 There will be plenty of activities as well such as grabbing a taco from the Paradise Taqueria & Birreria Food Truck or an ice cream from the Homestyle Desserts Ice Cream Truck. Perhaps your puppy would enjoy you buying them some Good Reasons Dog Treats or visiting vendors such as Fox & Hound Pet Services, Happy Tail Smile the Traveling Vet Technician, Sit Means Sit Dog Training services. Dress up your pup in a Halloween Costume and enjoy a howling event.  Tompkins Park is located at 1801 Main Street, Peekskill. 
* Friends of the Peekskill Dog Park is a 501c3. All donations are tax deductible and funds raised by the Friends of the Peekskill Dog Park are used to maintain and beautify the Peekskill Dog Park.