It was an unusual idea for northern Westechester some 30 years ago and was written about everywhere from the New York Times to the Wall Street Journal to the Journal News and the Peekskill Herald, Peekskill became known as a city for artists. What was the reasoning behind the Artist District and who came up with the idea? The history of the Artist District will be discussed by the people who created it on Thursday, October 19 at 7 p.m. 
 A Retrospective of Peekskill's Artist District: How it evolved and contributed to the city's revitalization is the theme of the Peekskill Museum's Gala at KinoSaito in Verplanck.
Join the Peekskill Museum as Ralph DiBart, Urban Planner and the brainchild behind the idea of an Artist District, Dwight Douglas, former Director of Planning and Development, now serving as a Peekskill Common Council member, and Larry D'Amico, mural and landscape artist, and member of the Peekskill Artist Alliance (PAA) for 24 years recount the history and development of the Artist District that jumpstarted Peekskill's metamorphosis into an artist mecca.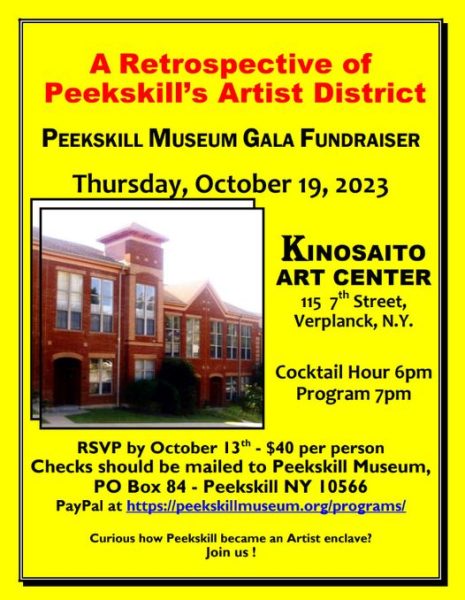 This is a must-attend event for residents, newcomers, and anyone curious about how Peekskill became a city full of Artists.  KinoSaito, located at 115 7th Street in Verplanck is the venue for the event.
Cocktail Hour begins at 6:00 p.m., followed by a brief history and panel discussion beginning at 7:00 p.m. The cost is $40 per person. RSVP by October 13th via PayPal at: https://peekskillmuseum.org/programs/ or payment by check to: Peekskill Museum, P.O. Box 84, Peekskill NY 10566.
---
If you would like to have your event publicized and advertised for free, please add your event to the Peekskill Herald Event Calendar. You may even get to become a highlighted featured event of the week.
Do you like what you see? Click here to subscribe for free to the Peekskill Herald. Do you really like what you see and want to support local thriving journalism? Click here to donate and become a member of the Peekskill Herald. The Peekskill Herald is a 501c3 charitable organization and all donations are tax-deductible.