Peekskill Talent Takes Center-Stage in Sold-Out Show
George and Ruth: Songs and Letters of the Spanish Civil War is a moving play that is being staged at the Capa Space in Yorktown Heights with a great deal of Peekskill talent.
The play is a recitation of letters exchanged between newlyweds George and Ruth Watt during George's time as a volunteer in the Abraham Lincoln Brigade in the Spanish Civil War. The letters are being read by Peekskill actors Emrigael Alpern and Nick Nazario.
Alpern says she began to pursue her acting passion in earnest during high school when she starred in several Peekskill High School Drama Club shows. A PHS 2015 graduate, she has continued her acting studies at SUNY New Paltz while also pursuing a degree in creative writing.
Nazario is an active member of Westchester Collaborative Theater (WCT) in Ossining and has performed in a number of shows with WCT. Nazario has studied with The Barrow Group in New York City as well as at Westchester Community College; he continues his studies at WCT.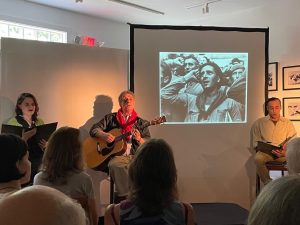 George and Ruth is being directed by Katie Feder, formerly of Peekskill. Feder, along with Peekskill's Sol Miranda, co-founded EMBARK, a performing and literary arts nonprofit organization that is currently on hiatus. Feder spent five years as the Executive Director of Garrison Art Center and is now a freelance director and performer, among other things.
Peekskill's Gene Panczenko, whom Feder refers to as the "technical guru" of the show, adds video and projection to enhance the presentation. Panczenko recently had a photo exhibit documenting nearly 30 years of Peekskill history at the Field Library.  
In addition to these local artists, the readings in the show are accompanied by folksongs from the period performed by singer/guitarist Albi Gorn. Though he doesn't live in Peekskill, Gorn has performed throughout Westchester and New York City for decades. He brings special insight to the show's music as his parents and their community taught him the songs of the Spanish Civil War.
The Abraham Lincoln Brigade Archives in partnership with the descendants of George Watt have allowed the play to be produced without royalties, though the Capa is paying the actors, musician, director, and technical help.
The Capa Space is a nonprofit education and exhibit space at 2467 Quaker Church Road, Yorktown Heights. The show is being presented in conjunction with the photography exhibition, This Is Robert Capa!
Feder says that while there have been talks about staging the show at another venue, there is nothing definite planned at this time. That doesn't mean you cannot see the show, however, as Peekskill's James Brooks will be videotaping Thursday's final performance to put on the Capa Space's website, https://thecapaspace.org/.