Documenting Peekskill from 1995-2023
Photo exhibit opens at The Field Gallery
Peekskill resident Gene Panczenko has been documenting Peekskill for as long as he's lived here. His new photo exhibit is at the Field Library Gallery, 4 Nelson Avenue and is open to the public when the Library is open. The exhibit runs through the end of April. Opening reception is Saturday, April 8 from 2 to 4 p.m.
The stunning images remind Peekskill of it's not too distant past.  The sky behind the home that stood at the corner of Main and Broad Streets where the Central Firehouse is now located continues to thrill.  The exterior of the old train station that is now home to the Lincoln Depot Museum recalls the years the building was forgotten. The grand staircase at the former Drum Hill Junior High School is now the centerpiece of the senior living community there. People can view the images through this link on the photo sharing site Flickr.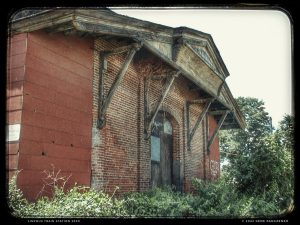 Panczenko says he's been taking photos since he was old enough to hold a camera. He grew up in Ossining and graduated OHS in 1975, served in the U.S. Air Force in NJ and England, went to the State University of New York at Binghamton where he majored in film, He got married and moved to Hawaii, lived in the San Francisco Bay Area (he was there for the 1989 Loma Prieta Earthquake).  He moved back to Ossining briefly for family reasons, and wound up in Peekskill in an 1895 Queen Anne Victorian, where he and his wife Phyllis have lived since 1995.
His photographing career began in childhood with taking pictures using roll film cameras, point-and-shoot disposables, Polaroids, 35mm SLRs, to various digital cameras and cell phones. Not to even mention shooting film on Super-8, and video on just about every format commercially available.
His interest in photographing Peekskill was stimulated by the nature and architecture of the city he encountered in his explorations. He soon realized that many of the places he photographed soon started disappearing or radically changing, either through demolition or natural deterioration, or in a more positive way, through renovation.
"That's when my hobby turned into a dictate to document as much about Peekskill as possible. I capture moments in time that are significant, visually appealing, amusing, thought provoking, unusual, poignant, or interesting for any number of reasons. Sometimes it's just to be able to remember where I have been and what I have seen. I have thousands of slides, negatives, and digital photos, if not tens of thousands. Sharing my photos through the Facebook group, Peekskill New York in Pictures, has provided me with a way of sharing my discoveries. The positive comments I received, and the stories and memories my photos elicited from members just served as an affirmation that I was doing something important and appreciated."
"Although I have exhibited my photos occasionally in galleries in the past, this is my first show exclusively about Peekskill. In terms of the sheer quantity of photos I have taken, it is, as they say, the tip of the iceberg. I hope to have many other exhibitions, and plan on eventually coming out with a photo book. Peekskill has so much to offer it can hardly be summed up in one show. I plan on continuing my documentation of life here as long as possible."
This exhibition contains 41 photos he's taken between 1994 and 2023. Yes, 1994, not 1995. "I made a mistake when titling the show but I'm not about to change it now. The first images were the ruins of the Drum Hill School, the Purina Chows Warehouse, and what remains of the National Stove Works. The exhibit takes you on a path roughly from the Riverfront to Downtown, meandering through MacGregory Brook, Fort Hill, and Drum Hill, highlighting familiar iconic buildings such as the Chapel at St. Mary's, The Flatiron Building, and The Guardian. There is a story behind every photograph, and not just mine, but yours too. I would love to hear them."