Alex Mendia: From Ecuador to North Division Street
Alex Mendia recently changed the name of his North Division Street restaurant from Downtown Steakhouse to Gauchos Steakhouse. He made the change to be able to expand the menu to include food from Argentina and Uruguay as well as Brazil, but the new name could also be used to describe Mendia. A gaucho is a South American cowboy, a person known for bravery, tenacity, and generosity, among other things. And while Mendia is not a South American cowboy, anyone who knows Mendia knows that he is brave, tenacious, and generous.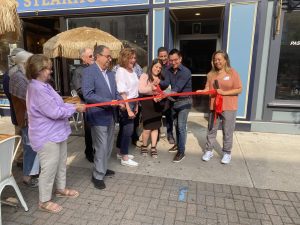 Mendia has shown bravery and tenacity all of his life. He was 13 when he and his ten-year-old brother made the three-month journey from Ecuador to Peekskill. There they were reunited with their parents, whom they hadn't seen in eight years. Mendia remembers that this was a difficult time.
"One of the challenges was trying to learn English," he says. "It also took some time to bond" with parents he had not seen in years. One way Mendia bonded with his father was by working with him in his construction company. When he was not in class at Peekskill Middle School, Mendia helped his father finish and install wood floors.
"I learned a trade," Mendia says of working with his father. "That's how I made money in high school." Mendia went to BOCES for plumbing his last two years at Peekskill High School; doing renovation work with his father made him realize that plumbing was an important skill to have.
Mendia graduated from PHS in 2009 and began his own contracting business. He had his first client a month after graduation. The client initially hired Mendia to do a small project but ended up having him build an entire basement.
"I didn't know what I was doing," Mendia said, so he hired people who could help him learn. Before long he had hired 17 workers. He had bought tools and trucks. Mendia Contracting was born. Alex Mendia was just 19 years old.
Sometimes his age was a problem. Mendia would show up for a job, and the client would ask, "Where's the boss?" or "Where's your father?" Sometimes, when the client realized Mendia was the boss, they would send him away. Mendia learned to bring one of his right-hand workers, an older man, with him to these meetings.
Mendia says that there was no sense of competition with his father. "There was just happiness that his son was growing," he says.
Mendia was soon starting a family as well as a business. He met his wife, Lourdes, when he was 19. They married the following year, and the year after that they had their first child, a daughter.
The joy of welcoming his first child was soon followed by a terrible loss. In 2012 Mendia's younger brother with whom he had traveled to the U.S. nine years earlier, died in a tragic accident.
"It was a lot to go through," Mendia says. He walked away with new insight. "I learned that nothing is forever. You need to take opportunity when it comes to you."
That's just what Mendia did when saw a space for rent on North Division Street in 2020. He was walking between his office and his shop when he noticed that the space first occupied by Ruben's was now vacant. Mendia knew the space. He had played sometimes played the guitar there as a teenager.
Mendia was intrigued. He'd only ever worked as a contractor, but his father's family all owned restaurants, so he had spent a lot of growing up years in family restaurants in Peekskill and surrounding towns.
"I called the landlord," Mendia says. The landlord told him that there were quite a number of people who were interested in the space, and that he was looking for something different. He wanted a restaurant that was unlike any others in the area. Mendia had recently hired a Brazilian woman to work in his office, and she had introduced him to Brazilian food.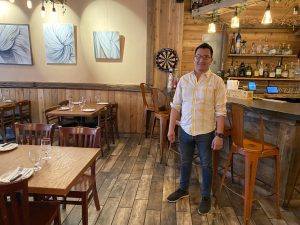 How about a Brazilian restaurant? Mendia suggested off the top of his head. The landlord loved the idea, and Mendia signed the lease in August of 2020. He would rent both the restaurant space and the apartment above it, where he and his family now live.
When the landlord told Mendia that several artists had been interested in renting the space for a gallery, Mendia had an idea. He would showcase one artist a quarter on his walls. His generosity would allow artists to display their work without having to pay to rent gallery space.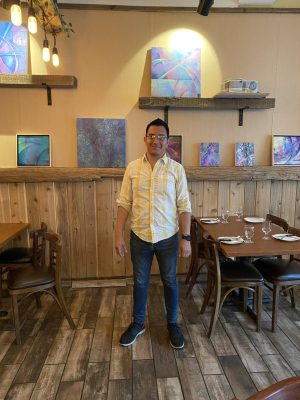 After signing the lease, Mendia spent the next fifteen months and several hundred thousand dollars renovating the restaurant. People sometimes questioned such a big investment, especially during the height of COVID, when many restaurants were closing. Mendia wouldn't have done it any other way. "You have to put love into it," he says. Mendia put love, money, and a lot of sweat equity into the renovation, doing much of the renovation work himself.
Mendia was painting the outside of his restaurant the evening of November 18, 2021, and looking forward to opening in December. Two friends had stopped by to visit when, Mendia says, "All of a sudden I heard thunder." It wasn't thunder, but an SUV that had crashed into a car and was careening onto the sidewalk and straight towards Mendia and his friends.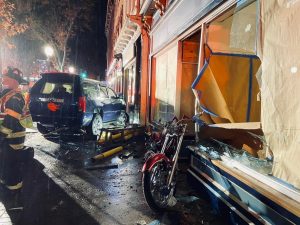 It all happened so fast that Mendia didn't realize what had happened except that suddenly he was on the ground, couldn't feel his right leg, and couldn't see his friends. He managed to get up and find them before he collapsed, his ears ringing.
"I didn't know how much damage I had," Mendia says. He knew his wife was upstairs with a new baby, their third child. "I had to let her know I was okay." He found his phone, saw missed calls from his wife, and quickly called her.
"Don't worry, I just hurt my leg," he told her. Then Mendia called his parents. After what had happened with his brother, he did not want them to worry.
His mother and father quickly rushed to the scene, only to find paramedics covering Mendia and his friends with a sheet. The cover was to protect them from the rain that had started to fall, but Mendia's mother thought her son was dead.
"I heard my mother screaming," Mendia says. He quickly got the blanket off of his face and gave his parents a thumbs up to let him know he was okay.
Mendia spent two days in the hospital. He had injuries to both knees, his left shoulder, his left arm, and his back. Doctors said it would take years to get back to normal.
"It was tough," Mendia says. "I give a lot of credit to my wife. She was already raising three kids, and now she had another, me. Thanks to her, I'm still here."
Mendia's injuries made it impossible for him to do contracting work. Four months after the accident he had to close Mendia Contracting. Now Mendia is focusing all of his attention on the restaurant and on his family.
Restaurant work "is more about using your head than your body," Mendia says. "This will help me heal; it will give me time to recuperate."
Mendia was finally able to open his restaurant in May of 2022. It's a family affair, as his wife does all the administrative work for the restaurant. The restaurant just celebrated its first anniversary with a ribbon cutting on June 9.
One of the things that Mendia is enjoying most about this work is that it is "giving me the time I need to spend with my family.
"I'm getting to see my children grow up. I get to take them to school, to pick them up." He is excited that his eldest is about to start middle school. She is almost the age he was when he first came to Peekskill.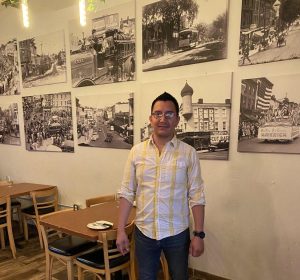 Mendia is proud of Peekskill, his adopted hometown. He notes how the city has grown in the last 20 years and adds, "Peekskill is still growing, and it gives people here the opportunity to grow."
Gauchos Steakhouse is at 5 North Division Street, (914) 293-0292, and opens every day of the week at noon.