Council hears about new community kitchen and traffic study for Division St.
Common Council members were asked during Monday's work session to authorize spending $23,000 for a pilot community kitchen program that would begin this summer. The community kitchen would be geared towards students and senior citizens.
Council members also got a status update for the Civic Hub & Connectivity Project that's funded by the state DRI grant money that features a traffic study and there was continued discussion for the proposed abandoned shopping carts ordinance. The Committee of the Whole meeting, which lasted nearly three and a half hours, was led by Deputy Mayor Patricia Riley. Mayor Vivian McKenzie was not present.
The Community Kitchen is a collaboration between the city's Youth Bureau, Senior Citizens and the Parks and Recreation departments.  Johnathan Zamora, the nutrition site manager and Tuesday McDonald, executive director of the Youth Bureau, shared their vision of the Peekskill Community Center as a valuable, safe and supportive environment where residents of all ages, backgrounds and interests can come together to socialize, learn, grow, and connect with each other. The summer pilot program would be available for eight youths, 18-24 years old and be held in the Neighborhood Center's Dining Room. It would offer a restaurant-type setting for all residents to gather, socialize, and dine but would provide more than just food.
The students hosting and working the dining room would be learning practical skills of the food services industry with mentoring provided by credible messengers. A credible messenger is an accepted member of a community employed to aid and influence others in that community, usually intended to reduce violence. The program would also leverage relationships with area farmers and others to provide meals using locally sourced ingredients.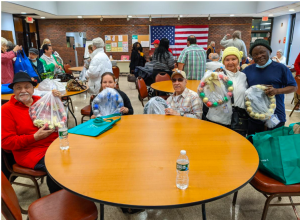 "The kitchen will be available two to three times a week to start, we'd have certain set hours, reservations will be made just like any other restaurant for everyone in Peekskill to have the ability to dine with dignity and to have the ability to pay what they can afford," said Zamora.
The Peekskill Community Center will offer a variety of programs and services such as after school programs for children and youth, adult education classes, fitness classes, arts and cultural programs, social services, support groups, and volunteer opportunities. The Neighborhood Center will be used for the proposed programs. Zamora and McDonald hope the community hub will benefit Peekskill residents and address topics such as anti-violence, stress management, critical thinking, leadership development, job readiness, college preparation, access to technology, and minimizing food insecurity.
The community kitchen program will be evaluated for its effectiveness in different ways. Program participants will be asked to complete a questionnaire at the start and end of the program along with a survey designed to measure participation in both risky and anti-social behaviors and attitudes. Feedback from both participants and community partners will also be taken into consideration.
Update on Civic Hub and Connectivity project
"We're inching towards construction on the DRI projects for the Civic Hub and for Pedestrians and Cyclists Connectivity between the waterfront and downtown," said City Planner Peter Erwin.
As part of Peekskill's DRI award, New York State allocated $1,626,000 to the "Downtown Civic Hub" project and $1,102,000 to the "Pedestrian and Cyclist Connectivity" project, for a total of $2,728,000 for design and construction.
According to Peekskill's DRI Strategic Investment Plan, the Civic Hub project includes renovating the public spaces around the flagpole and the gazebo at Central Avenue and Division Street and constructing "Peekskill Plaza " on South Division Street between Park Street and South Street. The Connectivity project includes a bike lane, bike parking, pedestrian bump outs, and landscaping improvements leading from the train station to downtown (Railroad Avenue, S Water Street, Central Avenue).
In September 2022, Barton & Loguidice (B&L) were hired to provide design, construction documents, and construction inspection services. Budget estimates for these projects are estimated to be at $3.2 million – over the allocated grant award – but is only preliminary and can change according to Erwin.
In consultation with B&L, discussions between the Planning Department and Project Advisory Committee over how best to phase the projects, it was determined that connectivity at Railroad Avenue and the civic hub  would be main priorities in the near term and seek to attract additional grant resources to complete the project at a later date.
"We want to prioritize the Civic Hub. The city is really excited about the plaza around the gazebo and the Peekskill Plaza. We would like to get a head start on the work on Railroad Avenue where some of the sidewalk is not in the best condition," said Erwin. The budget estimate for both Railroad Avenue and the Civic Hub totals $2.2 million.
A name for the gazebo is still in the works which is currently being referred to as a shade structure. "My favorite thing about the gazebo is that if you say that word, everybody knows what you're talking about. We want to replace it with something that has that uniqueness to it." said Erwin. In discussion about the naming, Councilman Dwight Douglas brought up the reference to Peekskill Plaza and said that is known as a building in the downtown so a different name should be used to refer to the area on Division Street (in front of Ford Piano) that will be a pedestrian plaza.
In addition, authorization for a traffic test that would measure traffic patterns and the Peekskill Plaza's effect on traffic movements was discussed with the council. The north bound turning lane in front of the Ford Piano building will be closed for two weeks during the summer for the test period according to Erwin. Intersection turning movement counts will be continuously collected for a 24-to-48 hour weekday period utilizing B&L's video turning movement counters.
Turning movement data will be counted for a total of 4 hours. Peak hours were determined to be 8 to 9 am and 5 pm to 6 pm during a South Division Street analysis. The turning movements will be collected for the North Division St/South Division St/Central Ave./Park St intersection and the South Division St/South St/Brown St intersection. The cost of the test is $8,900 which would be funded as an additional expense in the DRI grant if approved by the council.
"We will study the effects of that lane closure and make sure the traffic can move smoothly and safely through both intersections and we will act accordingly with the findings of that study" said Erwin.
The  public will be notified before the test period along with signs at the site, similar to a work zone street closure. No pedestrians will be allowed near that area during the test period for safety concerns.
Discussion around shopping carts
The abandoned shopping cart ordinance was once again discussed by the council at the end of the meeting. City attorney Timothy Kramer and City Manager Matt Alexander answered questions and concerns from council members regarding penalties and wording used in the ordinance.
Kramer said when coming up with the law, other municipalities' shopping cart ordinances were looked at and wording was determined based on that. The city municipal code "Shopping carts" stated first time violators of this proposed law will receive a fine not exceeding $150 or imprisonment not exceeding five days or both. Each subsequent violation, will result in a fine not exceeding $500 or imprisonment not exceeding 15 days or both. "If we want to take that out, we can absolutely take that out. We'll just have to go back, start over again, and have another public hearing" said Kramer regarding potential imprisonment.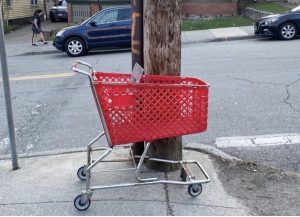 Councilman Ramon Fernandez suggested making stores choose between two options for preventing shopping carts from leaving their stores: a wheel lock mechanism and a coin deposit.
Councilman Brian Fassett compared Peekskill's abandoned shopping cart fines to other municipalities. "There are surrounding municipalities that have higher fines and longer imprisonment terms. Yorktown is 15 days not exceeding $250 as a first offense. I think we're in the middle with these numbers". Fassett believes the option of imprisonment should be in the ordinance even though it wouldn't be a judge's first option for first time offenders.
"There's something about this that just doesn't sit right with me. My biggest objection to it is I don't think it's going to be effective. I think all of the onus should be on the supermarkets for allowing their carts to be taken out of their stores " said Councilwoman Kathleen Talbot. Councilman Fassett responded that it's yet to be determined.
Police Chief Leo Dylewski spoke before the council, clearing up some questions the council and residents had. "The city of Peekskill Police Department will not be the shopping cart police. We are not going to be driving around looking for somebody with a shopping cart, jumping out on them and arresting them and bringing them back to the police station" said Dylewski.
"From the way I'm understanding this law right now, the business owner is going to have to explain to us this cart was stolen from their property. Then they're going to have to give us a supporting deposition stating that they want to have this person arrested and then we will go from there," said Dylewski.
The abandoned shopping cart ordinance will return for a Committee of the Whole meeting on  June 20th with a revised description and fines including comparisons to littering laws as requested by council members.  The council would then vote for a public hearing June 27th to be held July 17th.