Exchanging firepower for cash
Gun buyback brought in 66 firearms
The city of Peekskill moved one step forward in the fight against gun violence during Saturday's buyback program at the United Methodist church sponsored by the Westchester County District Attorney's Office, Peekskill NAACP, the city of Peekskill and the Peekskill Police Department. This is the third time the city of Peekskill hosted a community gun buyback according to NAACP President Priscilla Augustin. 
In a four hour span, 40 handguns, 10 shotguns, and 16 rifles were surrendered for cash. Individuals hoping to turn in their firearms were greeted by Peekskill police officers upon arrival. Their firearms were inspected by the officers and then placed with other firearms in a nearby room. The guns will be melted down according to the district attorney's office. Individuals were then guided to a volunteer who had gift cards waiting for them. The gift cards ranged from: $250 for assault rifles, $200 for handguns, $100 for shotguns or rifles, and $25 for non-working guns. $10,450 worth of gift cards were exchanged for the 66 firearms.  The payouts were funded through the District Attorney's Asset Forfeiture Fund.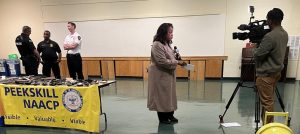 Westchester County District Attorney Miriam E. Roach was in attendance, along with Peekskill Councilman Brian Fassett, Deputy Mayor Patricia Riley, Lt. Adam Renwick, and various members of the Peekskill NAACP. "As of today, 66 more guns are off our streets and out of potentially the wrong hands. Gun buybacks are part of my broader gun safety goals intended to reduce gun-involved incidents, including gun suicides," said Roach in a press release.
Augustin expressed how vital an event like this is for the city of Peekskill. "All morning, people have been coming to return their guns. They know its importance. If we could do this for more than once a year that would be great."