A 19-year veteran of the Peekskill Fire Department is suing the city, the fire chief and his union, claiming racial discrimination because of his Middle Eastern descent.
Attorneys for Robert Pappas filed a federal lawsuit in the Southern District of New York on Sept. 26, demanding that Pappas be promoted to lieutenant and that the city pay him an undetermined amount of punitive damages.
Pappas, a third-generation Peekskill firefighter, is currently out on disability leave according to Patricia Kakalec, one of his attorneys. He injured his back on-duty in November 2022, and, after originally denying his claim for workmen's compensation and disability status, the city reversed its position this April, according to the lawsuit.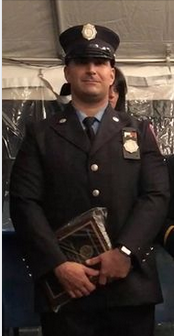 Once served with the complaint, the defendants, including the city, have 30 days to respond. Extensions can be granted.
This new lawsuit comes one week after the Common Council approved a $1 million payout in a case involving an off-duty police officer who's involvement in an auto accident led to the death of one pedestrian and injuries to another. The city did not respond in a timely matter to that complaint and lost a summary judgment without arguing a defense.
In late June Peekskill agreed to a $105,000 settlement with a DPW employee who claimed he was harassed and had his rights violated by supervisors. The city agreed to the payment while stating that "… all actions taken with respect to his employment with the City were made without malice, ill will, fraud, oppression, personal spite or any other improper motive."
Top candidate passed over?
In the complaint, Pappas' attorneys argue that he was the most qualified firefighter for promotion to lieutenant based on his academic qualifications, seniority, highest promotion exam score and top standing on the promotion list.
"Prior to Plaintiff being passed over for promotion in 2019, since the initial creation of full-time Lieutenant positions within the Peekskill Fire Department in 2013, all promotions had been given to the applicant with the most seniority," the court papers allege.
The department passed over Pappas for the lieutenant position three times beginning in 2019, according to the complaint.
In the 2019 instance, the complaint states, Pappas claims he was told by the then volunteer chief that fire department union members went to speak with the city's corporation counsel and city manager to "…discuss how they could get around Plaintiff to place their preferred candidate in the position." According to the volunteer fire department website, John Rose was the volunteer chief in 2019.
The complaint states that Pappas was then told by a union official that the selection would be made "off of an old list" of candidates and a different firefighter was given the promotion.
Pappas was subsequently passed over two more times for lieutenant following the hiring of the city's new full-time paid fire chief in January of 2022.
Pappas claims the new chief James Seymour created a lieutenant position shortly after being hired. Pappas alleges that after stating his intention to apply, Seymour targeted him by giving him undesired shifts, kept him off workplace committees and ignored his efforts to obtain grants for the city.
After interviewing for the position, Pappas claims Seymour said "'you did so well on the interview, it makes it hard from [sic] me to get around you.' Plaintiff then asked Seymour why he was trying 'get around [him].' Seymour refused to explain his statement," the court papers state. A different candidate was hired for the position.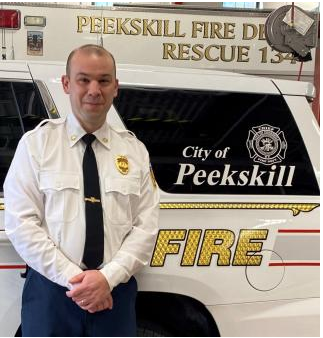 Then this past June a third lieutenant promotion occurred, passing over Pappas again. According to the court papers, all three of the lieutenant spots were filled by White Irish-Americans.
In September of 2022 the city hired two new firefighters, Marcos Suarez and Rocco Picciano.
Allegations of retaliation
This past January, eight months before his lawsuit was filed in federal court, Pappas filed a notice that he planned legal action against the city claiming discrimination. He alleges the chief and his union then acted to deny his medical disability claims.
"When Plaintiff served on the City of Peekskill a formal, written complaint about this discrimination, the City of Peekskill, the Peekskill Fire Department, and Fire Chief James Seymour IV retaliated against him by denying his request for benefits related to a workplace injury despite overwhelming evidence, including "the report of the City's own medical expert, that Plaintiff's injury was caused by work-related activities and that he otherwise qualified for the benefits," the court papers state.
"The Paid Fireman's Association of Peekskill also retaliated against Plaintiff by failing to respond to numerous requests for information and assistance related to his contractual rights."
Pappas's father Bruce is a retired Peekskill career firefighter and and his uncle John is a former volunteer chief. His grandfather Robert was also volunteer associate member and a career Peekskill fire driver.
Pappas has been a municipal fire instructor since 2018 and has volunteered as a firefighter and emergency medical technician in other townships. He's currently enrolled in a master's of science program in emergency management, according to court papers.
The defendants named in the lawsuit are: The City of Peekskill; The Fire Department of the City of Peekskill; Paid Fireman's Association of Peekskill, NY Inc.,Local 2343 IAFF, AFL-CIO; and Fire Chief James E Seymour, IV in his individual and official capacity.
According to the 2023 city budget, Peekskill has four fire lieutenants at a total compensation of $143,270 each. There are 20 firefighters ranging from $124,000 to $121,000 and three others from $42,000 to $48,000. The department's total payroll is $3.726 million.
Requests for comment from City Manager Matt Alexander, Corporation Counsel Tim Kramer and Fire Chief James Seymour were not returned.