This Saturday, September 23rd from noon to 5 p.m. visitors can enter the studios of 12 artist to meet and talk with them about their creative process. The event is sponsored by the Peekskill Arts Alliance and the Business Improvement District.
The artists include: Marcy B. Freedman 1006 Brown Street, Studio #203, Peekskill NY 10566 www.marcybfreedman.com Artist and art historian Marcy B. Freedman has created paintings, drawings, collages, photographs, videos and performances. Recently, she has constructed large-scale installations that consist of dozens and dozens of her digital collages.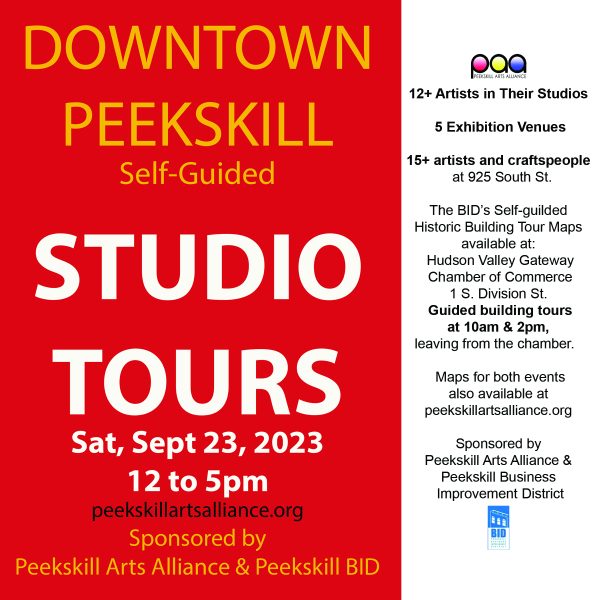 BeanRunner Cafe 201 South Division Street, Peekskill, NY 10566 View WebsiteCurrent Exhibit: Symbols of Courage "Country Roads to City Streets", photographs by Ryan Persinger
Elizabeth Castaldo 105 South Division Street, 2nd floor, Peekskill, NY 10566 View WebsiteElizabeth Castaldo is a New York based artist, printmaker, and bookbinder. Her multi-layered and visually abundant works on paper address the idea of the divine feminine as a creative power and force of connection in the search for beauty, joy, comfort and acceptance in the feminine body.
Wendie Garber 105 S. Division Street, 2nd Floor, Peekskill, NY 10566 www.flatirongallerypeekskill.comI love to paint on location in the fall, often at "Stone Barns" in Sleepy Hollow, NY which is so beautiful all year round. I display my paintings at the "Flat Iron Gallery" which I am the owner and director of located on the 2nd floor of Peekskill's historic "Flat Iron Bldg."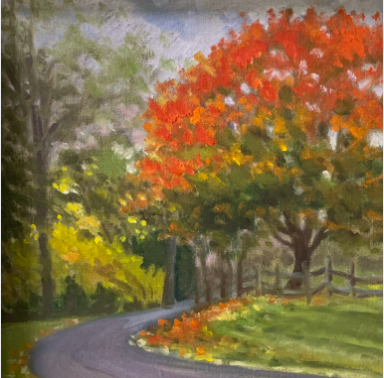 Will Hanlon 3 North Division St., Peekskill, NY 10566 View Website Will Hanlon is an emerging artist working with Push Pins and other found objects. He resides in Peekskill and has shown in various venues and private collections in New York. He utilizes abstract pointillism to express the balance between Order and Chaos found in all aspects of our daily lives.
Peekskill Coffee House 101 South Division St., Peekskill, NY 10566 View Website Current Exhibit: Steve Erenberg's Tarot Cards: in which the card looks back at the viewer, inviting them to take this journey. It focuses attention on some of the key aspects of the card. One may find a laser-like quality to this deck; one that may illuminate elements of a card that may be murky or overshadowed. The striking look is both bold and poster simple.
Jerzy Kubina 922 Main Street # 205, Peekskill NY 10566 www.jerzykubina.artThe intimate combination of emotion and memory which accompanies working on a painting is for me the crucial element of creation I use organic materials. The abstract character of my paintings collides with the desire for the narrative form.
Katerina Spilio 922 Main Street, Studio 212, Peekskill NY 10566 www.katerinaspilio.comKaterina Spilio is a Greek American artist with credits in film and theater as well as public and sacred space commissions. Katerina grew up in her father's art studio being trained in Byzantine iconography, trompe l'oeil and gilding. Her works include acrylic paintings, photography, Byzantine icons and murals and sculptures and are represented in public spaces, films and private collections in the United States.
Andrew Barthelmes 901 South Street, Peekskill, NY 10566 www.abcreativeworks.comAndrew Barthelmes is a second generation Peekskill artist. He has a BFA from the School of Visual Arts in New York. The central theme of his work is people and their relationship to the environment and history of the Hudson Valley. His paintings have been exhibited in many shows in the New York area, including at Hudson Valley MOCA. In 2017, his painting Indian Summer, about the past, present, and future of Indian Point, was part of the show Undercurrents at the Samuel Dorsky Museum of Art at New Paltz. He lives and works in Peekskill, NY.
Bob Barthelmes 901 South Street, Peekskill, NY 10566 www.robertbarthelmes.comWatercolor is my medium. With watercolor, one can achieve a freshness and sense of life that are not readily achievable in other mediums. I have used watercolor in realism, surrealism, abstraction and fantasy, in plein air and studio settings from Peekskill to Labrador and Alaska.
Larry D'Amico 901 South St, Peekskill, NY 10566 www.larrydamicoart.net Throughout my career I've worked back and forth between representation and abstraction. Over the past 25 years I have embraced the vitality that working with these simultaneous approaches gives my practice in the studio.
Richard Zane Ross 913 South Street, Peekskill NY 10566 I'm a sculptor that carves stones of all kinds; Alabaster, Travertine, Steatite, Marble, etc. I mostly work without a preconceived idea or image in mind. I let the raw unshaped stone guide me.
Third Eye Arts Studio and Gallery 201 South Division Street Peekskill, NY 10566 www.thethirdeyestudio.com
Nadine Gordon-Taylor a classically trained experimental artist who focuses on the animal kingdom and its universal symbolic connection to humans. She is a painter who uses watercolors as her primary medium.
WHADAFUNK 901 South Street (downstairs), Peekskill NY 10566 www.Whadafunk.net
DIY Clothing Brand featuring hand drawn designs & hand silk screen printed apparel.
Robin Arzt 925 South Street, Peekskill NY 10566 www.RobinArzt.com Robin Arzt is a painter living in Northern Westchester. She works in oils and acrylics. Her paintings explore form, color, texture and composition.
Greta Corens 925 South Street, Peekskill NY 10566 www.gretacorens.artistwebsites.comGreta Corens paints watercolor florals and portraits. Her soft white roses on a dark field spark with light. She teaches watercolors at the Garrison Art Center and at the Cedar Lane Art Center in Ossining.
Beth DeWit 925 South Street, Peekskill NY 10566 www.bethdewitartist.com Beth DeWit is an artist of diverse experience and is primarily self-taught, acquiring much of her skills while working as a Decorative Painter for 24 years in the New York Metro area.
Aaren Connelly 925 South Street, Peekskill NY 10566 www.boltedlightning.com Bolted Lightning is the ongoing stream of creations stemming from the mind of Aaren Vittoria Connolly. Constantly open to new mediums, she draws much inspiration from the language of form and color, focusing specifically on the abstract. She currently focuses on stained glass and mirror, clay, and soapmaking.
Handwoven 925 South Street, Peekskill, NY 10566 Heather Sloan of Handknit | Handwoven is a fiber artist whose work consists of designing, spinning, knitting, and weaving. Her work includes handwoven table linens and handwoven and handknit wearables.
Judith Heinemann 925 South Street, Peekskill NY 10566 Judith is an international award winning storyteller, recording artist, workshop leader and producer. Judith resurrected an old hobby of making earrings during the pandemic: "Every Earring tells a story!"  Her work tells a narrative going from death to life and peace, love, hearts and flowers, that never go out of style!  – using semi-precious stone, crystal, ceramic, wood, African trade beads, amber, metal, glass, acrylic and found objects. Each is uniquely handcrafted.
J.Nordmark/JNA Visual Arts 925 South Street, Peekskill NY 10566 I have been painting for many years. I'm inspired by nature and bold, bright colors which is reflected in my impressionistic art.
Robin Kline 925 South Street, Peekskill NY 1056 www.klineware.com Robin Kline is a Peekskill potter who makes beautiful handmade wheel thrown pottery, including mugs, bowls, pitchers, teapots, vases and sculptural forms. She loves to make this work and gets true joy from knowing it enhances your life.
Mindy Kombert 925 South Street, Peekskill NY 10566 www.plasticandpearls.com Environmentally conscious decorative and wearable art.
Carol Herd-Rodriguez 925 South Street, Peekskill NY 10566 www.carolherdrodriguez.com My work often features the Hudson River and the Hudson Valley hills and marshes because that is my home. I am inspired by the natural landscape wherever I am. I live in the process of painting nature-inspired abstracts and landscapes that evoke joy and a sense of peace. Each time I paint it is a meditation on living and a celebration of the moreness that exists beyond seeing.
Paula Lewis 925 South Street, Peekskill, NY 10566 I make beautiful OAK sun-catchers, wind-chimes and jewelry made from repurposed vintage glass beads, vintage rosary, chandelier crystals, and Hudson River driftwood or deer antler. I combine colorful beads and crystals with a bit of nature and new elements to catch the light and warmth of the sun.
AnnMarie Palagano 925 South Street, Peekskill NY 10566 My recent works of 2020-2023 are of watercolors as I am exploring what I call the language of color and the intuitive relationships on the paper field. I've a BA in Studio Art/Printmaking and have been employed as a Graphic Artist at many locations along the East Coast and in Austin, Texas.
Liz Peterson 925 South Street, Peekskill NY 10566 Liz Peterson loves to photograph the shapes, lines, patterns, textures and colors of nature and the amazing personalities of animals. Her handmade greeting cards, and matted & framed prints showcase these beautiful images. She also has a passion for origami which she includes in her greeting cards and ornaments.
Phylicia Tierney 925 South Street, Peekskill NY 10566 www.phyliciaeileen.com Phylicia Eileen is best known for her geometrical abstract paintings. Her work captures the vibrancy and motion of a city's energy. She graduated from FIT with an Associates in Fine Arts, Bachelors in Visual Arts Management, and holds a Masters in Art Education from SVA.
Candace Winter 925 South Street, Peekskill, NY 10566 www.imadethisbycandace.etsy.com Colorful hand painted paper collage, whimsical clay bird ornaments, sculptures, wall assemblages and more created to make you smile.
Everyone needs a happy little bird! Art For Real People.
925 South Street (Upstairs)
Jeanne Shaw 925 South Street, Upstairs, Peekskill NY 10566