Monday's special meeting of the Common Council featured a presentation from City Corporation Council Tim Kramer about options the city has for combating the state-wide problem of illegal cannabis sales by smoke shops on a local level. 
"The legal department is currently drafting a local law that would give the city flexibility in a number of ways to regulate illegal cannabis sales from unlicensed smoke shops. We are combining parts of local laws from other municipalities in the state to draft a comprehensive law for your view," Kramer told the council. 
Kramer stated that the city and the law department are looking into legal ramifications for this local law. One measure brought up was a real estate mechanism. This measure would include the landlord as a responsible party. After one warning, the city would be able to fine landlords if illegal cannabis sales continue on their property. 
Another option Kramer spoke of was an amendment to the city's public nuisance law. In the public nuisance law, businesses who violate laws are given points. If the business accumulates 12 points in a six month period or 18 points in a year,  the city has the option to deem the business a "public nuisance" and the city can choose from a variety of penalties which can include shutting the businesses down. "Currently a violation of the NYS penal law covering these cannabis sales, are six point violations. We want to increase the number of points that you would get for such a violation," said Kramer.
Another option discussed with council members was a zoning approach which would impact new smoke shops coming into the city. Currently, smoke shops don't need any authorization from the Common Council to open. If this measure were added to the draft local law, it would require individuals to receive a special permit from the city to operate a smoke shop in Peekskill. Currently, all smoke shops that sell cannabis in Peekskill do not need a special permit. 
"This is a really good measure because it will include different things in the law which the smoke shops have to comply with. If they don't comply with those conditions, they are in violation of their special permit and their special permit will be removed and they will not have a certificate of occupancy to operate anymore." 
According to Kramer, this would only apply to new smoke shops coming in rather than existing smoke shops that will be "grandfathered in". A grandfather clause, also known as grandfather policy, grandfathering, or grandfathered in, is when someone or something is exempt from a new law or regulation. 
Councilwoman Kathleen Talbot asked Kramer to share some of the requirements individuals will have to satisfy in order to get a special permit.  "One of them is that we will be looking into making it so that new smoke shops can't be located within a certain distance from each other – so that will limit the number of smoke shops in the city and also from certain establishments such as schools and daycares, " responded Kramer. 
Kramer told the council that he and city staff are hoping to have a draft local law presented to them on September 25. If the council approves of the draft local law at the next common council meeting a resolution to schedule a public hearing will be placed on the agenda.
Common Council Meeting Minutes
City Clerk Cassandra Redd gave a presentation regarding Common Council meeting minutes. There have been ten common council meetings since Redd was appointed to the role of City Clerk in March. The minutes for those ten meetings were shared with council members via email according to Redd.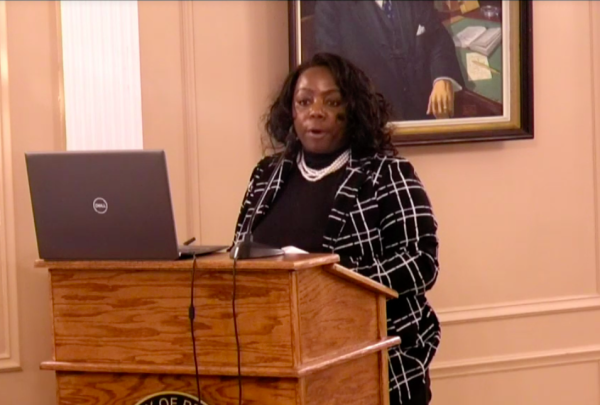 "Moving forward, Jeanette (deputy city clerk) and I will strive to stay on task and target with providing the minutes to the council. After each council meeting, we will send the minutes within six days," said Redd.
When Redd began her position as city clerk, there was a backlog of minutes missing from the past three years. Redd said she assembled a team and divided the minutes into years. "Each meeting takes about three to four hours, to put together." She is working with City Manager Matt Alexander and Corporation Counsel Timothy Kramer to identify a strategy to complete the minutes of some 60 Common Council meetings and have them available to council members and the public.  
Pro-Housing Communities Certification
For the final item on the Council's work session part of the meeting, City Planner Atticus Lanigan, presented about Peekskill's  "Pro-Housing Communities" designation.
In July 2023, Governor Hochul signed Executive Order 30 creating the Pro-Housing Community Program, designed to reward local governments that are addressing New York's housing crisis. Localities that achieve the "Pro-Housing Communities" designation will receive priority in their applications for key discretionary state funding programs, including the recently submitted Momentum Fund grant application.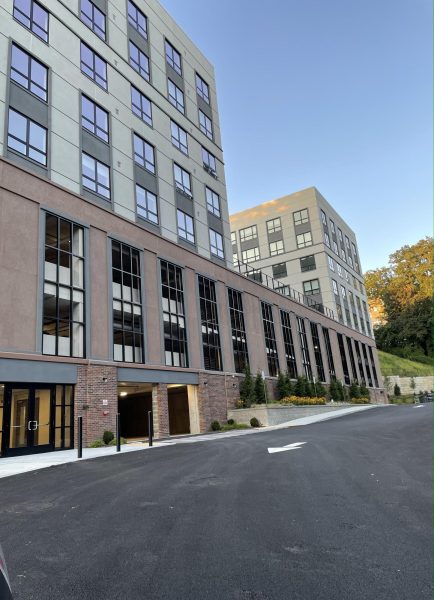 The main criterion for said designation for municipalities in the downstate class (in which Peekskill is included) is if it has increased its housing stock by one percent over the past year or by three percent over the past three years. According to New York State Housing Statistics published by the Governor's office, the number of "housing permits" in Peekskill rose by nearly four percent (3.95)  in the last three years.
The first stage of the application process requires that the City of Peekskill send a Letter of Intent to the State indicating its interest in applying for designation. From there, the City can proceed with an application that requires the submission of in-depth data on projects that will increase or have increased the housing supply in Peekskill within the last five years. The application will also include a summary of the City's zoning code as it relates to the location and types of housing that are permitted in the City.
If designation is achieved, Peekskill will be required to resubmit its housing permit data and any updates to its zoning code on an annual basis to remain certified and qualified for prioritization.
A resolution will be prepared for the September 25th council meeting that authorizes the City Manager to submit an application for the "Pro-Housing Communities" designation.