Long time Peekskill resident Loretta Pelaia, who moved to Georgia 21 years ago, will be memorialized at a funeral mass on Saturday, November 11 at Assumption Church at 10 a.m. with a lunch reception following in the church's Saint Joseph's Hall. 
Pelaia, who died on August 29 at the age of 85 was born to Margaret and Russell Hoffman in Peekskill on February 16, 1938. She graduated from Peekskill High School in 1956 and maintained contact with many friends from her high school days and helped plan many of her class reunions. She was an inductee into the Peekskill Hall of Honor. 
An only child, she and her first cousin Geraldine Teed Cole were like sisters. Friends from childhood, Janet Mills and Carole Vereline who are sisters and her cousin Kathleen Deshetler were welcomed by her as sisters and have remained lifelong friends.
In 1960, Loretta married Ralph Pelaia who was in the Navy in Quantico, VA  after graduating from dental school. Loretta and Ralph were founding members of the Church of the Holy Spirit in Cortlandt Manor and were instrumental in helping it grow and flourish with several other families, many of whom remain lifelong friends. 
She was involved in Girl Scouts, as a Scout herself and then as leader for her daughter's troops. She served as a Board Member and was the first female President of the Lincoln Society of Peekskill. She was active in local Peekskill politics where she worked on the campaign of former mayor Geoge Pataki when he ran for governor of New York State. She was also involved in bringing the Lincoln Depot Museum to Peekskill.  
In addition to her civic contributions, she raised five children and was involved in supporting their many extracurricular activities. In 1980 she co-founded and operated "Just for You Flowers & Gifts," a full-service floral shop, in Montrose, with her cousin Gerry Cole. The shop became a local gathering place for more than 15 years.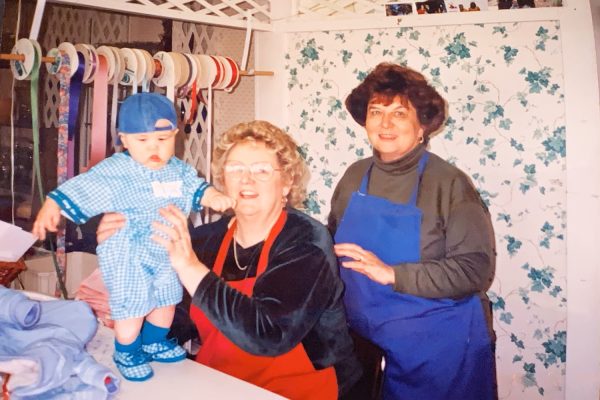 A talented floral designer, she and Gerry provided flowers for many events around Peekskill, Montrose, Verplanck, Town of Cortlandt, and beyond. Loretta was passionate about genealogy research, enjoyed gardening, decorating, entertaining, crafting, art museums, shopping, traveling, Irish music, and spending time with family and friends. She especially enjoyed the years boating on the Hudson River and then on Lake Lanier after moving to Georgia.
She is survived by her husband of 63 years, Ralph, of Alpharetta, Georgia, daughter Elaine, son Michael, son-in-law Greg Bruner, son-in-law Peter Martin, all of Georgia, son Christopher of New York, daughter Carole of Florida, grandchildren Lindsay Martin of Washington, DC, twins Patrick Martin of Connecticut and Tucker Martin of Maryland, and Michael Bruner of Florida, sister-in-law Mari Estelle Marcus of Michigan, and several cousins, nieces and nephews. Loretta was predeceased by her parents, and her daughter Kathleen Martin.
She also leaves behind many other close friends, the children of close friends and her children's friends who have remained close to her family. A Celebration of Life service will be held Saturday, September 30th at 11:00 AM at Northside Chapel, 12050 Crabapple Road in Roswell, Georgia, with a lunch reception immediately following nearby. 
In lieu of flowers, the family prefers any memorial donations be made to the Lincoln Depot Museum in Peekskill, (https://lincolndepotmuseum.org/product/make-donation/), or the Alzheimer's Association (https://alz.org/donate).