Teachers adapt to 'distance learning'
A YouTube channel and live video games are two inventive ways teachers in Peekskill are engaging students without being physically present in the classroom.  Teachers across the state are forced into new routines and are becoming learners themselves as they adapt their methods to the reality of classrooms without walls.
"Life is a learning experience and this is an opportunity to do something different," said 7th grade social studies teacher Emily DiCuio about the ways she and other teachers in the middle school are creating lessons on electronic platforms to instruct kids. She's a big believer in schedule and routine and trying to keep the kids' days as normal as possible.
[wpvideo pbkeGFCd]
At 11 am and 8 pm the students log into her Google classroom and participate in a 20-minute live game, competing with each other and teachers. And example of the game is featured here.  The game material is about American history from the period of the first explorers to the Civil War. "I didn't want them to feel like it was a chore, it's fun, especially with teachers participating," said DiCuio who has been teaching in Peekskill for 13 years.
Second graders in Martha Lynch's Oakside class visit her classroom via a YouTube channel she set up with the help of her 15-year-old daughter. About a year ago she created another YouTube channel called Mindful Martha for her students so they could continue the practice at home that she modeling with them in the classroom about finding ways to cope with everyday life. Mindful Martha can be accessed here: https://www.youtube.com/channel/UCRMYS06D6Q4EC8wGbUcIYLA

Parents are sending her messages and videos that this connection is making a tremendous impact on their children who miss her and the classroom environment.  "I have to just keep doing this, my wheels are turning, not just about reading stories, I'm thinking of other lessons they can see." The story times incorporate many of the techniques she uses in the classroom, teaching children about emotions and feelings and how to manage everyday life. Her classroom can be accessed here: https://www.youtube.com/channel/UCWT-0dRA0c-9jmDDFg4mxWA
Lynch and DiCuio had to pivot very quickly to this type of teaching, but both were adept at using technology to connect with students. It's not been as easy for other teachers who had no reason to use technology to instruct kids, such as people in the physical education or pre-K departments. Lynch and DiCuio are now sharing their expertise with other teachers as this type of learning is the only way to have connection with students as long as social distancing is in place.
Oakside Elementary School has approximately 500 second and third graders and when the decision was made by the district that schools would close, there was one day to prepare 'packets' for each student to take home with them so learning could continue. That meant selecting school work, categorizing it according to each child's ability, copying and collating each packet and writing instructions in Spanish and English for parents. Each packet had a table of contents describing the 20 lessons (one a day for four weeks) and reading material. It was an ambitious task and a group of teachers spent 12 hours on the project, thankful they had enough paper, labels, envelopes and two copy machines that didn't jam from overuse that day.
The next challenge involved communicating with parents that they could come to the school and pick up the packets and also receive food, since many children rely on the school breakfast and lunch programs for nutrition. "By the end of the weekend, I had called or texted every parent of my 18 students," said Lynch who speaks Spanish. More than half of her students parents only speak Spanish. The district has been offering "Grab and Go" meals to families where children are accustomed to receiving breakfast and lunch at school.
This scenario of assembling packets for students was replicated throughout the district. At Uriah Hill, teachers were preparing lessons for pre-kindergarten students, at Woodside it was for kindergarten and first graders and at Hillcrest it was for fourth and fifth graders.
When teachers at the middle school (grades six, seven and eight) learned they would be closed they had students take a survey about what kind of computers or tablets they had available at home and for those that didn't own anything they were given a laptop. Instead of packets they were given access to Google classrooms where they could see their assignments, what reading passages they needed to do and answer questions.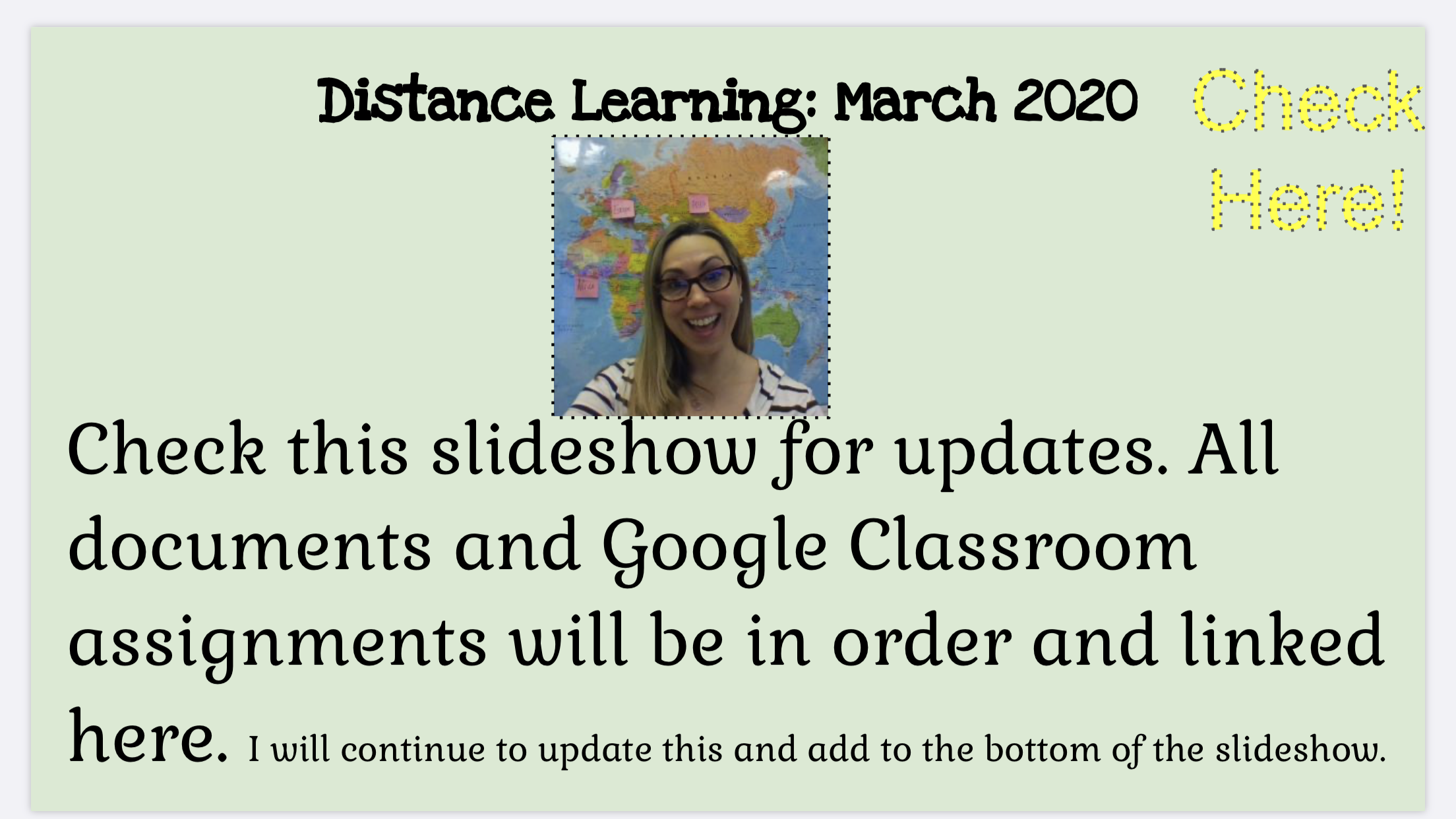 They are also linked to video clips, all things they are familiar with using in school.
"I'm e chatting and instant messaging with parents and kids," said DiCuio. "Kids are very anxious and this is something different and change can be difficult." DiCuio and her husband, who is a physical education teacher in Peekskill, are the parents of two children (almost 2 and 4 years old) and she said she truly understands now how it takes a village to raise a child.
"Second to family, schools are the foundation of society. If we didn't know that before this, we do now," said DiCuio.  She is glad she was part of a group of teachers who participated in technology seminars so she can coach others in her building on strageties for staying connected with kids. "We're texting and working with each other all day, checking on kids. Everybody has each other's backs. I honestly can say, I have never worked so hard. Monitoring a Google classroom is totally different from walking around a classroom seeing who is doing what and who needs help. This is much more labor intensive."