A small group of residents, DPW workers and city officials gathered under a cold drizzle at Central Avenue and North Division Street in Peekskill Monday morning to witness a homecoming of sorts: the unveiling and installation of Wesley Wofford's spectacular bronze casting of Harriet Tubman leading a small slave child to freedom via the Underground Railroad in the mid 1800s.
With the block closed to traffic, a crane operated by Dominick Giusti of Peekskill's Highland Welding hoisted the 2,400 pound sculpture off a flatbed trailer, carefully maneuvering the statue that had come from Newburgh onto a newly-landscaped Jan Peek Plaza at the northwest corner of one of Peekskill's most prominent intersections.
[videopress 03xhDYp0]

LaFern Joseph, whose African gift shop, The Fern Tree, stands just across Division Street from the statue, had a front-row view of the installation.


For her, the sculpture of Ms. Tubman "represents struggle, perseverance and prevalence. There's always been obstacles for those of us seeking freedom, and we have always prevailed. It also represents education, especially for our youth. It's important for young people to understand that they come from a long line of folks who struggled and persevered."
For Joseph, the statue has special meaning: years ago she happened to meet New Jersey artist Adrienne Green, a direct descendant of Harriet and Hawley Green, a Peekskill couple who gave shelter to fleeing slaves in a secret room within their Main Street home just blocks from Joseph's shop.Joseph was part of a group     that tried unsuccessfully to purchase the Green home in 2001, hoping to turn it into a museum.
Also witnessing the unveiling were Mayor Andre Rainey, Wilfredo Morel of Arts 10566, Dr. Margie Daniels from the Peekskill City School District, Mashiba Woods of Sisters in Support, a local non-profit that promotes the Underground Railroad and Brian Fassett, president of the Business Improvement District.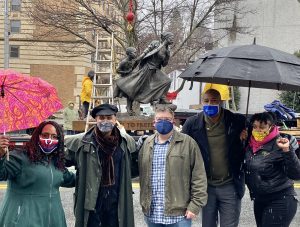 Fassett was instrumental in securing the monument's three-month visit to Peekskill – part of a national tour of the Tubman sculpture.
"THE JOURNEY TO FREEDOM" is inscribed on the sculpture's base, referring to the literal journey of dozens of slaves along the informal and often treacherous system of smuggled transport and perilous hideouts often referred to as the Underground Railroad. Abolitionists like Harriet Tubman used the "Railroad" to guide slaves from southern slaveholding states to eventual freedom in Canada – via places like Peekskill, which had "stops" in a secret room at the Green's home, in the basement of the Park Street A.M.E. Zion church, and in a small cave on the property of Henry Ward Beecher's estate.
"This is the first time the statue has ever been lifted by a crane," said Fassett, when asked about the painstaking adjustment and readjustment of the load-bearing slings by Highland Welding's team. All the other moves to date have been via heavy-load forklifts, but given the sculpture's installation setting in Peekskill, the only way to reach it was from above. On Tuesday evening, Fassett and partner Sepp Spenlinhauer were back at the sculpture's site installing dramatic lighting. Their Main Street business, Eclectic Precision, is providing the lighting to ensure the edifice is properly honored during the long winter nights ahead.
Dominick Giusti, owner of Highland Welding, is no stranger to moving art into public spaces. He was frequently moving large pieces with his 90-foot crane from the former Tallix Foundry which was located where Peekskill Landing Park is now at the riverfront.  Before the company relocated to Beacon, Giusti sold them a crane. The boom truck which holds the crane is usually employed for laying foundations for new houses. At the metal fabrications shop that his father founded, Giusti created a ball that he lowered from the crane for the first few Peekskill New Year's Eve celebrations. The ball now drops from a flagpole that was added to the plaza a few years ago.
Monday's installation was just the kickoff to ten weeks of cultural and educational programming around the sculpture. The final schedule is still a work in progress, but as of Wednesday, virtual events in January and February had already been planned by a number of local organizations:
1/16 – The Field Library
1/30 – NAACP of Peekskill
2/6 –   Photographer Ocean Morisset
2/13 – Park Street A.M.E. Zion Church
2/22 – Sisters in Support
2/23 – Peekskill Youth Bureau
2/27 – Peekskill City School District
Tuesday evening on Central Avenue, after seeing the sculpture lit for the first time, LaFern Joseph said "I'm hoping we can raise the funds to purchase a casting that can be installed permanently here. I think Peekskill is the perfect home for a heroine like Harriet Tubman."