James Bernard Olsen, Sr. died peacefully at his home surrounded by family on September 2 , 2023.  Jimmy was known for his quick wit, his corny jokes and his wonderful sense of humor. For more than 50 years, he was a proud Peekskill Fire Department volunteer and spent countless hours helping out in many different capacities.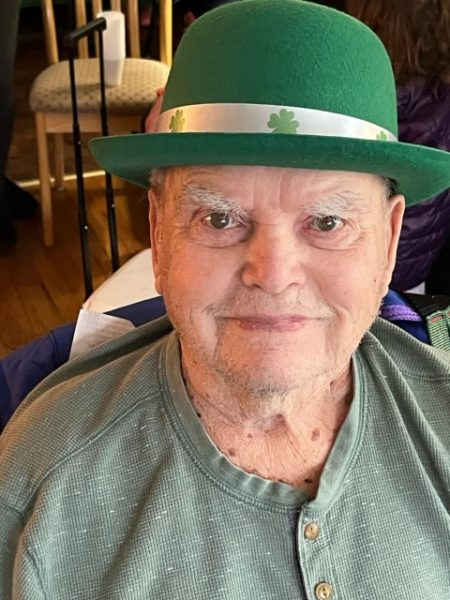 Born on September 25, 1932 in Mount Pleasant, New York, to Grace Merritt and Ole Olsen, he grew up in Hastings and lived at the Graham School for most of his childhood.
After graduating from Saunders Trade School, he served in the United States Navy during the Korean War. When his service Navy ended, he spent several years working in construction as a very talented carpenter. He then began employment in the maintenance department for the Bank of New York and retired in 1997.
In 1958, Jimmy met his true love, Bernadette Gillis, and they married on May 9, 1959. They were devoted to each other for almost sixty-four years and had seven children in seven years. He took on many side jobs to help support his large family. Family was everything to Jimmy, and he was a very loyal, supportive, and loving husband, father, grandfather, and great grandfather. He embraced all that life had to offer and always had a positive attitude, with a quick smile and a twinkle in his eye.
A strong, modest, and friendly man, he was a devout Catholic, and his Christianity was evident in his words and actions. He enjoyed traveling, walking, reading and most of all, spending time with his family and friends. Jimmy loved listening to Irish music and attending Irish functions.
He was predeceased by his beloved wife (five months ago), his parents, his son, Michael Patrick Olsen, two brothers and two sisters.
He is survived by his sister, Madeline Olsen of Grand Prairie, Texas; his children: Christine (Robert) Mendello, Jean (Kevin) Dwyer, James (Terese) Olsen, Jr. , Bernadette (Bryan) Daniels, Teresa (Ralph) Rivera, Carol (Craig) Lively; his grandchildren: Sean (Simone) Dwyer, Craig Dwyer, Kelly Mendello, Brian Dwyer, David (Meryl) Mendello, James Olsen, Julia Olsen, Brianna (Francis) Mtuke, Catherine Lively, Brett Rivera, John Lively, Olivia Olsen, Stephanie (James) Luoma, Aaron Daniels, and Jonathan Daniels; his great grandchildren: Conor and Ava Dwyer, Julian Mendello and Lorelai, Jayden and Trenton Luoma.
A wake will be held from 3:30 pm – 7:30 pm on Sunday, September 10, 2023 at Dorsey-Carlone Funeral Home in Peekskill. A mass of Christian burial will be held on Monday, September 11, 2023, at 10 am at Church of the Assumption in Peekskill, followed by interment at Assumption Cemetery in Cortlandt Manor. In lieu of flowers, memorial donations may be given to Memorial Sloan Kettering Cancer at Center at https://bit.ly/3R3Lqsx