Mid-year reports from Peekskill's police and fire departments detailing staffing and numbers of calls were shared during Monday's Committee of the Whole Common Council meeting along with a presentation about the capital plan for the city's parks. The council had a lengthy agenda of 21 items to discuss after the three presentations from the police and fire chiefs and city manager. The council started their meeting at 7:08 p.m. and voted to go into executive session which lasted approximately an hour before they began the regular work session. 
City Manager Matthew Alexander presented the "Peekskill Parks Capital Improvement Plan" which listed numerous areas in Peekskill parks in need of immediate or long term repair. The new draft plan includes feedback from the community. The parks featured in the presentation were Depew Park, Peekskill Stadium, Franklin Park, McKinley Park, Lepore Park, Riverfront Green Park, Tompkins Park and the Peekskill Dog Park. 
A list was provided at the end of the presentation showing stages each park is in. City Manager Alexander plans on uploading the presentation to the city of Peekskill website for people to see what each individual park is hoping to improve upon. Watch the presentation here. 
2023 Police and Fire Department Mid-Year Report
Chief of Police Leo Dylewksi provided the common council with an update on the Peekskill Police Department after reaching the half-way point of the year. Currently, the police department staffs 54 people, one more than the previous number provided last year. The 54 people include three lieutenants, nine sergeants, six detectives, and 35 police officers in addition to eight civilian staff including three dispatchers, three administrative assistants, and one parking enforcement officer and one animal control officer.  On Tuesday, the Peekskill Police Department posted on their social media welcoming police officer Daniel Regg to the department. He became the 36th police officer.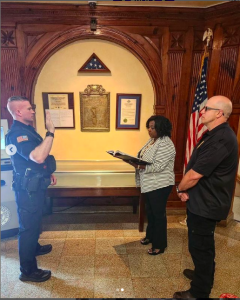 The police department is continuing their efforts in building a new locker room facility which would accommodate both men and women of the Peekskill Police Department and fulfill recommendations from the Police Reform Task Force but are in search of funding.
As of June 2023, the police department has received 19,000 calls for service ranging in various severity levels, 6,100 written reports for crimes, domestic reports, parking issues, etc, 488 calls for suspicious person/activity, 1,455 traffic stops resulting in 1,698 traffic tickets, 487 motor vehicle accidents ranging from accidents to hitting a person's bumper while reversing, 308 domestic incidents, 302 neighbor/landlord disputes, 254 noise complaints, 167 unwanted party calls, 153 quality of life summons, 150 emotional disturbed persons calls, 141 warrant arrests, 134 larcenies, and 2 homicides.
Chief Dylewski was honest with council members when speaking about the morale of the police department, stating the morale is good but many officers are becoming increasingly tired due to having to work extra shifts and being denied time-off because of staffing issues. He reassured the council and audience that the Peekskill Police Department and the City are doing everything in their power to hire qualified candidates. "It takes time for us to hire new people. If everything goes perfectly well from the day we interview a candidate and there's no issues – at least two months. If there's an issue it can take longer. We're not just going to go hire people just for the sake of hiring to fill positions, we're a very unique community, we're a very unique department and we need to make sure we get the right people that fit our community, department, and our city," said Dylewski. 
The council had questions on whether crime numbers were up from last year to which Chief Dylewski responded that they are but so are many other surrounding municipalities. He explained crime numbers dropped during COVID and are now returning to pre-pandemic levels.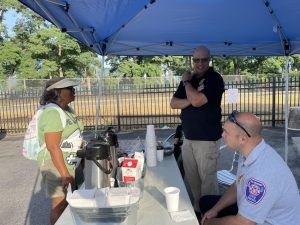 Fire Chief James Seymour did his presentation to the council after Chief Dylewski finished his report. According to Chief Seymours' presentation, as of June 2023, the fire department has responded to 933 incidents which include: 59 fires, 2 Rupture/Explosion, 498 EMS/Rescue, 67 Hazardous conditions, 71 service calls, 125 good intent and 111 false alarms calls made by both commercial properties and residential homes.
Currently, the Peekskill Fire Department has 28 funded positions: 22 firefighters, 5 lieutenants, and 1 chief. Volunteer staffing includes 13 interior firefighters, 13 exterior firefighters, 10 fire police, and 33 administrative. 
The fire department has begun to provide more meaningful training for both career and volunteer firefighters. A prop that simulates a real life roof was installed behind the firehouse on Main Street by the DPW. In addition, the fire department has adopted a new introductory training program for volunteer firefighters to better prepare before going to the county fire facility in Valhalla for training. 
Anti-Violence/Workforce Development Program at the Community Hub
After working with the city manager for months, Executive Director of the Youth Bureau Tuesday McDonald and Nutrition Site Manager Johnathan Zamora returned to this week's meeting to speak on the Community Hub. 
The Community Hub is a partnership between three departments: the Youth Bureau, Parks & Recreation, and Nutrition. The three would work together to provide programs for city residents with the goal of serving the entire community with city facilities and park assets. After noticing there are a lot of empty spaces in the community center after the senior citizens vacate for the day, Zamora, McDonald, and Parks and Recreation Superintendent Cathy Montaldo began working on ways to make better use of those empty spaces with programs in the afternoon and evening for people of all ages. 
McDonald and Zamora plan on launching their proposed 12-week summer pilot program that would train young adults, 18-24, in the culinary arts at the Neighborhood Center in the coming weeks. While youth are focused on this training, they would also be mentored by trained "credible messengers." This program would provide skill training, job training and help at-risk youth get mentoring to help them make positive life choices. The participants will meet three days a week for two hours a day. All of the participants will graduate with a Safe Food Handlers Certificate.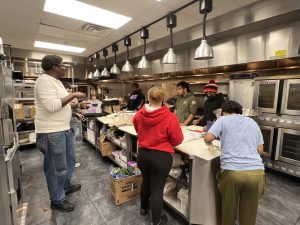 A local business owner/entrepreneur will come in each week to talk to the participants and teach them different aspects about the business world.
The Nutrition Center would graduate the youth from this program after 12 weeks of culinary training and 16 weeks of concurrent mentoring. A goal of the program is that the students would work toward putting together a community dinner with the Nutrition Department. The participants will receive stipends for completing the pilot program.
The Common Council was asked to pass a resolution at it next regular meeting on July 17 allowing the City Manager to sign a contract with a credible messenger organization and sign the USDA application for food for youth to start this program as a pilot for future programming. The city of Peekskill plans on working with Lead by Example Reverse the Trend Inc. for the credible messenger program. 
Approval of two grants for the Youth Bureau
The Youth Bureau has been given a $80,000 grant award from Senator Pete Harckham. The allocated funds would be used to re-establish a Youth Court in the city of Peekskill and create a Media Center. 
According to the memorandum, the Youth Court in Peekskill will help to create a supportive and educational environment that empowers youth to take responsibility for their actions, make amends, learn restorative justice principles and develop essential life skills. The Youth Court will work with stakeholders and credible messengers. 
The proposed Media Center will provide opportunities for youth to develop various skills, such as photography, graphic design, music recording, videography, writing and editing. In addition, the Media Center would provide a safe and supportive environment for youth to explore their creativity, experiment with different mediums, and showcase their work. The Department of Education (NYSED) has been tasked with its oversight.
The second grant discussed with council members was the "2023 Temporary Assistance to Needy Families ("TANF") Summer Youth Employment Program." from the county of Westchester on behalf of the Westchester-Putnam Workforce Development Board. The Youth Bureau received $72,800 to operate the "TANF" program.
The purpose of the TANF Summer Youth Employment Program is to provide summer employment jobs to income-eligible youth. A direct, hands-on experience in a job is an effective method of assisting youth in experiencing the rewards of doing a good job and receiving a paycheck. The use of a financial incentive, via wages, is a powerful motivator for youth to come to work, time management, do the job, and to stay on the job.
The program will serve 28 youth who are certified and deemed eligible for Temporary Assistance for Needy Families ("TANF") funds according to 200 percent poverty guidelines and the Workforce Investment Act ("WIA") criteria of eligibility. The TANF Summer Youth Employment program targets youth 14 to 20 years old.
The Youth Bureau is seeking formal approval from the city to accept these funds. 
DRI Marketing, Branding and Social Media Consulting Contract
Economic Development Specialist, Matthew Rudikoff spoke before the council regarding the DRI Marketing, Branding and Social Media Consulting Contract, stating that city staff believes the contract should be awarded to the consulting team lead by Weinrib & Connor.
The Marketing, Branding, and Social Media Building Consultant Contract is comprised of a multi-disciplinary team being led by established marketing and public relations firm of Weinrib & Connor and an assembled group of three sub-consultants including two Diversity, Equity and Inclusion outreach consultants, Aero Ba Soul, and Marcelo Rodriguez of Inqmatic, Inc. and Mike Dardano for Social Media Consulting outreach.
The total Marketing team consultant fee is $174,000 for a 10 month contract, to develop a new city brand, marketing plan, social media licensing registrations, system hardware and software purchases, preliminary advertising and the creation and posting of content, business development and training events, public meetings and system performance evaluation. This fee is within the DRI budget.
A resolution that authorizes the execution of a consultant contract with Weinrib & Connor will be placed on the July 17 agenda.
Downtown Revitalization Fund (DRF) Update
Peekskill has received $10 million in Downtown Revitalization Initiative  funding from New York State, $630,000 of which was distributed  last year to business and building owners in the DRI area that meet certain criteria. In October 2022, New York State authorized eight Downtown Revitalization Fund awards based upon criteria that were proposed by the state and included in the request for proposals. Seven of the eight projects are underway with pre-construction activities and requirements.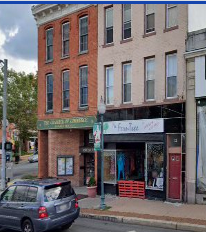 Director of Planning Jean Friedman revealed to council members that the applicant for the renovation of 52 Hudson Avenue to create the new Charlie Who Cafe withdrew his application based upon potential environmental issues on site.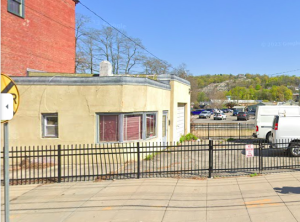 Therefore, $88,200 of state funds that were awarded to this project will be split between the next two eligible projects based upon the state's scoring criteria. $44,100 is available to partially fund twelve new historic second floor windows at 23 S. Division Street, and $44,100 is available to fully fund the façade renovation, signage, electrical and roof work at the Fern Tree, 13 S. Division Street. The applicants are required to contribute a minimum of 10 percent of the project cost, complete the environmental review process, and show proof of 100 percent financing.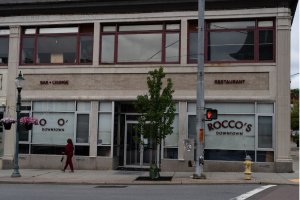 Most of the seven initial projects have completed their environmental assessment, and are now preparing plans and detailed Scopes of Work. Some projects require local approvals, and the state must issue environmental clearance before starting the bidding process for construction.
Momentum Fund Application
In the Spring, New York State initiated a fund from which both municipalities and developers could apply for funding to build or support the building of new housing. After meeting with the city's planning department and analyzing future potential developments, it became apparent to the city manager that many new housing proposals will be in need of additional parking, road improvements, sewer and streetscape elements should they want to have a successful application. 
The City has identified that there are two areas which need parking improvements in order to succeed as new developments: the downtown and the riverfront. At the riverfront, potential development will also be needed for sewer, roadway and streetscape investment. 

The chart above is what the city can submit an application for. The total grant would be $10 million. The city intends to bond for the $2,550,000 upgrades to Nelson and James Street garages. DRI funding earmarked $2.7 million for street redesign and streetscape. Con Edison is committed to assisting with the remediation of the K Lot site which should provide up to $2.5 for funding. An 100 additional parking spots could be funded with revenue from parking permits secured by the developers of additional downtown units. The city would need to apply for additional funding or consider passing a Revenue Anticipation Bond for $2,250,000.
City staff and the city manager recommended passing a resolution at the next council meeting to apply for up to $10 million in grant funding from the state's Momentum Fund.