A tumultuous Sunday evening in Peekskill marked by thunder, lightning and record rainfall gave way to an eerily quiet Monday morning, the familiar wail of train horns conspicuously absent, as Metro North and Amtrak service north of Croton Harmon was canceled indefinitely while the MTA assessed what appeared on social media to be washed out tracks south of the Cortlandt station. 
"Yesterday's storms, with heavy rain and flash flooding, washed out tracks along the Hudson Line north of Croton-Harmon and on the Wassaic Branch. Our crews are continuing to evaluate the damage and are working to clear the tracks," said Metro North officials. They urged customers to monitor MTA.info and the TrainTime app for service updates. 
Metro North work trains moving debris from tracks north past Peekskill Monday morning. Video by @cbstriebich.
Commuters scrambled to find alternative ways to get to New York City but also faced area road closures including Bear Mountain Bridge Road (the Goat Trail) and the Bear Mountain Bridge itself. 
In Peekskill, 6.3 inches of rain fell in 24 hours on Sunday. McGregory Brook, which flows under the downtown and surfaces on Central Avenue below the police station, was moving furiously – attesting to the storm being a "once-in-1,000 year rainfall event," according to meteorologist Craig Ceecee. 
McGregory Brook which has seen its share of flooding during major storms was moving swiftly Monday morning. Video by Regina Clarkin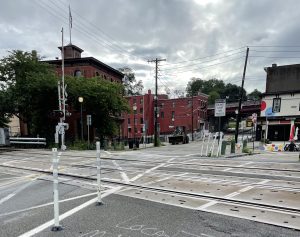 Peekskill DPW crews were clearing gravel and debris that traveled down South Street to Water Street from the construction site at Grove and South Street.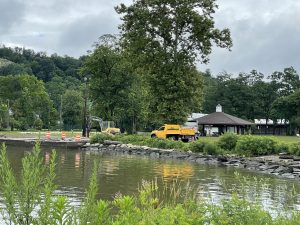 Surprisingly, the Peekskill riverfront had no signs of excessive flooding. City crews were working on the old boat launch area where the concrete pavement began collapsing a few weeks ago.