Kyle's last call is a celebration 25 years in the making
Kyle Knapp hands off the neighborhood pub to next generation
Proving that bartenders are really therapists, Kyle Knapp who is celebrating 25 years as a pub owner, said one of the biggest lessons he's learned in relation to customers who want to let off steam is to give them some guidance on when to take action.
"When they're uptight about something and they've been drinking, I tell them, 'Why don't you wait until tomorrow morning and if you still feel the same way, then you can tell them.  Just wait, you might not feel the same way in the morning. By all means, if you do, feel free to tell them to go #@$% themselves,'" said the bartender/owner. 
Knapp, the man behind Kyle's Pub on Washington Street, is the type of local business owner who knows his craft and understands why his hidden gem of a bar works in the community.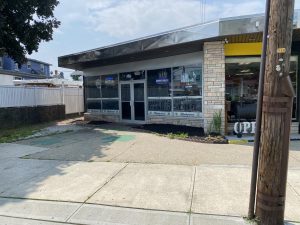 "The regulars spill their guts with the utmost confidence in the staff's discretion. It's a living room with the most gracious hosts in the business and I am privileged and proud to be amongst their ranks," said long-time friend and former employee, Aldo Cochrane. 
"I've grown to love the West Side of Peekskill. I like being, almost like forgotten about," Knapp told me. "You read about the riverfront, downtown, all this stuff, but you never really hear about the West Side and I always kind of liked being under the radar. Now there's some other bars opening up on this street and we can do our own thing. If you look on my Facebook page, it's got a really long title." (He's not kidding, it's categorized as an Irish American Rock and Roll Sports Bar & Grill.)
I met with Knapp on a Tuesday, about an hour before he opened up his namesake bar.  About four minutes into our conversation, sitting at the bar and taking in the scene: vintage cash register, shuffleboard along the wall, a jukebox full of CDs that were mostly "burned" by Knapp himself, I kicked myself for not knowing about his hidden gem right in my own backyard. By the time he broke down the menu, which has everything I love in bar eats (including the categories of "Feathers" for chicken and "Leathers" for all beef-related goods) and a seasonal lobster roll, NY strip along with other assorted specials, I wanted to pull up a stool and spend the day. 
Knapp, 47,  opened the pub on July 1, 1998. The space had been a nursery school in the 1970s and 1980s, and became the Washington Street Cafe in the late 1990s. One night, when Kyle was tending bar at Kelly's On The Green (which was in the train station where The Central currently is) and he got a call from his father asking if he wanted to buy a bar. The younger Knapp had been bartending since he was 18 and he was 22 when his dad asked if he wanted to be a bar owner. "That one call turned into a couple of meetings and two months later we were open," Knapp explained. His father (at the time, a part-time bartender himself) was playing cards with the owner of the Washington Street Cafe who offered to sell him the space on a whim.
Kyle's Pub is now the second oldest bar in Peekskill with the original owner running the establishment. The distinction of the oldest, approaching 50 years, goes to Oley & Chuck's Bar & Grill on Central Avenue which also happens to be where Knapp's father was bartending back when he saw the potential in the space on Washington Street. 
As we spoke about his upcoming 25 year celebration and the experiences that led him to owning the bar and having his best year ever this year, it was clear that he's proud of the space he has created in this community and he's about as humble as they come. He got his start in restaurants and bars in the area and has worked all over Peekskill before becoming a West Side institution. He began as a dishwasher and worked up to sous-chef (a term he says he uses loosely, because he doesn't consider himself up to the title).
He's enthusiastically selling to the new owners because they'll be keeping the name and the vibe and doing renovations he's encouraged about. He believes they are going to be, "finishing off what he started," which is part of why he feels good about transitioning to his next chapter. He's confident, "They're gonna make it look nice. I am very excited about the future," he said.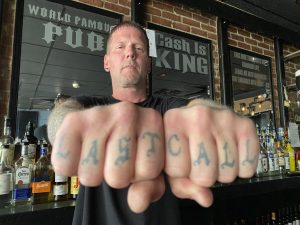 "I'm looking forward to a month off. I'm about 90 percent confident that this is the right move. I told the new guys, and I think it's so important: 'You gotta keep your place clean.' You have to clean everything every day. Even before I renovated, when the place was outdated, it was never dirty," he explained. 
"I was 22 years old – hence the name, 'Kyle's.' What 22 year old wouldn't name the bar after themselves? Not very humble of me, but still good," he told me. "As I get older, I enjoy making fun of myself thinking, 'geez that was cocky.' The best thing I ever did, for sure, but I'm ready to go. I want to go out on top, on my own terms, like Derek Jeter."
Knapp is excited to sell the business to Steve Vanca and Nick Ferris after what he considers his best year ever. He believes it's the right time to exit. The new owners are both Peekskill High School alumni, class of 2002,  and he feels good about passing the torch to a couple of locals.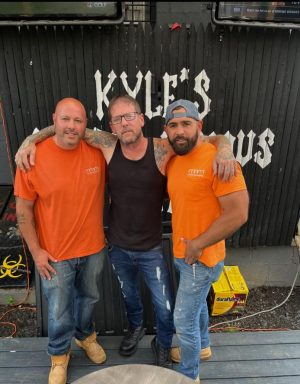 "I think where I got lucky was, I was a really good bartender. I was fast. Some of my friends would say I was messy, but I was fast. Because I was a bartender, I knew how to choose staff. In 25 years, I've only changed staff about three times – the average person stayed here 10 – 12 years. My friend Aldo has worked here for 22 years and we're going on our next venture together as business partners."
When I spoke with Cochrane, he told me what makes Kyle's special. "I appreciate the friends and connections I've made through there over the years. Newcomers have told me that they feel like they're part of a club and are excited to return," he said. 
The pub's long title makes perfect sense. With so much happening under one roof, it's hard to nail down a specific category. Between Thursday night darts, the Sunday shuffleboard league (to keep busy in the weeks outside the football season), and live music, there's something for everyone. Jason Gisser, a friend he's known since they worked together at Kelly's, has been playing acoustic sets the second Friday of every month since they opened. (A residency that makes Billy Joel's Madison Square Garden run seem like child's play).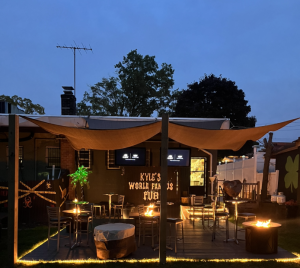 One of the biggest testaments to a local establishment is genuine support of the people in the community. As the pandemic tested the resolve of many in the service industry, Kyle couldn't believe the love he was shown. "I was happy to make it through Covid," he said. "Two-thirds of the bars in Westchester that weren't chains didn't make it back with the original owners." He said they had a rough couple years, then bounced back. "It was nice. So many of my friends who I haven't seen and didn't even live around here, would come down and buy a $10 drink to go and order food unnecessarily. That was weird for me because I'm better at doing favors than I am accepting them. It makes me cringe, but I really appreciated it."
Reflecting on his time at the pub was a fun journey for someone like me who hadn't experienced the bar. One can only imagine the late night conversations, recollections, and laughs that will be going on from now until August 15th when the new owners begin the next chapter. "I've never had any problems. In 25 years, I think there's been four fights – I think maybe two of them I started," he chuckled as he finished that thought. The cash-only establishment (check out their vintage register that came from Kelly's On The Green) has endured to the point where younger patrons today think it's "trendy" to forgo cards and other contactless payment options.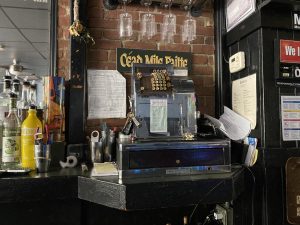 Peekskill born and raised, Kyle has enjoyed watching the community he knows so well come full circle. In the '80s, he said, "There was a lot of drugs and crime and that started to turn around in the late '90s when the city got cleaned up. I'm now watching some of my friends' kids who are 21 coming in and that's freaking me out." 
He's working hard, having fun and looking forward to handing over the keys to the new owners. He also has a new project in the works that he can't quite share yet, but is excited to announce soon. He could tell me on the record that, "It's important to me to let people know that I have something planned that the Peekskill community will absolutely love with my good friend, Aldo Cochrane."
As he sets his sights on the horizon, there are three more Saturday milestones before Kyle's last call. The pub is hosting a 25 year anniversary party on July 1, the band Snappahead will be appearing live on July 29th, and a "huge night" hosted by his friend Jason Gisser is slated for August 12th. As he announced on Facebook recently, "More details coming soon!"