Focus of this show is the art of creating, using machines
Eight nationally known artists are traveling to Peekskill next week, guests of renowned entrepreneur and artist Bre Pettis. They will work together for a week, producing art exclusively made by machines at The Center for Machine Arts that Pettis founded at 189 North Water Street.  The culmination of their work will be the focus of a showcase on Saturday, June 17 from 5 to 8 p.m. at The Center. The event is open to the public.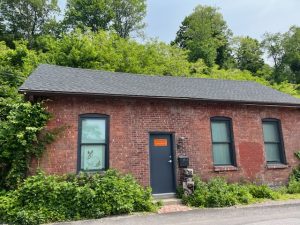 "Everyone who is coming is a superstar. Most of these folks are meeting each other for the first time even though they're all rockstars in machine arts," said Pettis when interviewed by the Herald recently. Participating in the group show are: Krista Jones, Leo Mcelroy, Stella Marrs, Al Larsen, Jenn Karson, Michael Gayk, Jason Stillerman, Devin Cooper, and Bre Pettis. They come from the West Coast, Boston, Vermont and places in between. 
The artists will arrive at The Center for Machine Arts on Monday June 12th and work together making art in a cooperative intensive workshop, culminating in the group show on Saturday. All work displayed at the show will have been made that week. The artists will use machines available at Bantam Tools, owned by Bre Pettis, including pen plotters, laser cutters, laser engravers, cnc machines, and 3D printers. "I would've loved to do this in previous years but I feel like the right time is now," said Pettis.
Pettis hopes to achieve a variety of different goals with this group show. "One of the hopes is that when folks come to the show, they're inspired and I'm hoping some of the artists in Peekskill are like "Oh, I want to do that." Pettis also wishes to connect with more artists that use machines to inspire more creativity. " I want to have more artists that use machines to make art here in Peekskill. If there's any, I hope this event gives me the chance to meet them."
Visitors of the group show will be able to witness machines in action making art live. In addition, Pettis plans to make video portraits of each artist along with providing photos and writings to give visitors a deeper insight to the art they see.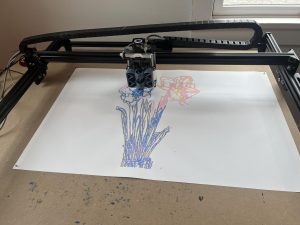 A former teacher, Pettis is also a video blogger and speaker. "I love working collaboratively. I love being inspired by other artists. I miss being an art teacher in some ways because just being around creativity is a special thing," said Pettis. 
Pettis is no stranger in the machine art industry. He is the co-founder and former CEO of MarketBot Industries which at its peak was one of the leaders in the desktop 3D printer market. In 2017, Pettis acquired Bantam Tools, formerly known as Other Machine Co., a company that designs and manufactures high-precision desktop cnc machines. CNC (Computer Numerical Control) machining is a manufacturing process in which pre-programmed computer software dictates the movement of factory tools and machinery. After putting material in a CNC machine, the machine will cut it, producing  the final object. In 2019, Pettis moved Bantam Tools from Berkley, California to Peekskill at 135 North Water Street. The company employs just under 30 people.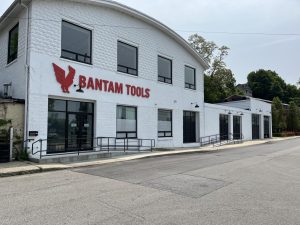 During Open Studios last weekend, Pettis held an exhibition titled "If You Find Yourself a Flower, Be the Flower" at The Center for Machine Arts. He showcased two different forms of art he's been working on recently – scanography and art made by an artificial intelligence program. 
In 2002, Pettis was attempting to find himself as an artist and became obsessed with blind contour drawings. Blind contour drawings is an exercise where an artist draws the contour of an object without looking at the paper.  Nearly 20 years later, Pettis pulled from his archive tons of notebooks filled with his blind contour drawings and began feeding them into a generative antagonistic network or GAN which is a type of AI.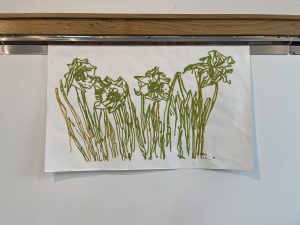 "I fed it all of my drawings, then had it make more like mine. These drawings look like my drawings but they're AI drawings based on my work," said Pettis. These AI drawings were made by pen plotters made by Pettis and were creating art live at the exhibit. For the scanography section, Pettis showed portraits made by a scanner of daffodils he'd grown himself. Scanography is the process of capturing digitized images of objects for the purpose of creating printable art using a flatbed "photo" scanner. 
A second group show is planned for July 22 with a different group of international artists. A few artists will be traveling from the UK, Germany and other European countries. Pettis would like to host more group shows, using a skill he's honed over the past three decades.  "If it's successful, we'll fine tune it and make it better."