Veterans Memorial Pool opens this weekend
The pool at Depew Park opens for the summer season this weekend. For this weekend, pool hours are Saturday, Sunday and Monday from 11 a.m. to 7 p.m.  For the month of June the pool is open on weekends only, 11 a.m. to 7 p.m.
Beginning June 26 the pool opens on weekdays from 1 p.m. to 7 p.m. and on weekends from 11 a.m to 7 p.m.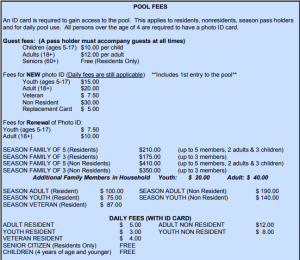 Residents can purchase a pass for pool entrance at the Parks Office at 1 Robin Drive in Depew Park.  Passes will not be issued at the pool. Park office hours are Monday through Friday 9 a.m. to 4:30 p.m.