Riding to remember – Peekskill police officers complete 300 mile bike tour
Peekskill police officer Danielle Long says she was a 'late bloomer' when it came to riding a bicycle; her father taught her when she was 11 years old. She didn't get on a bike for another ten years and only because she took a course to become certified as a police department cyclist. 
She's traveled a long way from that late start. Long and four other members of the Peekskill police department completed a 300-mile bike tour May 13 as part of the Police Unity Tour to honor officers who've been killed in the line of duty. Officer Kylee Pappas and Sergeant Michael Notle rode bikes and were joined by Officer Frank Muscente on a motorcycle and Officer Matt Rivera driving a trailer to house bikes and luggage.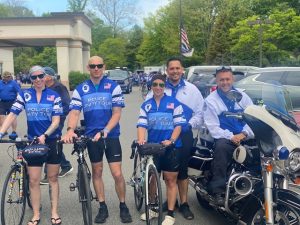 May 15 is National Peace Officer Memorial Day and the week around that day is National Police Week which honors and  remembers those who gave their lives in the line of duty. The week offers planned events and peer support and gives survivors and citizens the opportunity to gather and pay homage to those who died.  The motto of the bike tour is "they ride for those who died". When team members sign up to participate, they decide who they want to dedicate their journey to.
Peekskill Officer Pappas rode for Seara Burton, 28, who served on the Richmond, Indiana police force as a K9 Officer and died September 19, 2022. Peekskill Officer Nolte role in honor of Noah Shahnavaz, 24, of Elwood, Indiana who died on July 31, 2022 during a traffic stop.  Officer Long, 31, who has been in the Peekskill police department for seven years, dedicated her ride to Logan Medlock of Kentucky who was killed by a drunk driver on October 30 of last year. All the Peekskill police officers rode in memory of Peekskill Police Officer Charlie Wassil who died in 2013 of sarcoidosis, a cancer he developed after responding to the World Trade Towers collapse in September of 2001.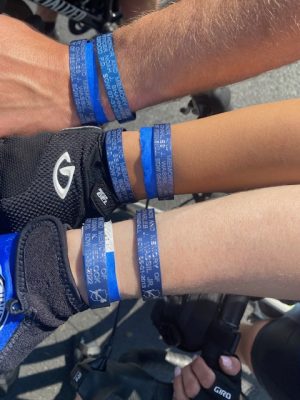 This year's ride was the second trip for Long. She participated in the 2019 tour and was appreciative of the sunny weather on this tour. "It was rainy for that 2019 tour and it's very hard to ride when roadways are slick." She told of the difficulty in riding on roadways versus rail trails where most of the training is done in the weeks and months leading up to the tour. 
"Participating in this is a sacrifice for us, putting in time training before work and on days off, but also for our families, when we're gone and when we're training," Long is the mother of a 19-month-old daughter. Nolte, who is training for an Ironman race, is the father of a 15-month-old child. It's not unusual for families to get help with childcare. "Most of us are parents and we're all in the same boat in respect to that," explained Long. 
When Long talked about the sacrifice involved for families of those who train to ride, she spoke in comparison to how minor that is compared to the ultimate sacrifice of police officers that the Unity Tour was created for. The Unity Bike Tour began in New Jersey in 1997 with 18 riders bringing awareness to officers killed in the line of duty. Today, there are seven chapters that sent some 1800 riders to Washington DC. The Peekskill team rode as part of the New Jersey chapter.  
Once in Washington DC, Long volunteered for the first time to be an escort for survivors at Saturday's memorial candlelight vigil. As Long was showing a family to their seats, she met the 17-year-old daughter of an officer who died. The girl was set to graduate from high school the following Friday.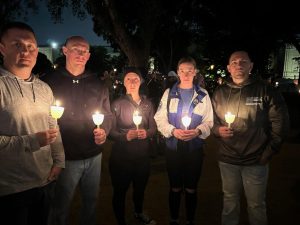 "It doesn't hit home until you experience something like that," said Long. "This could be your family one day. That left an impression on me. The whole experience is a reality check. There's this incredible show of love and honor for the people who gave their life. There's this feeling of gratitude and honor. Nobody talks about the occupational hazard of the job," she said. Some 215 to 230 officers are killed in the line of duty every year.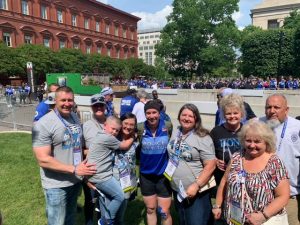 She recalled the people that were along the route supporting the riders on their four-day trip. Roads are closed and driveways are blocked and many people are ignorant of what's going on, until they learn the reason the officers are on bike riding to Washington. Parts of the ride are on major interstates and some of the route goes through country roads of cornfields from Delaware into Maryland and that part of the trip can be monotonous.
"It can be tough. But as soon as it's over I'm sad. I had an exercise hangover," after a few days of not riding. "It's a lot of fun and you become brothers and sisters with those on the ride. It's a big family. There's some suffering also, with falls and accidents." 
The team rode 50 miles the first day, 100 miles the next two days and the final day was another 50 miles. They got breaks every two hours and ate sandwiches from Jersey Mike's, one of the sponsors of the tour. They also had trail mix on the road and Uncrustables, a frozen pre-made peanut butter and jelly sandwich. She never had one before doing the Unity Tour and the running joke on the tour was how they were the closest thing to real food to eat while they were cycling. 
Each participant is responsible for purchasing their own bike, helmet, gloves, Unity Tour uniform, clips and shoes. They commit to ride in the fall and start training. 
"The touchdown at the Fallen Law Officers Memorial is a powerful thing.  It's not a big memorial and people are packed in close. There are two semicircles with an east and west wall and lined hedges. We ride in very slowly. It's very emotional and moving and it's good we had on our sunglasses," said Long.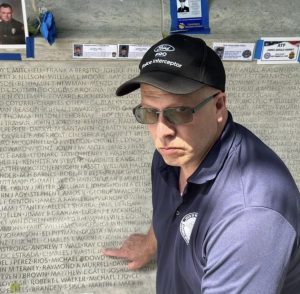 When they got to the memorial, Peekskill Police Chief Leo Dylewski and Officer Chatoyer Woodland, who rode with Long in 2019, were there to meet them and participate in the ceremonies.