Where the water wasn't over the weekend and why explained to Council 
A blowout of a 12-inch water main on N. Division Street near the Hat Factory at 4:30 Saturday morning led to three days without water or low water pressure for large portions of Peekskill. David Rambo, the city's Water and Sewer Superintendent, presented a slideshow at Monday's Common Council meeting explaining the outage. The presentation addressed the questions, concerns, and emotions that Council members heard from residents during the weekend. 
The break was fixed after around-the-clock repairs by water department employees and an outside contractor. The city announced via social media that all water main repairs were completed on Monday.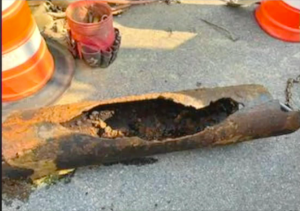 The cause of the blowout is undetermined and is being investigated according to Rambo. Temperature changes, age and corrosion, ground movement, change in water pressure, and construction can all play a role in causing a water main break, he said. 
A variety of complications played a role in the time frame of repairs this past weekend according to Rambo. "Equipment can always be a factor in how long a water break takes." A saw used during repairs broke down but a back up saw was available. Fatigue also played a role in repairs as workers toiled through Saturday in rain into their second day on Sunday. Two employees, one from the DPW and another from the Parks department, were called in to assist with controlling traffic on the busy road. In addition, the water department had to factor in working around other underground utilities such as gas mains, sewer, other water mains going down a street, and occasionally telephone lines. 
The water main valve broke in the open position and so water couldn't be shut off. "There's constant water flow going to this water break and if you don't have the water stopping – you can't do any fixing" said Rambo. An outside contractor had to be called to come in to insert a gate valve to shut off the water flow. 
In his presentation Rambo gave an overview of the city's water infrastructure. He explained there are four components to our water system; source, treatment, storage and distribution. "It's distribution we've always had issues with." Water mains are from four inches up to 16 inches. There are valves along the pipes and service lines that go to homes. Peekskill has 653 valves and 28 have been replaced since 2022. 
When addressing what the city is currently doing to address future water main breaks, Rambo explained that they are increasing annual replacement of gate valves and the purchase of a hydrastop will isolate portions of distribution areas when there is a break. A recently obtained $3 million grant will be used to replace corroding valves.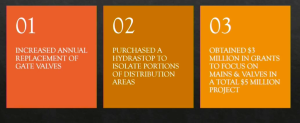 Rambo included in his presentation the pros and cons of development and how that impacts the water infrastructure.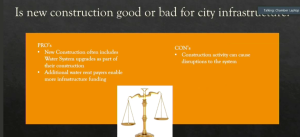 Peekskill residents voiced their opinions on social media about the extensive period they were left without water or had low water pressure, some angered and feeling like the city left them in the dark for periods of time.
"It was a tough job. It was inconvenient for our residents, we know. We apologize for that, " said Mayor Vivian McKenzie during Monday's meeting. Acknowledging improvements can be made, Rambo made it clear that messages will be put out more often with updates instead of announcing that there is a water main break.  Residents can sign up for Code Red via the city's website by providing their email address. "If you're at home, please make sure that you get yourself added to the Code Red so you get the information" said Mayor Vivian McKenzie. 
The discussion of water was on the mind of residents of Lakeview Drive at Hudson View Estates off Pemart Avenue who said they are still experiencing water outages. Reports made online claim that water has been on and off since Thursday, May 11 – almost two weeks. The Water Department was on site Tuesday addressing the issue according to residents posting online. 
At the end of the Common Council meeting during the hearing of citizens, Jerry Smith and Ann Insyxienmay spoke to the Council about water issues they've been experiencing on their property of 1020 Main Street since 2019. 
Both Smith and Insyxienmay said they've been speaking to the city manager and various department heads for more than three years and told of feeling their concerns have gone under the radar. According to Smith, in 2007 the city put light posts up and down Main street and claims the city put a light post in the sewer line of their property. Insyxienmay related their issue to the recent water main break this past weekend.  "You don't have water for one day or a couple of days – How do you feel? For us, over three years with no water" said Insyxienmay. Smith provided a copy to council members of a note of intent to file a lawsuit against the city of Peekskill for breach of contract. Mayor Vivian McKenzie responded saying the council is aware of the matter but since it is a matter of litigation, all statements will come from their legal department and city manager.