Veteran and newcomer vie for two trustee seats
Two candidates, a veteran and a newcomer, running for two open seats on the Peekskill Board of Education cited the district's diversity as its greatest strength at a candidates forum on Monday. 
"Peekskill is a strong community and its a special kind of person working here," said incumbent Branwen MacDonald who is seeking her third term as a trustee. "People are our greatest asset," added MacDonald who is the parent of two children in the district. 
For Amy Vele, 27, who graduated from Peekskill High School in 2013, "the district's diversity – students being able to talk to all different types of people," is a characteristic of the school system she experienced. 
Questions were provided by the public and the conversation was moderated by Raine Diaz of the Parent Teacher Organization. The 17 questions ranged from the candidates thoughts on book bans to pedestrian accidents and school resource officers. 
On the subject of book bans, Vele said 'it's very important to realize perspective. If we can't look at our history, we can't learn as a society. There's a lot to this world, it's not just black and white." She also mentioned that it's important to have conversations with parents to get their perspective.  MacDonald said when she's looked at the range of books that have been banned elsewhere, she sees how wide the subjects are and that's something she can't get behind. "It's important to hear the good and the bad. If history is history and you don't learn from it, you might repeat it," she said.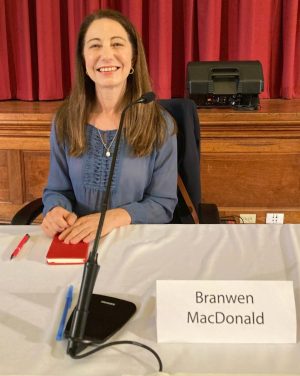 When it comes to pedestrian accidents in Peekskill, "it's something I worry about everyday, as a parent," said MacDonald. "We are working with the police department and the need for a presence," she added and noted the existence of the bike bus and Safe Routes 10566. For Vele, this is one area where local government plays a role. "It comes down to advocacy. The only way to make change is to make noise," she said.
Another question raised the issue of police presence in schools and both candidates were in agreement about School Resource Officers in the buildings. Vele said it's important to explain to students why the officers are present. "Again it comes down to communication," said Vele. MacDonald said a lot of thought and deliberation have gone into the discussion of police officers in the building. "We don't want kids criminalized, that would be unacceptable here," said MacDonald. "We want them (police) to be a friendly face," she added.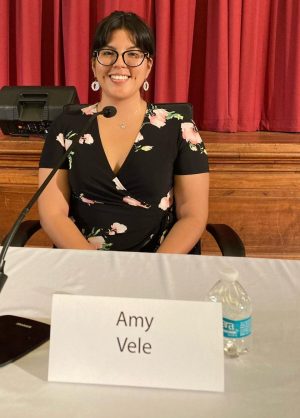 What is the role of a board member was another question posed to the candidates. "We serve the community, we set goals and policies and procedures," said MacDonald who got involved with the school district through advocacy work to get additional state funding. 
A suggestion from current board member Allen Jenkins that Vele consider running for office was the impetus for her decision. A first generation Ecuadorian American, Vele says she frequently thinks about where she'd be today if there was someone who looked like her when she was in the school system. As a young person,Vele envisions her role to be  a bridge between the school and city government. "I look forward to focusing on mental health issues." She said she sees the positive changes in the district in the ten years since she's graduated.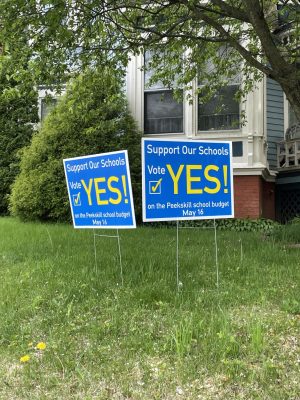 When residents go to the polls to vote for trustees on Tuesday May 16 from 6 a.m. to 9 p.m. at Peekskill High School, the school district's budget will also be on the ballot. The proposed budget this year is $115.7 million which is a 9.7 percent increase from last year. However, school officials said the homeowner's average annual impact in taxes drops to $89.72 in 2023-2024, a decrease of $65.65 from 2022-2023 due to the equalization rate. 
There are three components that make up the budget: administrative which represents $10.9 million, program which comes in at $88.9 million and $15.8 million for the capital component.  
The $88 million program component includes the dual language program offered from pre-kindergarten through grade 5 as well as the Social Emotional Learning program which includes a dedicated clinical team in all elementary buildings. New teachers are needed to support the shift to a nine period day at Peekskill Middle School which will lower class size. New teachers will also support World Languages, English as a New Language. A partnership with BOCES for a culinary arts and robotics program is also offered at the secondary level. 
The District has budgeted $500,000 for transfer between funds to the capital fund for costs related to lobby security improvements. In the next 15 years, 86 percent of these costs will be reimbursed by state aid.