Honor is flowing in the wind
Military tribute banners popping up around town
As  Memorial Day approaches, military tribute banners are appearing along Washington and North Division Streets honoring local veterans and those serving the nation today. This is the first full year Peekskill is participating in the 2023 New York Military Tribute Banner program. The banners will be hanging from telephone poles through Veterans Day. The mission statement of Military Tribute Banners is "Giving Honor to Whom Honor is Due". 
Giving honor to their family members was something area residents spoke about when interviewed for this article. Peekskill resident Linda Greene recalled how heroic her father was and how meaningful this tribute is. "I saw the banners in Cortlandt and thought it was a nice thing to do to honor our veterans," said Greene. "My father was a World War II vet. My father was humble. He never spoke about it. We knew he was in the war but when he passed away, that's when we found out a lot of different things about him."
"I feel like the banner is something well deserved for my father. We got it for him as a gift. I think it's going to be very special when it's up and we get to look up and see it completed" said Peekskill resident Donald Ryan.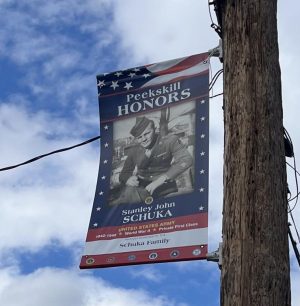 "I'm grateful the city of Peekskill is doing this for veterans. My father was a World War II veteran. I'm very honored that my father is being recognized for his tour of duty and his service for our country." said Cortlandt resident John Isabella Jr. "I know if he were alive today, he would be truly humble. My father was not about being in the limelight. He did things under the radar for the city of Peekskill, the city that he loved. This is a tribute that I know he would be very proud of."
Linda Greene wasn't the only one to notice the Town of Cortlandt displaying banners. Deputy Mayor Patricia RIley said she saw "the  banners in the town of Cortlandt and, 'I said, Peekskill needs this too.'" She  became vital in spearheading Peekskill's Military Tribute Banner program. "Our veterans are very important to me. What better way to remember and honor them, than getting beautiful banners of them in our hometown." said Riley. Late last year, the first military banners were hung in Peekskill right in time for Veterans Day. 
Before this program began, different aspects had to be looked at to ensure the banners were installed safely. DPW Director Christopher Gross and Riley scouted out different streets in Peekskill where banners could go up on telephone poles, keeping in mind that some poles were older, said Riley.
Last week, the DPW began to hang last year's military tribute banners which were paid to be rehung this year. These banners are located on Washington Street and by Monument Park going up North Division Streeet. All military tribute banners will be hung by Memorial Day in various parts of the city.
The  people who purchased these tribute banners have expressed gratitude towards the city of Peekskill for giving them the opportunity to honor and share the story of their loved ones.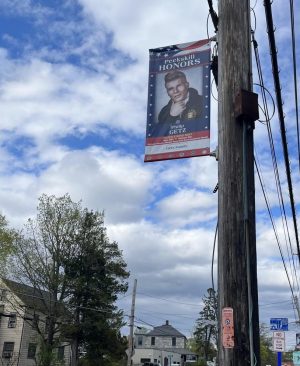 "I couldn't be happier with the way it's turning out. I've gotten a lot of great feedback from our community," said Riley. The city received a little less than 100 requests for banners according to City Clerk Cassandra Redd. 
Although submissions for the 2023 military tribute banner program are closed, residents are encouraged to buy banners for next year's program. If you have already purchased a banner and wish to rehang next year, a rehanging fee will be charged that will be less than the original $187 fee.