John Vargo, publisher of boating magazine, dies
Visiting and funeral Thursday and Friday, Memorial service on Sunday at Cortlandt Yacht Club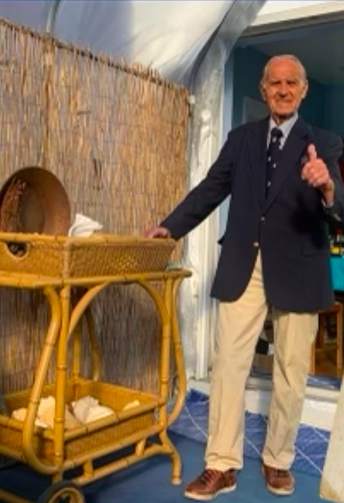 John Harry Vargo, publisher and editor of Boating on the Hudson and Beyond, died on April 17. He was 87 years old. Vargo's magazine, which he purchased in 2000, was an advocate for all things related to the Hudson River. An early member of the Hudson River Fishermen's Association and founder of the Pathways to Pollination, he was the author of "Striped Bass: Fishing on the Hudson River, A Guide." 
There will be a celebration of his life and legacy at the Cortlandt Yacht Club on Sunday, April 23 at 1 pm. In lieu of flowers, the family asks that donations may be sent to the Hudson River Fisherman's Association.
Peekskill resident Jack Cook recalls meeting Vargo in 2020 around their shared passion of pollinating pathways along the Hudson for the endangered Monarch butterfly. "Our coincidental vision was to apply the program's goal, providing appropriate milkweed habitat, for the Monarch and other pollinators along the entire stretch of the Peekskill Riverfront. We organized a small volunteer group and with the city's and Garden Club's support, worked to implement John's vision. John was the ideological guru. It was an obsession with John. The Monarch's story appeared in a half dozen issues of Boating on the Hudson magazine. Last season, numerous Monarch butterflies appeared in several of our identified and nurtured milkweed sites," explained Cook. 
Before purchasing Boating on the Hudson, Vargo worked in sales for among other companies, Pitney Bowes, AT&T, Sunshine Biscuit Company. He was also an inventor and awarded seven patents. His passions included duck hunting, fishing of all types,  ice boat sailing his 150–year-old stern steering ice yacht "the Maryellen" and his modern bow steering "The Arrow," jet skiing, and flying his hovercraft.
John, along with other friends from Verplanck, including Walter Trip, and Malcolm Park founded the Optimus Pram Fleet on Lake Meahaugh, where Saturday races were a weekly ritual all summer. He was well known, liked, loved and respected throughout the Hudson River Valley and the Erie Canal. 
Born on October 7, 1935 in Buchanan to John Vargo, Sr. and Helen Dohan, he is survived by his four children; John Michael, Joanne, James and Christopher  (Monique), along with his sister Helen (Conklin) and his  brother Robert and his two grandchildren, Gwenevere and Gavin.  He was predeceased by Mary Ellen Vargo, his wife of 54 years, who died on March 28, 2013.

Visiting will be held at O'Mara and Carpentieri Funeral Home at 97 Broadway, Verplanck, from 2 pm to 4 pm and 7 pm to 9 pm on Thursday April 20. The funeral will be at Saint Patrick's Church at 10 am  on Friday, April 21.