Tattoo shop leaves indelible mark on Peekskill
Artist Patrick Conlon celebrates a decade of inking   
Just  a dozen years ago, Patrick Conlon was fighting  an uphill battle to get the permissions he needed from the Common Council to open his tattoo shop in Peekskill. At the time, his type of business wasn't permitted by zoning in Peekskill and there was a bit of fear within the community that if he brought his craft to North Division Street, it might attract questionable clientele. In 2011, there still existed a stigma around  tattoos and an impression that the culture was a bit too edgy or dangerous to co-exist on a quiet street with Westchester Community College and a host of small businesses and eateries. Today, as Speakeasy Tattoo (the name was inspired by the local government's initial resistance to the shop) celebrates a decade in business, it feels perfectly at home on Peekskill's quaint restaurant row.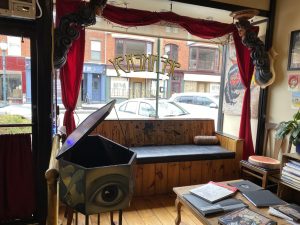 Conlon's tattoo journey started in San Francisco when he was working as a busboy in a trendy cafe. He met a lot of customers and artists from the tattoo shop next door and became interested in the artform through conversations with them. When it became known he was attending art school, someone suggested he try his hand at tattoos and he got in on the ground floor 30 years ago when the tattoo community was just beginning to enter the mainstream (or at least stopped being considered fringe). From there, the Connecticut native came back east and worked at shops in Manhattan and Brooklyn before settling in Peekskill. 
"I remember when I first drove down North Division Street," Patrick said, "I thought, 'I could live here.'" It's one of the older sections of the city and, at this point, Conlon has been at this location long enough to see many businesses open and close on the block. He knows all the owners and is active within the community. He explained that they, "All work with each other to bring people downtown." 
Despite any misconceived notions about the tattoo profession, Conlon, Isla, Stella Vlad, Needles, Raul Hurtado, Joe Conrad, Corey Kennedy, and Chris Mahoney operate the shop with an inclusive "we" mentality. Working as a collaborative force, they all have keys to the shop so they can come anytime to create. The studio space houses five stations with the intention of having a unified feel.  "I provide a welcoming environment for the artists I work with," Conlon explained. "The people that work here share the same values and have the same goals in mind, so the aesthetic is always there. We look at it as our shop. Everybody here takes care of this place because we know it's our livelihood. It's a beautiful thing."
On weekends in the summer, the street is closed to  traffic for a pedestrian experience. Speakeasy is going to celebrate its 10 year anniversary by dedicating one of those summer days to having a party in honor of the milestone. Tentatively set for Sunday, June 18th, Speakeasy will run specials on tattoos all day. They plan on opening around 11:00 to kick off with a special flash sale featuring pieces from each artist, ranging from $100 to $300, depending on size. ("Flash" tattoos are designs customers can pick from that are already drawn then displayed in the shop. Speakeasy often announces them on Instagram as well). He said they will also have a, "gumball machine if you want to gamble a little bit. You get what you get. They're little tiny tattoos. We'll have some music, celebrate, and have some laughs and the food will be provided by all of the restaurants." Patrick's band, Least Best Beast, and two others will play from about 3:00 to 7:00 p.m. making it a true block party.
Speakeasy really has come full circle from having to prove themselves before settling in on North Division Street to being, as Patrick described, "well ensconced in this community where lots of people know us and the reputation keeps growing." As a musician, Conlon loves having Division Street Guitars across the street and as an entrepreneur, he was thrilled to have Enormous Creative (also across the street from Speakeasy) redesign their website.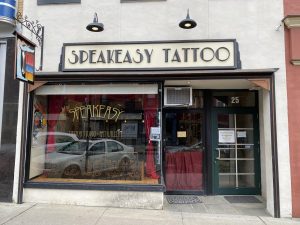 The unique business model of a tattoo shop is that clients will come from far and wide to get their newest ink. Beyond the immediate Peekskill community, Conlon guesses that they primarily attract people within an hour radius of their North Division Street location. The question is, "How far would you drive for a haircut?" and the response for tattoos is mostly about the same.
Customers have traveled from  Vermont and New Hampshire and the record holder is a client who comes in from Australia and always finds a way to schedule some new ink whenever he comes to the Northeastern U.S. They also get a lot of younger folks and first timers which Patrick partly attributes to the artists at Speakeasy being so nice and collaborative with customers.
Conlon calls his style "illustrative." His focus is telling a story with his craft and making it feel like a vignette by adding clues that reveal who the subject is or evoke the feeling of the moment. He enjoys taking in the client's idea and putting his own unique spin on each component, making it truly original. This ethos is something shared with all the artists in the studio who are able to fulfill each request with their own personal flourishes, making each tattoo – from the simple to elaborate – a unique, signature work of art. As a time-based shop, tattoos run $200/hr with artists setting flat rates for some of the smaller pieces.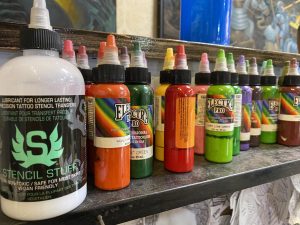 One of Conlon's favorite longtime customers is a writer and, over the years, they have established a process where the author gives him a vividly detailed description of the moment or scene he's envisioning in the confines of a short story. Every time, they are both a little blown away by how well the story informs the tattoo and the tattoo ends up being exactly what the writer imagined before it was put to ink. The overall effect is akin to collaborating on a graphic novel (which Conlon has also done).
The art on the walls of the shop gives the space a gallery feel that draws you into a fantasy world showcasing the styles and talents of the collective. Conlon cites his major influences as Frank Frazetta, Bernie Wrightson and Brian Froud who are all heavy hitters in the worlds of illustration and storytelling. 
Every artist at Speakeasy enjoys sharing their influences, inspired new music discoveries, museum experiences, and interesting work displayed on social media. These accomplished artists who could certainly all strut around like a pack of edgy divas, have instead chosen to abide by the "no jerks" rule of positive working environments. The result is an establishment fueled by creative energy and a respectful professionalism that makes you feel good just sitting in the room.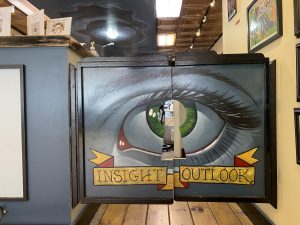 The ten year milestone has really "lit a fire under [his] ass" to touch up the paint job and create more artwork for display in the space. In honor of the anniversary, there will be multiple frames of various sizes on the walls and each artist is assigned six or seven slots to display their sketches, paintings, and everything they are working on to have ready in time for the party in June. 
Having five stations and seven artists in the mix at the shop feels like the perfect fit in terms of size and the workflow at Speakeasy.  Conlon's content with where they are in year ten. They enjoy focusing on making the existing space the best it can be and bringing in the perfect amount of customers to keep all the artists busy and happy. Tattooing is relatively seasonal with winter being a little slow Take note tattoo newbies: this is when the tattoo veterans come in to avoid waiting and not have to bother with crowds.  Beautiful days mean more calls, more walk-ins and more people showing up for fresh ink.
Conlon lives above the studio and he loves the building's unique layout and enjoys the backroom that houses a full workbench and has more room for supplies. This was where they did most of the custom interior work for the shop and made their unique sign. There's also a trap door leading to the basement for band practice and even more storage. When considering his good fortune in this amazing location, he called it "the coolest castle you can imagine. It's a wonderful thing. It is kind of like a collective and it's really a conducive, great work space."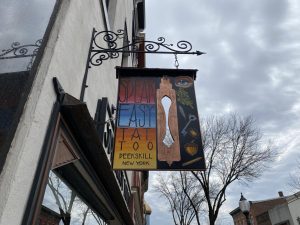 At ten years, Speakeasy feels like a comfortable home with strong, welcoming vibes. It seems unimaginable that anyone would be against having a shop with such clearly inclusive values and a strong sense of neighborly goodwill on their street or in their city. That shift in perception makes it all the more satisfying to see them thrive in a place they were once not allowed to occupy. He learned early on, as a young tattoo artist, that you can never judge a book by its cover. "Keep your ears and eyes open to welcome people," he said "and you never know what you're gonna get."