Michele Cunningham takes off her gloves to talk boxing, women, and business
Peekskill's Michele Cunningham, coach and owner of Zen Power'd Fitness, has a lot of pluck.
"Sometimes I have to laugh about the fact that I actually own a fitness business," she says. "I was the girl that used to fail gym, never played any organized sports, and lacked confidence." The business owner, now 59, says she was active, but she was not a fitness enthusiast.
That changed in 2015 when Cunningham entered a raffle and won three personal training sessions with the head coach at Peekskill's Be First Boxing. Although Cunningham initially felt intimidated walking into a "real" boxing gym, she was quickly hooked and attending classes three to four times a week.
"I started to love the challenging workouts," Cunningham says, as well as "learning about the sport and the science behind boxing.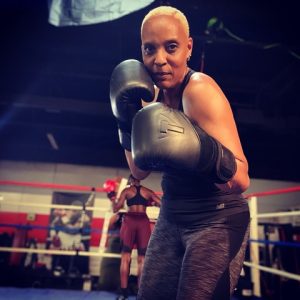 "There are so many intricacies to boxing, and the learning curve is endless," Cunningham says. "Boxing is both a sport and a science…. I love teaching from that perspective. Despite what many people think, boxing is 90 percent mental and 10 percent physical."
Cunningham was soon mentoring new members, teaching, and taking on leadership responsibilities at the gym. Be First Boxing became her "home away from home" until 2020, when the gym was temporarily shut down due to Covid.
"Once the gyms were forced to close, I experienced a sort of separation anxiety," Cunningham says. "I had grown accustomed to going to the gym and started to form genuine friendships with the members." Feeling compelled to do something to stay motivated and keep in touch, Cunningham "jumped on the Zoom bandwagon and started teaching classes online."
Despite some challenges teaching virtually, Cunningham found people tuning in each week. She even reached people who were not members, including people from out of state. Once the weather improved, Cunningham, like many others in her situation, took her classes outdoors.
"Peekskill's Depew Park and the Riverfront became our home bases," she says. During this time Cunningham continued to hone her skills. "I was flourishing and enjoying this new role," she says. "That's when it dawned on me that I was doing this on my own. I was creating content for my classes, keeping in touch with members, setting fitness goals, motivating people at a time when we all needed motivation, and enjoying every moment of it. I had created a niche business without even realizing it."
In July 2020 Cunningham decided to make it official. She created her own fitness business and  named it Zen Power'd Fitness.
Zen is important to Cunningham. Prior to the pandemic, she started Zen Your Closet, a business specializing in closet and small space organization. Like a good boxer, Cunningham had to pivot away from this business during Covid. "I still have this business and offer my services on a limited basis," Cunningham says. Her main focus these days, however, is Zen Power'd Fitness.
"I love the idea of being in a state of Zen," Cunningham says. "Zen to me means 'happy.' Zen Power'd Fitness was founded on the premise of helping each of my clients find their 'Zen Spot.'" Cunningham describes this as "when your physical well-being, mental well-being, and nutritional well-being start to align and become an integral part of your life."
 Cunningham says Zen Power'd Fitness is a "female-focused business that is as much about empowering women as it is about fitness." Describing herself as a "fitness motivator," Cunningham says, "My goal is to encourage people to control the narrative of their health through exercise and proper nutrition. I am especially passionate about exposing women and girls of all ages to the sport of boxing."
Why boxing? "Once you get past possibly being punched in the face, boxing has so many benefits for women," Cunningham says. "Boxing is a full body cardio workout. It builds endurance and stamina. It improves your reflexes and eye-hand coordination. And it is one of the best confidence-boosters around. I feel invincible when I slip on my boxing gloves, and I want other women to experience that feeling, too."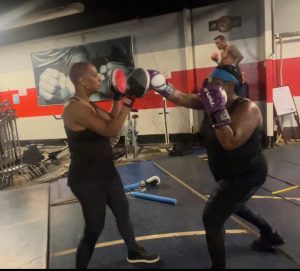 One group Cunningham would especially like to experience the benefits of boxing is young women. To that end, she has created the Girls in Gloves Empowerment Program.
"After falling in love with boxing later in life, the Girls in Gloves Empowerment Program was born out of my passion to expose girls to boxing at an early age," Cunningham says. "It is meant to inspire girls to dream big and think outside of the box." The program targets middle and high school girls and has five modules: boxing, building self-esteem, leadership development, academic excellence, and mentorship.
The Girls in Gloves Empowerment Program has been piloted on a limited basis with the Peekskill Youth Bureau. "I would love to bring the full program to the community," Cunningham says, adding that she is currently exploring grant opportunities and has approached Peekskill High School about bringing the program there as an after-school activity.
In the meantime, Cunningham focuses on current and potential clients. "I create results-driven creative workout routines in a safe, no-judgment zone," she says. "And most of all, we have a lot of fun." Cunningham, who is certified with USA Boxing, does private coaching and teaches small group classes.
The entrepreneur says she encourages "people–women in particular–to focus on self-care. That may mean taking a trial class, setting up a personal training session, taking a walk, meditating, or bonding with my Zen Squad at one of our 'girls' nights.'"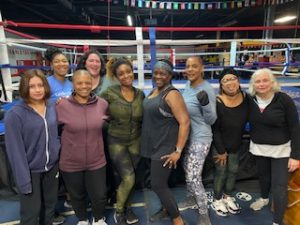 Cunningham makes an effort to practice what she preaches. There two things in particular she is doing for herself this year: learning to play African drums and taking up Pilates. "Having outside interests improves my ability to be the best version of myself, which in turn benefits my clients," she says.
The business-owner is excited to continue to grow her business and has this advice for other entrepreneurs. "Do what you love, but also keep an open mind to opportunities that may come your way. I never in a million years thought I would be in the fitness industry, but being open-minded has brought me to where I am today." Cunningham also advises, "be patient, hone your skills, pay attention to the financial side, and give yourself grace."
Prior to becoming an entrepreneur, Cunningham had a successful career in retail and wholesale while also raising her now 31-year-old son and 27-year-old twin daughters. She has two very young grandsons and says she can't wait until they are old enough to put on boxing gloves.
Cunningham has lived in Peekskill for 25 years. "I like that Peekskill is a city with a small-town, close-knit feel," she says. "I have made many friends here and enjoy the local restaurants and art galleries. I enjoy the walkability, the parks, and the fact that I was able to raise my kids in an environment that afforded them a good public education and the ability to become fantastic human beings."
She has appreciation for all who have helped her on this journey. In addition to being grateful to her supportive children, she says, "I would be remiss if I did not give a special thank you to the Be First Boxing family for starting me on this journey and my day-ones–Eleanor, Deb, Camille, and Georgia, and all of the wonderful ladies that keep the journey alive.
"I am inspired by all women," Cunningham says, "whether they are business owners, work nine to five, or work inside the home. Women are the backbone of the community."
You can reach Cunningham at [email protected] or follow her on Instagram @boxlikealady55 or on Facebook at Zen Power'd Fitness.