Special IPA created for Five Elements Mural fundraiser at Peekskill Brewery
The Five Elements Mural panels are now in place at South and Requa Streets and just in time for the fundraiser this Saturday, April 1, from noon to 5 p.m. at the Peekskill Brewery, 47 South Water Street. The fundraiser is for costs to complete the project which was awarded through the state Downtown Revitalization Initiative (DRI) grant. The Five Elements Mural fundraiser is hosted by artists Christine Knowlton and Candace Winter.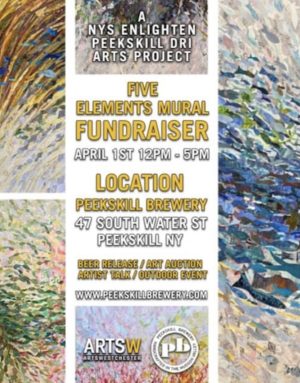 Knowlton explained that the (DRI) grant doesn't pay 100 percent of any budget and the budget for this project was created in 2019. Prices have risen since then. The hard costs of the project are covered, but not the administrative costs of which there are many given that the project involves many permits from the state Department of Transportation.
Peekskill Brewery is releasing a limited edition IPA called Five Elements Arches, available in 4 packs with labels featuring all five elements.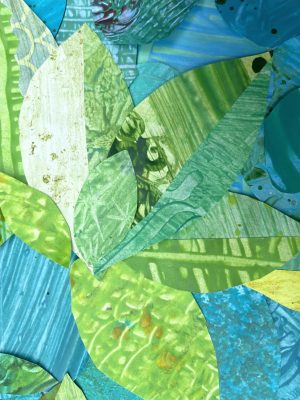 In addition to the IPA for sale, there will be a silent auction featuring many items related to the murals. A highlight item to bid on at the auction is a a 20″ by 40″ archival art print on metallic paper of the Metal element collage art produced and contributed by Sarazen Editions.  Action Color Group produced and donated a large ready-to-hang print of  the Earth panel. There will be puzzles (285 pieces) for each of the elements, and a particularly challenging 1000 piece of the metal element avalable for bid.  In addition, there are two 26×26 inch square silk scarves featuring the design of the wood (green) panel and the water (blue) element.
Local businesses such as Speakeasy Tattoo, Division Street guitars, Stark Vintage, JO's Body Shop, Fused Fitness, Iron Health, Peekskill Coffee House and many local restaurant have contributed items to the auction. One items, valued at $300, is a family portrait taken at the riverfront by photographer Howard Goodman.  Silent auction items will be awarded between 4 and 4:30 Knowlton said.
The original collage art on that the murals were made from will be framed and on display as well.