Latin American restaurant celebrates 25 years in Peekskill
Once a gas station, now fuels hungry diners
It was a sunny Wednesday afternoon in March – International Women's Day, celebrated on the 8th day of the month. Sitting at the corner table of La Cabana were four women who work at Camp Smith, dressed in camouflage fatigues, eating the delicious rice and beans with pork short ribs while enjoying each other's company along with a dozen other patrons chowing down on lunch.
The scene of people spending time together enjoying home cooked food and each other's company is typical now at La Cabana. But 25 years ago when Gustavo Loja rented the building at the corner of Highland Avenue and Orchard Street, it was a corner deli selling chips, cold cuts and cat food. In the ensuing quarter century, the 1,000-square-foot shop has become a magnet for Peekskill's Spanish speaking community because of its homemade food at affordable prices.
Loja, who leased the building with an option to buy from Donald Dempsey in March of 1998, took out the deli cases and counters and brought in tables and chairs along with a hot food counter, converting the space into a sit down restaurant. He saw the need to sell Hispanic hot food, something that no one else was offering at the time in Peekskill. "He must've gotten hungry for the food from home, since he came here by himself, without his wife," joked his daughter Tatiana Loja, who now runs the business since her father and mother retired to Ecuador.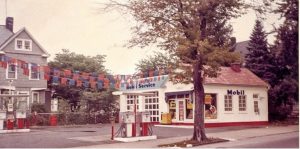 In the beginning, Loja worked all aspects of the business himself until he hired a cook and his wife and family came from Ecuador and joined him in working the counter. La Cabana was open seven days a week, serving food from 6 in the morning until 11 at night. Four soups were available every day, with four to six different sides. Word spread among the Hispanic community and soon there was a line of people outside the door to buy the beef tripe, roast pork, and sopa de fideos, a staple dish of noodles with potatoes and cheese. "The whole corner became a safe haven for the Spanish. People wanted their homemade comfort food," said Tatiana Loja, 36.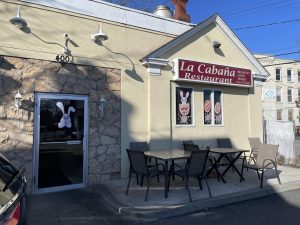 The desire for that homemade comfort food necessitated hiring more staff. Loja continued to work lengthy hours and brought on two cooks and more people to serve at the counter. After 15 years of working 18 hour days, Loja and his wife, Teresa Hernandez, wanted to retire. They turned over the management of the business to a long-time employee – but that didn't work out, and a year later Loja was back in Peekskill running the restaurant.
His daughter Tatiana, who was working as a nurse coordinator at the Field Home in Yorktown, was recruited by her father to take over the business. "I was around the business all my life, but told him I needed training. My training lasted one day," she said, as she recalled November 1, 2013 – her first day on the job. She vividly remembers the holiday season that year when employees didn't show up for work, and she and her husband and 11-year old son were cooking and serving food on Christmas Eve.
She quickly reassessed her parents' work philosophy and decided to make some changes. "I saw that what people really want is to be home with their families during the holidays and so we closed on Christmas and Thanksgiving so employees could have the time off." She also knew that people, customers and staff alike, wanted to be treated cordially, respectfully and with kindness, which has been her motivating motto guiding the way she runs the business.
She also noticed that 11-hour shifts weren't the best for employees. "People want decent pay but don't want to work like slaves." She experimented with the menu that her father originated and started offering a la carte items, analyzed cash flow, and hired a few more employees, doing away with the 11-hour shifts.
La Cabana now employs three chefs, two sous chefs – who are also preppers – and one dishwasher. In the front at the counter serving customers are six employees who work in eight and six hour shifts. "Our longest employee has been here 16 years," Tatiana is proud to note, and another has been with La Cabana for more than ten years. The business is still open seven days a week, from 6 in the morning until 11 at night. Having to close for three weeks during the pandemic was the most challenging situation Tatiana Loja experienced, but credits it with teaching her valuable lessons about managing a business and the value of budgeting and planning to have a reserve when the unexpected arises.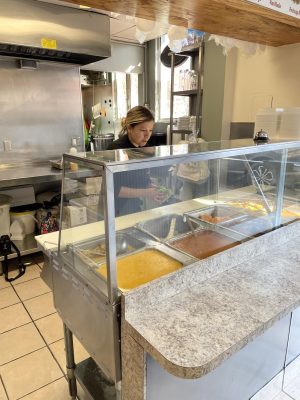 As La Cabana (translated to Little Cabin) grew under Loja's management, so too did the clientele who frequent the 19-seat restaurant. "We have customers who come from Queens, New Jersey, Wappingers Falls, Poughkeepsie and Tarrytown – where my dad ran a business before he came to Peekskill." And the customers nowadays are more diverse than the Ecuadorian population that frequented the restaurant in the early days.
Honoring the roots of what launched the business, homemade food from Ecuador, motivates Loja to continue to serve specialities around holidays. There's Fanesca, a soup made with grain and fish that's only available on Good Friday. And during Christmas they serve lots of roast pork and roasted potatoes and mote.
Loja recently completed a degree in business management at Mercy College, receiving a formal certificate for synthesizing the knowledge she acquired from firsthand experience managing people and serving food consistently seven days a week, 52 weeks a year. She's brought the business into the technology age installing a computerized payment system, and sources recyclable containers whenever she can. She, along with the women from Camp Smith in their Army fatigues, are forging new ways of approaching careers that were once solely the domain of men.