Exceptional art from women at Field Library Gallery
Peekskill artist Deborah Beck is a member of Women in the Arts Foundation and that connection led to Women in the Arts Foundation sponsoring the Women's History Month exhibit at the Gallery at The Field Library.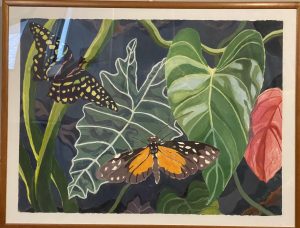 The exhibit, "Creative Journey 2023" opened with a reception that saw some 75 people attend on March 4. Many of the visitors were from outside of Peekskill, seeing it for the first time. The show, which features 22 works of art, is open through March 29 and can be viewed whenever the library is open.  Field Library Curator Barbara Smith noted that after the reception numerous guests dined at restaurants in Peekskill, exhibiting the power of arts as an economic engine.
The mission of Women in the Arts Foundation is to overcome discrimination against women artists. Founded in 1971 by artists, writers and other art world professionals meeting in lower Manhattan during a time of great unrest and creative ferment, Women in the Arts quickly grew into a national organization. Throughout its history, WIA has proved to be adaptable and creative in its ongoing work to change outdated concepts and attitudes about women as professional artists.
WIA's fight to end discrimination against women artists was vigorous, picketing major museums like the Whitney Museum of American Art (1971 and 1977) and the Museum of Modern Art (1972 and 1984). Members gathered statistics on the lack of representation of women in galleries and museums and used these statistics during radio and television interviews, speeches, letter writing campaigns and street actions in front of auction houses and galleries. Twice (in 1977 and 1983) WIA sent representatives to Washington, DC to testify, addressing unfair jury practices and the under-representation of women artists both in direct funding by the National Endowment for the Arts and in NEA-funded institutions.
At the same time, WIA also negotiated with collectors and the directors of museums and galleries to obtain large-scale art shows of women's work. Occasionally it was successful and WIA sponsored several major exhibitions, beginning with Women Choose Women at the New York Cultural Center run by the then-fledgling NYC Department of Cultural Affairs. The Exxon Corporation, Mobil Foundation, the Eastman Fund, and Consolidated Edison awarded grants to WIA for its exhibitions and catalogues.