Peekskill celebrates a mighty Craic this weekend
Irish heritage is on full display in Peekskill this weekend with a Grand Marshal and Aides 'tour' of local establishments on Friday night, a road race on Saturday morning and a parade on Saturday afternoon.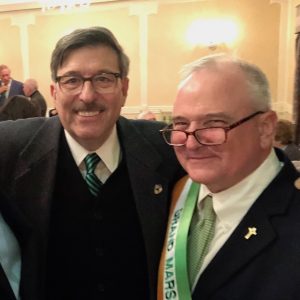 Grand Marshal Dan McCarthy, who was installed at a dinner on Sunday evening at the Cortlandt Colonial Restaurant, will lead his aides along a festive  'tour' of establishments on Friday at 5 p.m. that begins at the Peekskill Elks Lodge, moving onto Gleason's at 5:30, then to the Firehouse Grille at 6:15. The group will be at Kyle's Pub at 7 p.m. and move down Washington Street to Peekskill Public Kitchen at 7:45 p.m. and head to the downtown at 8:30 to gather at Rubens. From Rubens, the crowd heads along N. Division Street to Whiskey River at 9:15 p.m. and completes the evening at Birdsall House at 10 p.m.
The next day, Saturday, March 11,  the first O'Peekskill's Race to the Craic 5K and Wee 1K takes off from the Peekskill Brewery at 10 a.m. and is open to ages 8 to 99. The Wee 1 K starts at 10:45 and is open to children ages 3-10.  Register here for both races.
The Race to the Craic begins at the Peekskill Brewery and ends at the riverfront.  All participants 21+ will receive a free post-race beer courtesy of Peekskill Brewery. They'll be Irish music, swag and AG awards. Join the Peekskill Brewery Runners for the craic. The Irish term craic is a noun and is known as news, fun, entertainment, gossip, enjoyable conversation, good times and general banter of any kind. i.e., where's the craic?, mighty craic, no craic, negative craic
The 32nd Peekskill St. Patrick's Parade steps off at 3 p.m. on Saturday, March 11 from Assumption Church and heads down Division Street to Main then east on Main Street to James where the parade will turn south and proceed past the reviewing stand on James Street between Park and Brown Streets. The parade will end on Brown Street near the Elks Lodge.
This year's parade marks the 34th year that the Peekskill St Patrick's Committee has been in existence; however it will only be the 32nd parade because of Covid-required cancelations in 2020 & 2021. The presenting sponsors for the parade this year are Win-Waste Innovations and Certainteed, a St. Gobain company.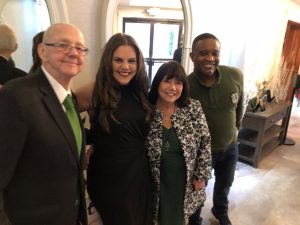 Visiting this year, just to participate in the 32nd Parade, will be several officials from the Castlebar Municipal District in County Mayo Ireland. This is the 23rd year since the two cities signed a Sister City agreement. Also in attendance will be the Vice Consul from the NYC office of the Irish Consulate.