KinoSaito's Season Opens Saturday
KinoSaito, a nonprofit interdisciplinary arts center that opened in 2018 in a former Catholic grammar school in Verplanck, presents three new Spring 2023 exhibitions and a free opening reception for the public on Saturday, March 4, from 4 to 7 pm. This series of solo artist shows is focused on the extraordinary art of ceramics and includes Kikuo Saito's Pictorial Clay in Gallery 1, Patrice Renee Washington's Tendersweet in Gallery 2, and Murray Hochman's New Dimensions in the Theater Gallery. The free-admission viewing and artists' reception is at 115 Seventh Street in Verplanck. 
 Kikuo Saito: Pictorial Clay, curated by Jim Walsh, shines a light on the artist's three-dimensional work created in 1980 and 1984 at the Clayworks Studio in Lower Manhattan. Saito (1939-2016), who is best known for his abstract, colorful paintings, and experimental theater design work, was provided with fresh wet clay slabs that he incised, gouged, and gently folded while taking advantage of the tactile differences as it dried and he applied liquid clay slips and glazes. At the outset, Saito began working on the clay slabs in a manner that invoked his paintings at the time, but, given the pliant nature of the clay and its invitation for exploration, he began to expand his vocabulary. These selected works on display that Saito created more than 40 years ago are sculptural engagements of his reflective expression, and stand on their own in harmony with his more well-known works.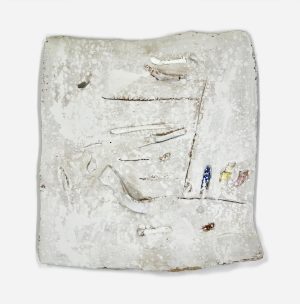 The Tendersweet exhibition showcases Washington's new series of ceramic sculptures inspired by the modular construction of funerary urns and Nkisi N'Kondi Central African power figures. The free-standing works visualize intricately carved African braiding styles such as cornrows, bantu knots, and thick braids inlaid in heavily glazed and polished surfaces. Washington's examination of symbols and signifiers of Black power is also evident in the Delftware-inspired tile paintings that rework existing narratives of the medium by illustrating scenes that centralize the experience of Black characters. She has participated in solo exhibitions at Marinaro (2019 and 2021), Underdonk Gallery (2018), and The Museum of Contemporary Art Denver (2018). Her work was included in Barring Freedom (2020) at the San Jose Museum of Art, among other group shows at the SculptureCenter, Queens, NY; Museum of Contemporary African Diaspora Arts, Brooklyn, NY; and the LeRoy Neiman Gallery, New York, NY. Washington earned her BFA from Metropolitan State University and MFA from Columbia University.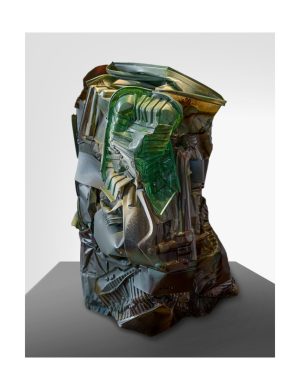 For nearly 60 years, Hochman, a self-taught artist, has explored the possibilities of light, color, geometry, and gesture, using spray paints and solvents to build richly layered surfaces on canvas and paper. Over the past several years, he has been intensely experimenting with other materials and formats. New Dimensions represents Hochman's first foray into sculpture since his study of ceramics in graduate school. In a series of sculptures created from materials collected at the local dump, he turns plastic waste into arresting assemblages, sumptuous wall reliefs, and free-standing, glittery still lifes. The results range from the playful to the sublime, underscoring the tension between the discarded base materials and their seemingly alchemical transformations. This transformation is filtered through Hochman's acute perception of surface and lifelong exploration of materials.
KinoSaito is a nonprofit center founded in 2018 and dedicated to the creation of abstract art. We are committed to nurturing art experimentation across all mediums and perpetuating the legacy of our founding muse and Japanese-American artist, Kikuo Saito (1939-2016). The center opened in 2021 upon renovation of its St. Patrick's Catholic School located in Verplanck, NY. Since opening our doors, we have served an intergenerational audience of 3,500 annually.
For more information about KinoSaito's Spring 2023 exhibitions and artists, visit www.kinosaito.org or contact Suzanne Grossberg at [email protected] To reserve a free ticket for the reception, kindly RSVP at www.kinosaito.org/2023-spring-opening