City honors three as part of Black History Month 
Three city residents who have worked with youth for nearly five decades were honored at the city's Black History Month celebration before Monday's Common Council meeting.  Julius Carrington, Annie Strong and Philip J. Tinsley were acknowledged in proclamations ready by Deputy Mayor Patricia Riley standing in for Mayor Vivian McKenzie who was on vacation.
Carringotn, a life-long resident, is a coach of the Kiley Center basketball program. He started in high school volunteering at the Kiley Center and then became a counselor for the Recreation Department. He eventually became a full time employee of the Recreation Department and continues as Director of the Kiley Center today. 
The proclamation reads: "Over all these years, Julius has given an enormous amount of time to children of all ages coaching, mentoring and providing positive guidance to generations of young children and teens, earning well-deserved admiration of all who came to the Kiley Center; and through Julius' dedication, children have come to know a safe and fun environment, taking pride in their building and learning to respect themselves, others and their space.  Julius has given back to his community for many, many years." 
Carrington said one of the best parts of his job is to give kids a safe haven.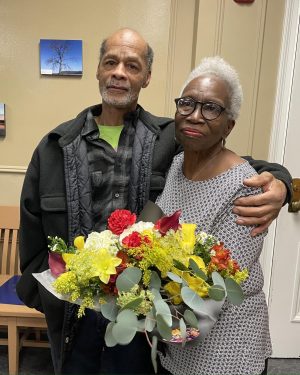 Annie Strong, a 1967 graduate of Peekskill High School, was acknowledged for her gifted and enthusiastic piano teaching. She began taking piano lessons at the age of six at a home on Charles Street and has played with enthusiasm ever since, sharing her passion by providing piano lessons to countless children and adults in the Peekskill, Cortlandt and New York City communities. Her students have gone on to become NFL players and Bloomberg business executives.  She hosts an annual recital at the Bean Runner or Mt. Olivet Baptist Church. 
Her proclamation read, in part, "Annie is a lifelong member of Mt. Olivet Baptist Church and facilitated a group of gathering sisters called "Sisters in Support".  She takes great pride in being responsible for topics discussed at her group meetings, includes pictures of each of the sisters from their younger days and promotes the lifting up of one another, as well as praying for others in need.  Annie worked in New York City for an advertising agency, in the sales department of an international textbook publisher and is currently on the board of directors of the non-profit Peekskill Herald. 
Strong talked about the rich, deep history her family has in the community and what it means to be a member of a community, especially the small gestures of kindness that create community.   
Philip J.Tinsley, affectionately known as P.J, a life-long resident of the City of Peekskill is a co-creator of the Kiley Center basketball program and is known throughout the city by many children as he has been a recognizable force at the Kiley Center and its basketball program since he, himself, was a participant.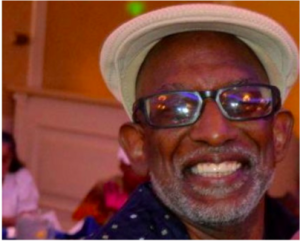 Tinsley's proclamation read, in part, "P.J. has been labeled a "super-hero" by his sons, Philip and Jason and his two grandsons, Jadone and Jayson as they have seen firsthand the respect that their father has earned as generations have come back to thank him for all he has done for them and their own children. P.J. is very well respected by the many he has mentored."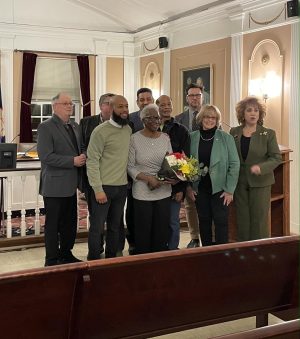 After the proclamations were read, the honorees and their guests were invited to a reception in a City Hall conference room.