Next generation breathes new life into old world craft
Two years ago today, Peekskill police went to the Central Avenue studio of world renowned oboe maker Paul Laubin where they found the 88-year-old craftsman unresponsive. Laubin died while creating one of his prized musical instruments and now his son Alex is putting the finishing touches on the oboe his father started.
That woodwind, since sold to a longtime customer who knows the history and understands the significance of the instrument, bridges the gap between the storied past of Laubin and the company's promising future.
"I keep thinking about the Nat King Cole, Natalie Cole collaboration on Unforgettable, the hit 1991 daughter-father duet. This is my version of completing the work my dad started," said Alex.
It's been a long and winding road for Alex Laubin, being the son and grandson of famous oboe makers. At 45, he seems to enjoy his chosen profession and is excited to move the business into a new era.
His grandfather, Alfred, was an oboe player who made his first instrument in 1931. Within a few years, he established a reputation as a superior craftsman. By the time Alfred's son Paul joined the business in the mid-1950s they were making ten instruments per year until they moved to a shop in Long Island City in 1958 where they had the resources to produce up to a hundred instruments yearly by the middle of the 1960s. In 1988, Paul settled into the second floor space at 638 Central Avenue. Earlier this week, the company moved into a commercial building they recently purchased in Fishkill.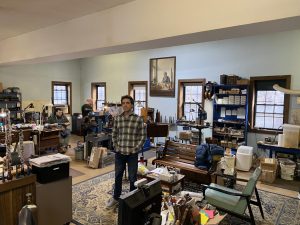 Alex didn't officially join Laubin Oboes until 2003 at age 25, when he took on an administrative role to fill the gap left by his mother who had been doing that job until 2001. Prior to that, when he was in his early 20s, Alex lived in Denver working odd jobs for a few years, but nothing really fell into place. "My mom was diagnosed with polycystic kidney disease, so I decided to move back here," he explained. "She was the administrative person at the company, so it seemed like the business needed me."
The fact that his father had established himself as one of the top-tier names in oboe craftsmanship in the U.S., made entering into the business a bit daunting. "I always felt like it was very much my Dad's thing," Alex said. "My older sister and I  had the sense that maybe he was the best in the world at what he was doing so it was kind of a bit intimidating to try to be part of that."
When his dad died in 2021, Alex had been working with his father for 18 years and he knew he had the experience and the determination to carry on the legacy. He just had to find a way to move the business into a sustainable future by implementing his own ideas about production alongside the unwavering dedication to excellence established by his father.
His father's conservative approach to making oboes didn't necessarily translate into healthy business practices. A. Laubin, Inc. wasn't financially sound and, as the business declined, Alex had a hard time envisioning the future of the company. The quality of the oboes was never in doubt, but his father's reluctance to change and an aversion to implementing any new technology created an environment of uncertainty. Alex said he felt it was, "important that the business continue and that was why [he] stayed even though things were bad for a while."

He fought to preserve the company and could see a better future because he knew there was so much value in the quality and craftsmanship that made Laubin oboes such in-demand instruments for the best players in the world. His father's dedication to excellence created a solid foundation on which to build a brand.
One of the big lessons Paul taught Alex is that it's quite special to, "Make something with your own hands. To have it and to know that what you're making is excellent and then to have somebody else who, in this case, is an excellent musician, appreciate your work." As Alex strives to modernize Laubin, purists can take comfort in the idea that Alex is taking his responsibility seriously and weighing the most important values from Paul along with the realities of modern production that can speed up some aspects of making the instruments without sacrificing quality.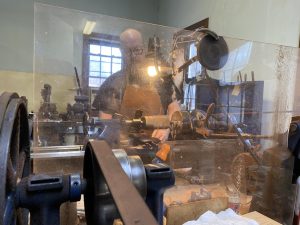 The challenge is "identifying what's special and what has to be done by human beings and with what level and sensitivity and expertise." He believes, "The music is the ultimate product" which means as long as there is an audience for real music created by other human beings, there will be a necessity for hand crafted instruments.
The vibe in the Peekskill studio is pleasant with the collection of vintage tools, furniture and machines. They are a testament to Paul Laubin's singular vision. It's easy to understand that Alex's father had a "my way or the highway" approach to the craft because it's hard to imagine someone just stepping into the room and knowing how to navigate the process of creating a Laubin oboe.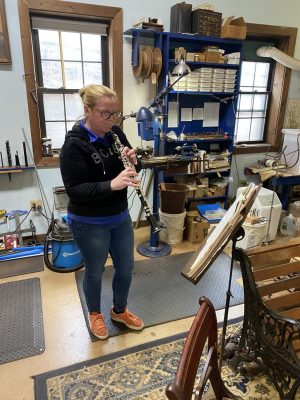 Classical music plays in the background and Alex is happy to carry that tradition into the new Fishkill space along with other kinds of music too.  The most important tradition Alex is tasked with continuing is the superior quality of the instruments and he felt a real validation from a longtime Laubin enthusiast.
According to Sherry Sylar, Associate Principal Oboe with the New York Philharmonic, "Alex called me last August and said he'd  like me to try the first oboe he made. I had no expectations, I didn't know anything about his commitment. He handed me the oboe with a sly grin on his face. I started playing and was like, 'Holy cow, this thing is good!' and 'I can't believe this is his first oboe'."
Another driving force behind the modernized next chapter for A. Laubin, Inc. is Jim Phelan.  Phelan met Paul Laubin in 1979 when he and a partner decided to make piccolos. "Paul Laubin knew more about wood than anybody," said Phelan who picked Laubin's brain for a couple of days on his wood treatment techniques.
Having built his own flute companies, Phelan recognized Laubin was an exceptional artisan but could probably use some support on the business side. In the 1990s, he asked Laubin to join forces and around 2000 he reached out to see if Laubin might be willing to sell a share of A. Laubin, Inc. to no avail. When Laubin died,  Alex found a strong supporter in Phelan and after a year and a half of negotiations, Phelan purchased A. Laubin, Inc.
"The most valuable asset that Laubin has is goodwill within the oboe community. People that play Laubin love the instrument and there are people who, when they found out Laubin was not going away, were ecstatic that they could still get their instruments," said Phelan.
He is excited to move Laubin into the future with their new facility. He described it as, "drop dead gorgeous" and they plan on it ultimately becoming the "Laubin double reed center" making oboes, English horns, and all double reed instruments. This was the best way to keep Laubin a U.S.-based company that can keep every nuance to maintain the essence of the Laubin oboe, while making the production process more efficient.
It was important to Phelan and Alex to not only remain in the U.S., but to stay in New York. "Fixed costs can be high here, but it will provide an easy location to visit for players coming out of Boston, New York, and Philadelphia," explained Phelan.  He's confident that being able to host these players and having the resources to meet their demand for custom instruments means that Laubin will be poised to own the market. "These world class orchestras will be Laubin orchestras." Now that the world knows that Laubin is here to stay and expanding their capabilities, Phelan believes, "We're going to need a lot of oboes."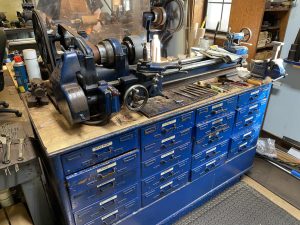 Alex is looking forward to bringing certain elements of the historic Peekskill space into the new location. He wants to keep it a, "craft workshop and not a factory." After being in Peekskill for 35 years, he's sure that, "it's going to take a little while for any new place to feel like home."
As long as they remain a company that maintains quality over quantity, he's confident they can stay true to their values and remain an important player in this niche market. By working with specialized third parties who can take on certain steps in the process with precision, accuracy, and care, Alex feels they "can actually increase the quality while doing it faster and more efficiently." Having a ground floor with a cement slab at the new space means they'll be able to adopt some new technology that was previously impossible because the second floor of the old building couldn't support the weight of the machines.
Locating into a rural spot with a change of scenery, he hopes will work to restore some of the "disharmony that had built up" over the last seven years when the business was struggling financially. As he continues to define his path forward, he values maintaining, "a very traditional business, but in a way that works with the time."