No foul play in White Plains Linen fire
Investigation shows cause undetermined
The cause of last Tuesday's fire at the vacant White Plains Linen building at 961 Constant Avenue was 'undetermined', according to Peekskill Fire Chief James Seymour IV. He said the preliminary report found there was no apparent foul play. 
Seymour said Tuesday that the Westchester County Cause and Origin team of the Westchester County Department of Emergency Services brought in a canine the night of the fire (June 28) to determine that no accelerants such as gasoline or kerosine were used.  Later that evening, the NY State Police brought in a second canine to sniff out any bodies, and found none. Seymour said they contacted the state police to use their canine because there had been reports of squatters living in the building. That dog found nothing in the portion of the White Plains Linen building where the ceiling collapsed. Seymour mentioned that beer and liquor bottles were found, but it couldn't be determined how long they had been there.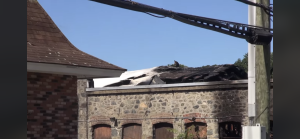 The fire call came in at 12:45 am on Tuesday, June 28 and by the time Assistant Fire Chief Jim Sniffen got there the flames were coming out the windows; within five to ten minutes they were through the roof. As the incident commander, Sniffen determined the best way to fight the inferno was to use aerial ladders. By doing so, they were able to contain the blaze to the Constant Avenue building. The White Plains Linen complex includes another stone and poured concrete building on Highland Avenue. The Constant Avenue building where the fire collapsed a section of the roof was the former laundry's office.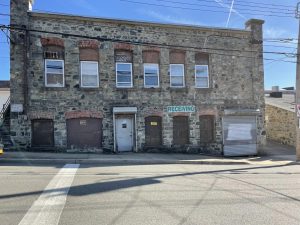 The White Plains Linen building was the subject of a Common Council meeting in March where the owners proposed a nine-story apartment building on the site.  
According to Seymour, Peekskill's building department is requiring the owner of the property to hire a certified engineer to assess the building's structural integrity – and whether it requires demolition for the safety of passing pedestrians and drivers.